Enes Kanter continues to pledge allegiance to the New York Knicks. Management shouldn't take it for granted.
Enes Kanter has continually preached that he loves the New York Knicks. Whether it be him embracing the team's culture or saying that he wants to retire a Knick, Kanter truly loves being in New York. And management shouldn't take his allegiance to them for granted.
Saturday morning, Kanter was asked about how he'd respond if the Knicks went into a rebuild and the center made it quite clear that his feelings towards the organization wouldn't waver, as ESPN's Ian Begley notes.
If NYK rebuilds, it wouldn't change Enes Kanter's desire to be w/Knicks long-term: "No, why would it? I like this place, man. It's weird because people are scared to come to New York because they think it's like, 'Oh, New York is scary.' But I think this organization is good."

— Ian Begley (@IanBegley) February 10, 2018
More Enes Kanter on NY: "I don't understand there is a (premise) in the NBA, 'Oh New York is scary' It's good in here. Good people, good basketball… I said it before… That's where I want to be that's where I want to retire so I hope I stay there for a long time." https://t.co/yVHm10smZ0

— Ian Begley (@IanBegley) February 10, 2018
The Knicks have been one of the NBA's bigger laughing stocks recently. They haven't made the playoffs in five years and continually attract drama to their brand. And with Kristaps Porzingis, their one glimmer of hope, potentially gone for a full year with a torn ACL, the dark ages don't appear to be getting any brighter.
Management has been a big part of the negative notions surrounding the Knicks. They've overpaid for a number of free agents and made trades out of utter desperation. At the same time, Kanter's remarks give off the vibe that the Knicks have maybe turned a corner and/or received unwarranted criticism as of late.
This season, Kanter has played well and become a fan favorite. Averaging 14.2 points and 10.6 rebounds per game, he's showcased an ability to finish in the paint and hit the boards on both ends. Whether it be dunking on opposing bigs, playing in the low-post or passing out of the paint with ease, he's capable of contributing on the offensive end in a number of ways.
The big man has also served as the Knicks' emotional leader. Ranging from standing up for rookie point guard Frank Ntilikina when Cleveland Cavaliers forward LeBron James stared over him in a November matchup, to inserting energy and optimism into his teammates, Kanter has made a positive impact on the Knicks' locker room.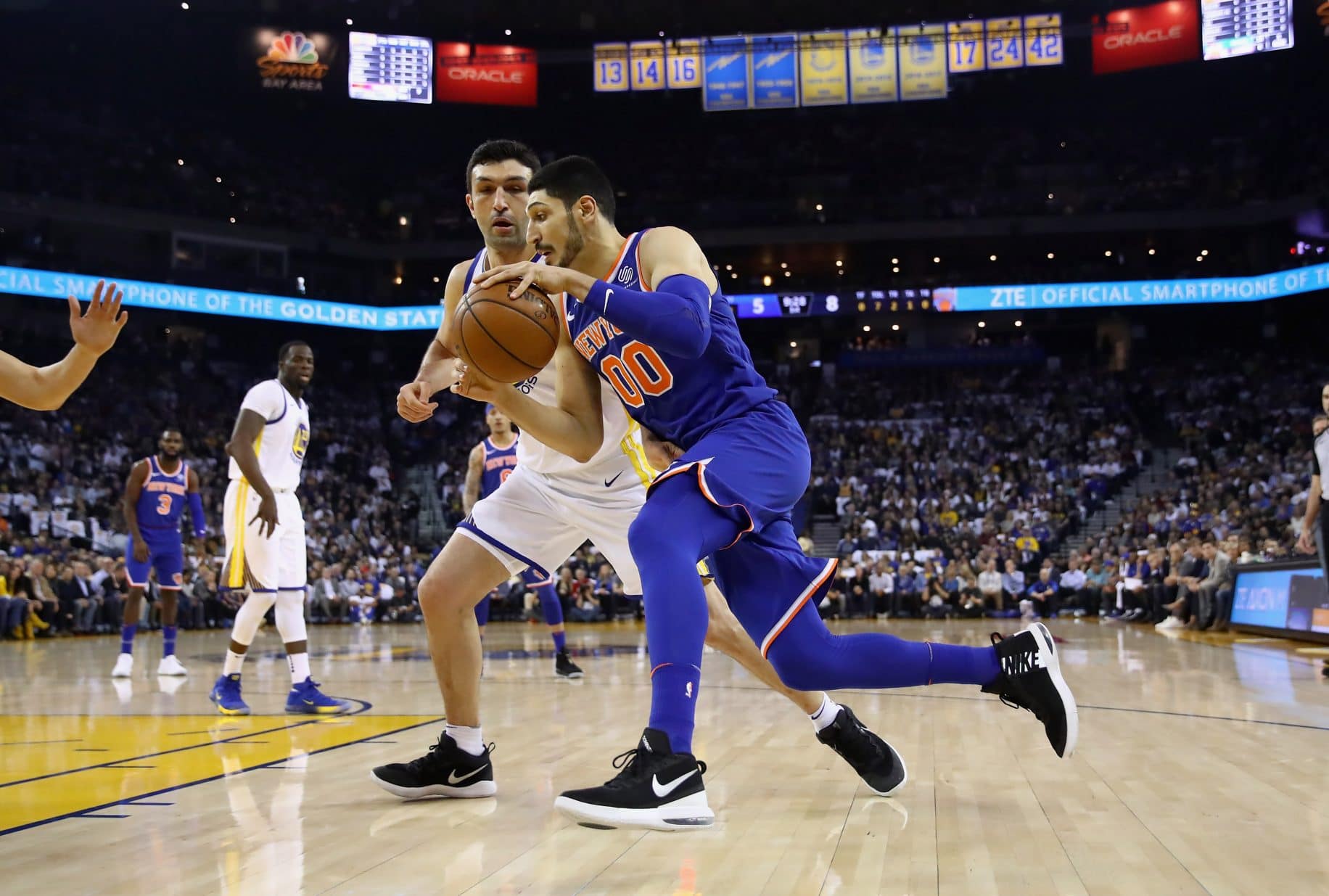 Sure, Kanter's not a great defender and the case could be made that the 25-year-old center is better suited on a win-now team instead of the floundering Knicks, but at some point, management has to start reeling in established talent such as Kanter. While he could opt-out after this season, for the moment, Kanter is under contract through 2018-19 at roughly $18 million a year, which isn't that bad of a deal.
When's the last time a star or well-regarded player said they wanted to play in New York? Carmelo Anthony? That's nearly seven years ago. Let that sink in.
He's not a superstar center, but Kanter is a nice player who appreciates the situation he's in and seems to love playing in the Big Apple. It's not exactly an everyday occurrence that a well-known commodity like Kanter pledges allegiance to the Knicks and discusses how great their front office and the people around the team are.
With little to no cap space at their disposal this offseason and currently deprived of their star forward for an extended period of time (Porzingis), the Knicks aren't going to be an attractive destination for free agents in the near future. Plus, chances are if the team in place now is similar or nearly identical to the squad assembled for next season, the Knicks will all but likely be on the outside looking in at the playoffs; this makes it crucial for president Steve Mills and general manager Scott Perry to have established veterans and players who sincerely want to play for them in place. Kanter fits the bill.
Even if the Knicks didn't want to start him next season because say they're going to target a center in the NBA Draft such as Arizona's DeAndre Ayton or Texas' Mohamed Bamba, they could still bring Kanter off the bench. In his last two seasons with the Oklahoma City Thunder — before he was traded to the Knicks for Anthony — the big man thrived in a reserve role.
Averaging 13.5 points and 7.4 rebounds per game in just 21.2 minutes a night in his final two seasons with the Thunder, Kanter was able to come off the bench and be unaffected by a limited role.
At the end of the day, it's not Kanter's choice on whether or not the Knicks decide to pursue a trade or simply cut ties with him after this season, but if you're management, isn't having players who want to play for you better than overpaying free agents who don't?
Kanter's pledged allegiance to the Knicks on a number of occasions; Saturday morning is just the latest example. Whatever they plan on going forth with doing this offseason, the Knicks would be wise to not take that commitment from Kanter for granted.