Alain Vigneault has been an excellent coach for the New York Rangers, but he must make adjustments to his style if he wants to remain successful—and potentially, keep his job with the Blueshirts.
A
quick and well-documented history lesson: After the
New York Giants
' 2006 NFL season ended with a painful first-round playoff loss, with an 8-8 regular-season record following a 6-2 start and a locker room brimming with dissatisfaction over his coaching style,
Tom Coughlin
was at a crossroads. Three seasons at the helm had resulted in some success (the NFC East title in 2005 and back-to-back playoff appearances) but also a reinforcing of the notion that his heavy-handed, often abrasive ways might no longer lend themselves to long-term employment, a notion that surfaced when he was fired as Jacksonville's coach in 2002 despite having led the Jaguars to two appearances in the AFC Championship game in eight seasons.
Looking to prevent Coughlin from suffering the same fate and trying to avoid a players' revolt, Giants management sat him down after that season and insisted that he needed to make significant changes. No more silly rules, no more dictatorial approach toward the players and, most importantly, showing the team his human side.
Twelve years later, Coughlin wears two Super Bowl rings because with his coaching future on the line, he listened and embraced change. He became a players' coach when he had to—when he had no other choice.
The coach of the New York Rangers should take heed. Like Coughlin back then, Alain Vigneault stands at a crossroads. He's an effective coach who needs to see the error of his ways in certain areas and make corrections in order to continue to be successful.
Such a change from Vigneault would hardly be what Coughlin underwent, of course. AV is personable, warm, and upfront with the media and his players. Lightening up wouldn't be on the docket as part of such an intervention by Rangers management.
The parallels, though, are there.
Like Coughlin after his Jacksonville experience, Vigneault is a coach who's come close to the summit, only to fall just short. And like Coughlin, he's made the mistake of becoming too set in his ways in the aftermath.
In order to save his current job and preserve his coaching future, the light bulb has to go on for Vigneault. Such a transformation probably wouldn't immediately yield what it did for Coughlin, who had a Super Bowl team that was simply waiting for the proper leadership while the Rangers are facing, at a minimum, an imminent reshaping of their roster.
If, however, management wants to keep Vigneault around through these certain changes, here is a three-point plan of change for AV to embrace himself.
Step 1:
The coach can no longer ignore the fact that hockey is an emotional game. A fast, physical affair played in tight quarters by the world's best players is going to generate intensity, anger and often aggression. Vigneault needs to not only accept that from his players but channel it. His turn-the-other-cheek expectation of his team removes fuel from the effort, not to mention allowing the Rangers to get knocked around on a nightly basis. It's not about fighting, it's about leveraging the natural emotion that enhances competitiveness in this or any sport.
The image of him waving Brian Boyle away from a shouting match with then-Montreal defenseman P.K. Subban during the 2014 playoffs epitomizes Vigneault's philosophy in that area. Having Marc Staal and Jimmy Vesey suffer injuries on egregious high hits by Nashville players last Saturday with only non-fighter Brady Skjei willing to respond by dropping his gloves – and not doing well against Ryan Johansen – was embarrassing. It's one thing to want to avoid bad penalties and altercations for the sake of altercations, but the scrubbing of an emotional edge from this team seems almost total. Opponents know they can take advantage of the Rangers physically and regularly do, and have for years. Can an approach that seems to discourage standing up for teammates — not to mention not having the personnel to do so — be good for morale?
The relentlessly even-keeled Vigneault unquestionably seems to prefer this vanilla roster, one that contains some talent and skill but no fire whatsoever. That's not working anymore. If he doesn't have those kinds of players at his disposal, he needs to demand them from management. To that end…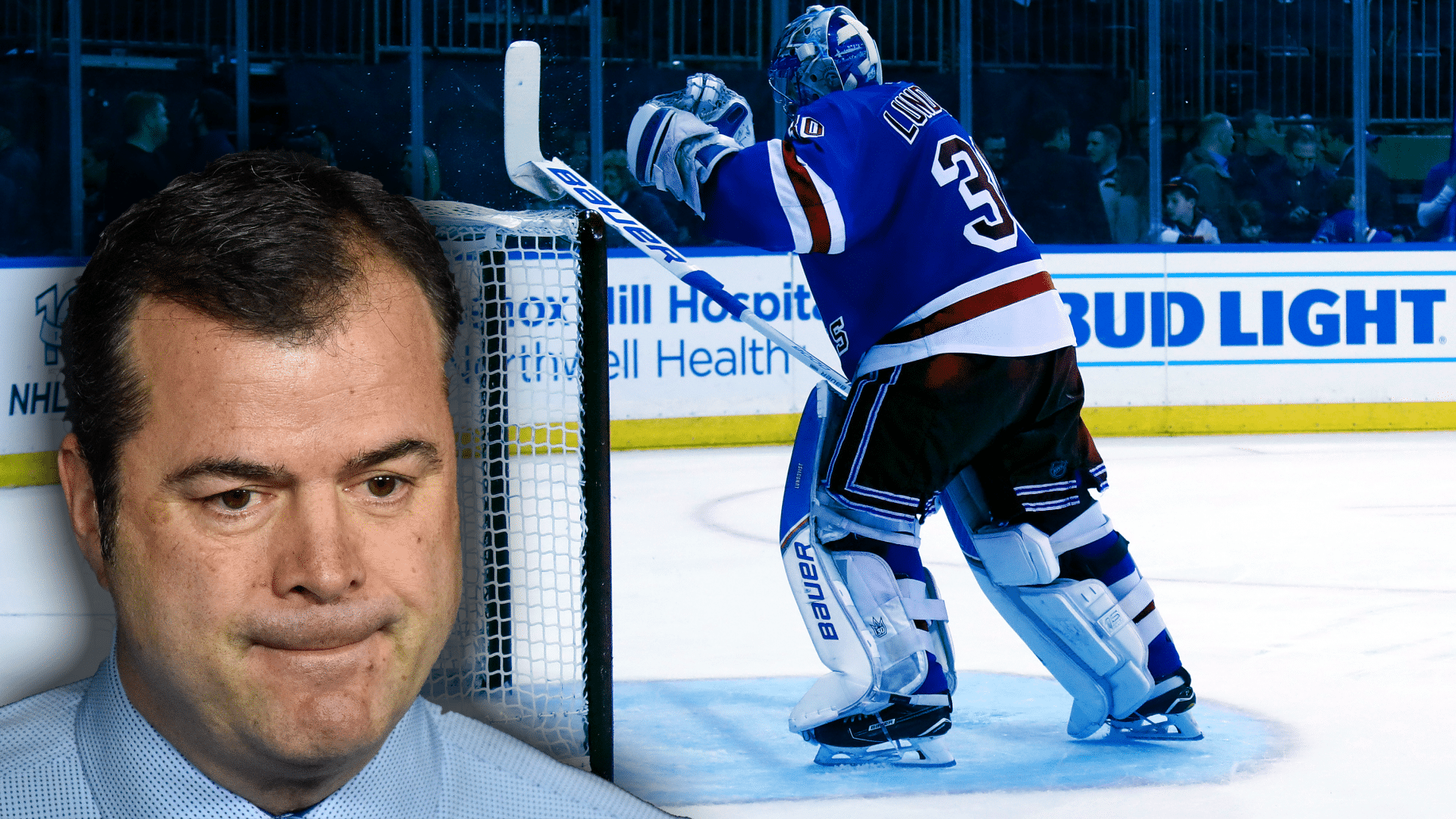 Step 2:
… the yearly formation of four homogenous forward lines, focused on speed and skill and devoid of grit, HAS to stop. Again, if management has been forcing that on the coach, he needs to speak up; the reverse is true if it's been Vigneault resisting a different kind of player.
AV has either forgotten or is being willfully ignorant of the prominent role played by his physical, agitating fourth lines during the Stanley Cup Final run in 2014 (Boyle, Dominic Moore, and Derek Dorsett/Daniel Carcillo) and the seven-game Eastern Conference finals loss in 2015 (Moore, Tanner Glass and James Sheppard). Glass's hitting and nasty play in last year's postseason against Ottawa changed the series, but that's apparently already been forgotten.
Revisionist history won't solve the problem. The Rangers simply have to find a way to incorporate edgier and more physical players into their lineup. Because fighting is leaving the game and the NHL is becoming quicker and more skill-based does not mean hitting, intimidation and getting a star player off his game through said methods is as well. This change should be a condition of Vigneault remaining behind the bench, whether that can be perceived as management meddling in the coach's arena or not. Enough is enough in that area.
Step 3:
Accountability needs to become an applies-to-all entity, and this is going to be especially important moving forward if Vigneault is charged with developing young players acquired during a reshaping of the roster. Right now, veterans get absurdly long leashes to make mistakes or work through ineffective stretches; young players receive little or no room for anything but top-level play. Vesey has taken most of the hit this season, along with J.T. Miller, Boo Nieves and Vinni Lettieri, among others.
By contrast, it seems that Brendan Smith is the only veteran that's been truly taken to task for poor play, and in his case, no coach would have kept putting him in the lineup given his cratering efforts throughout the season (Smith was waived Thursday and is expected to be sent to the minors if he clears). Plenty of veteran Rangers have had sub-par seasons, yet it seems none of them are uncomfortable about playing time. That breeds complacency, not to mention resentment among the youngsters that there is a double standard in play. There needs to be one rule for everyone, especially with young players certain to dot the roster in coming seasons trying to learn the NHL game. If anything, they need to be given an even LONGER leash to aid in their development.
Benchings can be a teaching tool. They also aren't a cure-all and can easily backfire in the form of lost confidence and frustration. That shouldn't always be Vigneault's first reaction to a kid making a mistake.
Perhaps the biggest pitfall with dismissing one coach over dissatisfaction with his style and replacing him with one that has a polar opposite approach is that you eventually start to miss some of the things the former coach actually did well. The Rangers aren't going back to diving all over the ice to block shots as they did under John Tortorella (maybe HE should have gotten the "Coughlin" talk?), and it's unfathomable that they'd ever hire him again, but it seems clear that the pendulum has swung too far the other way now.
Vigneault was the right coach at the right time in 2013-14, taking over a team desperate to throw off the yolk of Torts' rigidity and exhausting mental approach in favor of Vigneault's upbeat demeanor and desire for offensive freedom and skating.
That change resulted in a trip to the Cup finals that season. For there to be any more of those in the near future, more change is necessary. This time it has to come from Vigneault, who perhaps needs to realize that not every aspect of his predecessor's style was bad.
If he doesn't, the change could come in the form of a new man behind the bench – perhaps one that emphasizes a more Tortorella-esque way of doing things?