For fans, trades are just a part of the game. For athletes, they mean an entire life change.
T
he
New York Rangers
have asked Rick Nash for the
teams on his no-trade list
. Prior to the team's 2-1 loss to the Dallas Stars, Nash spoke to reporters about how that felt. He made it clear, trades are not an easy thing to deal with.
"It's disappointing, it sucks," Nash told Brett Cyrgalis of the New York Post. "It's just the things that happen when your team doesn't win and they have to make business decisions. It's really disappointing."
Nash has made it clear that he loves it in New York and would prefer to remain with the Blueshirts. He also explained what was going to be the toughest part for him: telling his three-year-old son.
"I have no idea how I'm going to explain to my son that he can't cheer for the Rangers. That definitely went through my head. Every time he sees a goal, he starts singing the song. It's tough, but it's the reality."
The Rangers acquired Nash in the summer of 2012. He completely committed to playing in New York. He and his wife Jessica have raised their three-year-old son McLaren in New York and the Rangers are all the young Nash family have ever known.
It is incredibly hard to imagine being asked to uproot your entire family in the middle of a season. This is especially hard when a player manages to get a no-trade clause in their contracts. Nash does have a limited no-trade clause so he has a say in where he can go. But either way, it still means that he and his family could potentially be separated.
Nash's situation is a little bit different from when the Rangers acquired him six years ago. At the end of this season, he will be an unrestricted free agent. He clearly wants to be a Ranger and if the club is interested, there could be a reunion between the two. But that isn't something that Nash and his family can count on.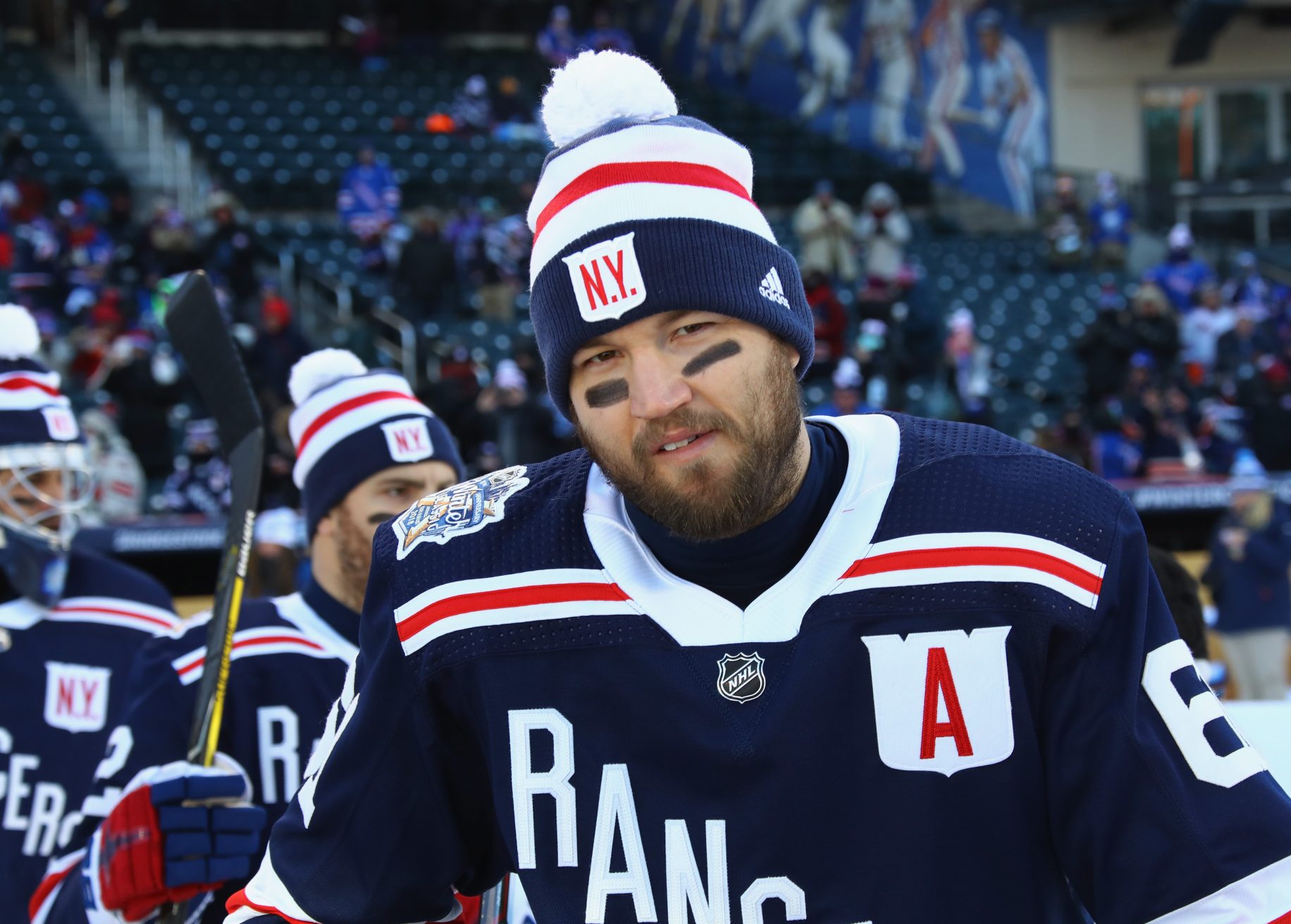 Fans will never truly know how it feels to go through something like this. The only thing close to it is the feeling when their favorite player is traded or moves on. Imagine the feeling you'll get if the Rangers traded Mats Zuccarello or Henrik Lundqvist. To us, it's just the player changing uniforms, but in reality, it means so much more.
This brings up the age-old question whether or not it is ethical for players to be traded?
I don't think I'll ever quite fully wrap my head around how weird it is that a) baseball players, actual human beings, are just randomly traded for one another without their consent and b) that we all just accept this as a perfectly normal thing to have happen.

— Jared Diamond (@jareddiamond) December 12, 2017
Now even though the tweet above is related to baseball, the point that Jared Diamond of the Wall Street Journal brings up a great one. Trades are basically swapping people that perform services to an organization. In Nash's case, he has to give consent on where he will ultimately end up. That is something that he had to work on coming into the league though. Teams just don't give no-trade clauses to any player. For those players who do not have no-trade or no-movement clauses, it is fair game for organizations to trade them, no questions asked.
The way to look at trades similar to a company transferring employees to different organizations. Is it ethical in that situation? In both situations, neither the player or employee gave the okay to move. This isn't a question that is brought up enough.
What would happen if every player had some form of a no-trade clause in their deal? The industry most certainly wouldn't come to an end. As a matter of fact, it might make trades easier for the athlete to handle. Instead of them having to find out on Twitter that they have been traded, the athlete could know ahead of time. Why? Because they had a say in where their entire family has to go.
Trades will forever be a part of sports; no one is questioning that. They are important in terms of building a farm system and giving players a fresh start. Rick Nash brought to light the side of the athlete. One that, quite frankly, just is ignored time after time.