How could you possibly describe the ups and downs of being a Mets fan to an outsider you ask? Let Mugatu do the talking for you.
Every Knicks fan on planet earth received some truly horrible news today. Franchise cornerstone and savior, Kristaps Porzingis, exited Tuesday's game against the Milwaukee Bucks with a left knee injury. It was later confirmed to be a torn ACL. Currently fighting back tears, I can't help but contemplate the perpetual state of bad luck this franchise seems to find itself in. To cheer myself up, I want to write something happy, which is why for now I'll have to shift my focus to the New York Mets.
Being a New York Mets fan is certainly a unique experience. We are a select group indoctrinated into following one of the most frustration organizations in all of professional sports. We hate it. We love it. Today, I share with you the five moods that encapsulate us Mets fans. And what better way to do it than using GIFs of Mugatu.
Note: If anyone hasn't seen Zoolander (2001), do so before continuing to read this article.
Mood #1: Dear God, It's Beautiful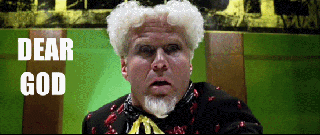 It makes sense to start with the good as opposed to the bad after today. Through all of our pain and suffering, there are brief moments where everything comes together and simply put, "it's beautiful."
These moments are few and far between, but they make being a Mets fan worth it. Some examples that come to mind are Games Six and Seven of the 1986 World Series, Mike Piazza's post 9/11 home run, the entire 2006 season (up until Carlos Beltran's called strike three), Johan Santana's No-Hitter (which really wasn't a no-no if you remember Beltran's would be single that was ruled foul), and last but certainly not least, the Yoenis Cespedes trade and everything that happened as a result in 2015.
Through every single instance, we all felt just as mesmerized as Mugatu watching Derek Zoolander use Magnum to save the Prime Minister of Malaysia.
Mood #2: That Hansel's So Hot Right Now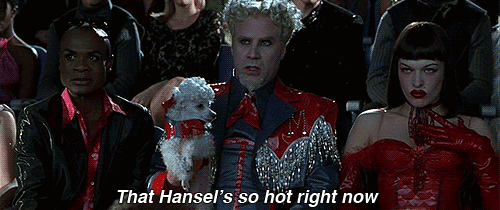 A typical baseball season always features its fair share of ups and downs. Despite the fact that the downs always seem infinitely more depressing than the ups are good, there always seems to be a hot streak that captivates us more than the rest.
A perfect example is when the Mets won 11 games in a row during the 2015 season, the fifth time they pulled off such a feat in franchise history. What was truly remarkable about it was that it was accomplished it on the backs of players like Bartolo Colon and Daniel Murphy, and not David Wright, who had just begun to watch his health spiral out of control at this point.
This streak established the Mets as contenders in 2015 and almost foreshadowed their eventual conquering of the National League East. Honorable mention here is, of course, the scorching hot 57 games Cespedes played after joining the Amazins' (.287 BA, 17 home runs, 44 RBIs).
Those Mets are so hot right now.
Mood #3: I'm A Hot Little Potato Right Now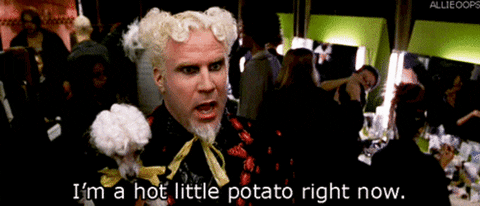 If you are a Mets fan, you've been dealt your fair share of blows on this roller coaster ride. It doesn't matter how long you've been on it. The hits just keep on coming. And when the hits come, they toss us into a frenzy that can only be summed up by referring to this GIF.
Think about the immediate aftermath following every injury-related news pertaining to Wright, watching Matt Harvey go down twice, Johan Santana's career imploding, and of course, being in the midst of the 2007 and 2008 collapses. Those moments are only a select few, but I think you can figure out where I'm going with this.
The day to day stresses of following this team turn us all into hot little potatoes.
Mood #4: Welcome To Your Relaxation Time Every time this organization eliminates itself and puts them out of our misery.
Mood #5: GOOD!!!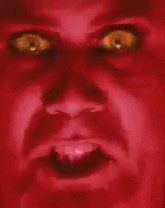 Every time we fire the equivalent of Omar Minaya and Jerry Manuel or find ourselves free of Jason Bay.
Mood #6: I Feel Like I'm Taking Crazy Pills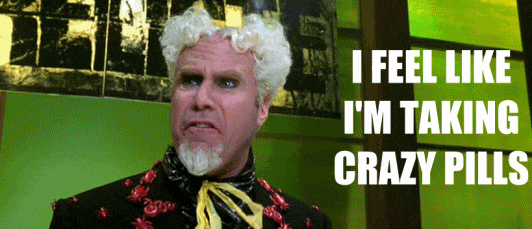 Ah yes, my favorite. The mood that Mets fans find themselves in roughly 96% of the time. The definition of insanity is trying the same thing over and over again while expecting different results. Year after year it seems that Mets management has failed to grasp this concept. This offseason is no different.
Jay Bruce, Todd Frazier, and Anthony Swarzak are all solid acquisitions, but they're treating the symptoms, not the underlying problem. Why are we still putting our faith in Travis d'Arnaud behind the plate? Between poor defense and his inability to stay healthy, he has been a barely serviceable backstop for this club. How will platooning him with Kevin Plawecki be any different? Plawecki may have shown limited signs of life but generally stinks of the same odor that most busts do.
And even if we have finally let go of our irrational belief in the "Five Aces", do we really expect them to remain healthy for a full season? Was it that outrageous to bring back Bartolo Colon, a perennial innings eater, on a minor league deal?
And how could we possibly forget that Sandy Alderson was completely opposed to including Brandon Nimmo in a trade for Andrew McCutchen? Why? Why? Why? McCutchen has plenty of baseball left in his bones and the San Francisco Giants will certainly reap the rewards of that deal, not to mention their unwillingness to deal for McCutchen spells that they won't go after the upgrade they need at second in Josh Harrison either.
"I feel like I'm taking crazy pills."
Bonus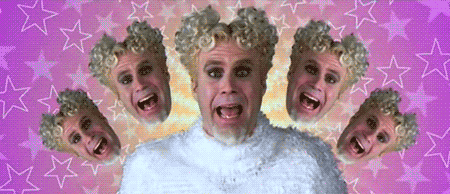 What all of our faces will look like when the Mets finally climb the mountain and bring home their third World Series Title (a.k.a. never).