With the NBA trade deadline nearing, questions abound as the New York Knicks look for a taker for Joakim Noah.
The Knicks are reluctant to mortgage the future to rid themselves of what they hope is their past. There are conflicting reports, which is par-for-the-course during trade deadline season, regarding whether the Knicks are willing to include a first-round pick in any deal.
ESPN's Ian Begley notes that they are unwilling to part with future assets, especially a coveted first-rounder in any deal, something ESPN's Adrian Wojnarowski first reported on Wednesday.  A report from Basketball Insiders' Steve Kyler of Basketball Insiders says the opposite—that the Knicks may be inclined to add a first-round pick to a deal in order to entice a team into trading for exiled center Joakim Noah.
Begley also notes that while they are not tanking, the Knicks are unwilling to sacrifice future cap space nor mortgage their future at the trade deadline, which essentially amounts to standing pat. Sometimes doing nothing is better than doing something. The Knicks are 23-30 and currently sit in 10th place in the Eastern Conference, four games out of a playoff spot, which puts them in the ever-precarious position of mediocrity. With a playoff berth possible but unlikely, it doesn't make sense to trade future assets for talent that can't help beyond this season.
Tanking would serve no tangible purpose. They have won too many games and have too many teams behind them with injuries and inferior talent to guarantee a significant change in lottery position. With a superstar the ilk of Kristaps Porzingis and a young scorer like Tim Hardaway Jr., the Knicks have too much young talent to guarantee a dip in the standings, even if they traded some of their expiring contracts. Furthermore, after enduring a five-year playoff drought and making it past the first-round just once in the past 18 seasons, the Knicks owe it to their fans to put a competitive product on the court.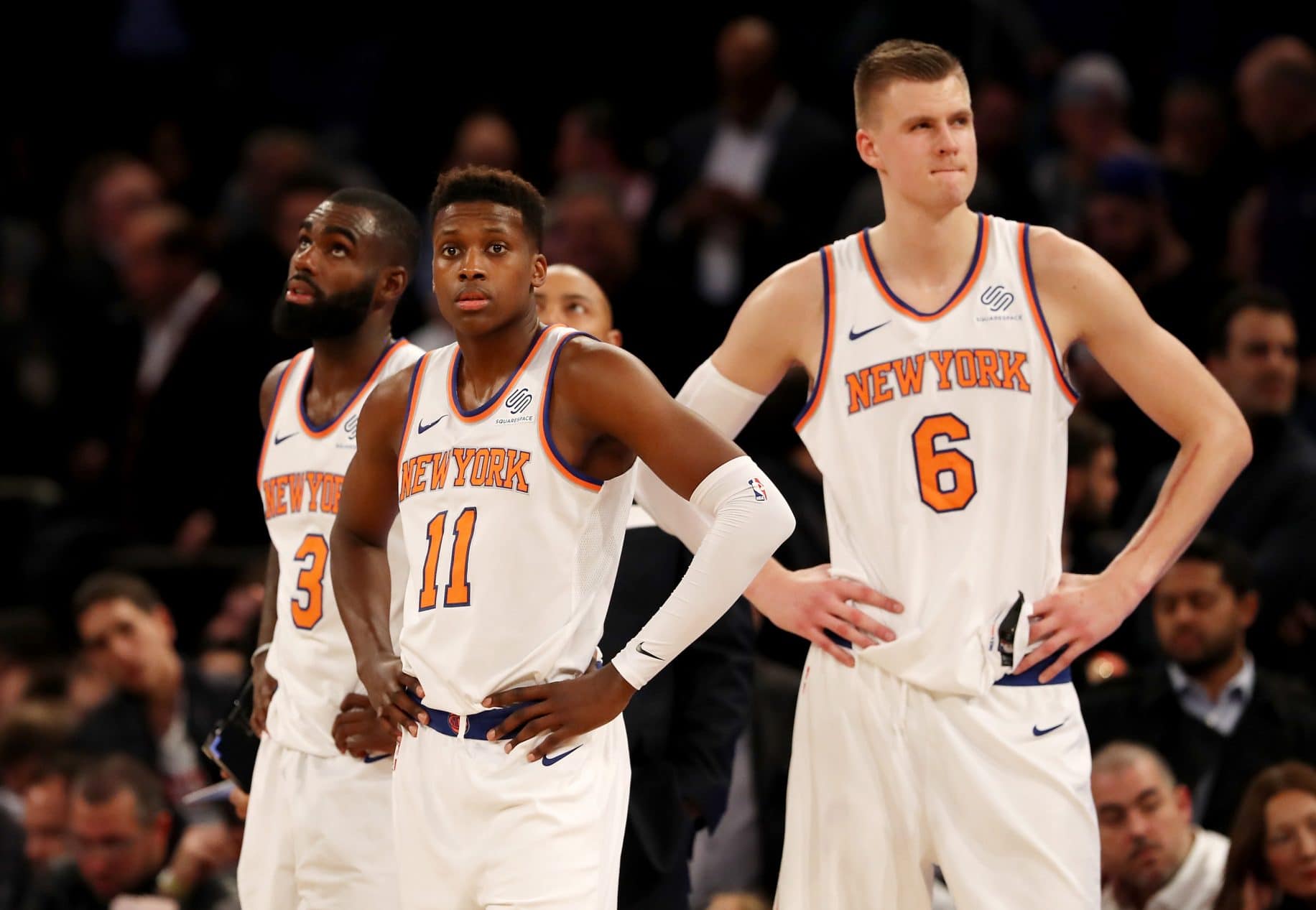 The proverbial elephant in the room remains Noah's status. He and the team have agreed that its best if he just stays home, which indicates the Knicks have zero intention of re-integrating him into their team. That seemed an unlikely scenario, however, under any circumstance, given that he's in just the second year of a four-year, $72 million deal. Signed by since-departed team president Phil Jackson, he's logged just 40 minutes over seven games for the entire season before getting into two verbal altercations with Knicks head coach Jeff Hornacek.
As the Feb. 8 NBA trade deadline approaches, Knicks general manager Scott Perry has been searching for a taker for Noah rather than simply releasing him and having his contract count against the cap. The team could elect to cut him under the NBA salary cap stretch provision, but they still would owe him the remaining two years of his contract over the next five seasons. All indications are Noah is reluctant to give any money back in a buyout.
While attaching a first-round pick to Noah to add value to what is now an almost untradeable deal might represent a certain wisdom if the Knicks are able to take back expiring contracts, they would be essentially giving up one of their best assets while receiving nothing in return. Salary-cap relief certainly possesses inherent value, but with teams attaching increasing value to draft picks, the Knicks should be wary of using a pick to correct a mistake.
Trading Noah would certainly improve the Knicks' ability to acquire a big-ticket player in the offseason, but as past misses have shown, salary cap space does not guarantee an influx of free agents. That said, Noah's contract represents an albatross on their books for a player who essentially brings them no value.
The Knicks best bet to rid themselves of Noah could involve them including 19-year-old rookie Frank Ntilikina, who Jackson chose seventh overall in last year's draft, to entice a team into taking on Noah's contract. Ntilikina has been largely ineffective on the offensive end in his debut season but looks like he will develop into a solid NBA defender. While Ntilikina is a holdover from the last regime, he is a young asset and the Knicks might be wary of parting with him if they believe he will develop into a solid NBA point guard.
So far, no team seems willing to take on a disgruntled and ineffective player like Noah, which only leaves options that will have a negative impact on their salary cap. While it wouldn't solve their salary cap issues, one alternative is taking back a different bad contract in a Noah deal. One example would be Lakers forward Luol Deng, Noah's former teammate in Chicago. Deng, who signed the same deal as Noah at the same time, has played in just one game for the Lakers this season. Whether Deng has anything left in the tank is a big question, but it would rid the Knicks of both a headache and a glut at the center position.
Whatever option the Knicks choose, it seems that Noah's contract will have a negative impact upon the Knicks maneuverability for years to come unless they elect to part with a coveted pick while getting nothing in return, which as mentioned is a foolhardy undertaking.
The one given is that the Knicks need an influx of talent. If they want to build for the future, they might be best-served holding onto what is looking more-and-more likely to be a lottery pick. With an abundance of talent available on the trade market, the Knicks could wait until the offseason and see what the pick could bring in return as teams look to maneuver in the draft and clear salary cap space.