Joakim Noah inked the biggest contract of his career last season with the New York Knicks. Now one of the NBA's worst contracts, who might be interested in taking it on for assets included?
L
ast summer was pivotal for the Knicks as a franchise. Three of the team's five starters in the 2016-17 season came via free agent signings. Most notable: Joakim Noah's four-year, $72 million deal.
One year later, it's proved a complete bust and failed experiment. An MVP candidate as recently as the 2013-14 season, injuries and a lack of chemistry hindered Noah's stride. In his first season with the Knicks, he averaged a meager 5.0 points and 8.8 rebounds per game.
With his contract now a hindrance to the team's rebuilding efforts, is there any chance the Knicks could move him?
What does New York have to offer?
To move Noah's contract, the Knicks will have to sweeten a potential deal by including another valuable asset. deal. That could be their 2018 first round pick. Based on the current state of things, there's a high chance that will fall within the lottery fourteen.
Rookie guard Frank Ntilikina and/or third-year forward Kristaps Porzingis would certainly be enticing to a number of teams. Whether that'd be enough to get another team to take Noah—or if the Knicks would actually trade one of them—remains unclear.
But if moving Noah is the goal, they might not have much of a choice. Let's take a look at three potential trade partner
Atlanta Hawks
Following the exit of star forward Paul Millsap, the Atlanta Hawks are in rebuilding mode. With guards Dennis Schroder and Kent Bazemore at the helm, this is a team that can be back contending for a playoff spot in three to four years easily.
Millsap left a max-contract void that wasn't filled even halfway by other free agents. They took on the salaries of Jamal Crawford (waived) and Miles Plumlee in exchange for picks and assets but could make room for Noah as well.
To compliment the Hawks' needs, New York would have to pair their 2018 first round pick with Noah. That's to start with. It would also require the Knicks to take on one of Atlanta's bad contracts—though not one nearly as bad as Noah's—to even the deal.
It's hard to see Atlanta making this move after trading for Plumlee, but it's certainly a team the Knicks should reach out to. The Hawks have everything to gain by taking on more salary, as they prepare to invest in youth and the future.
---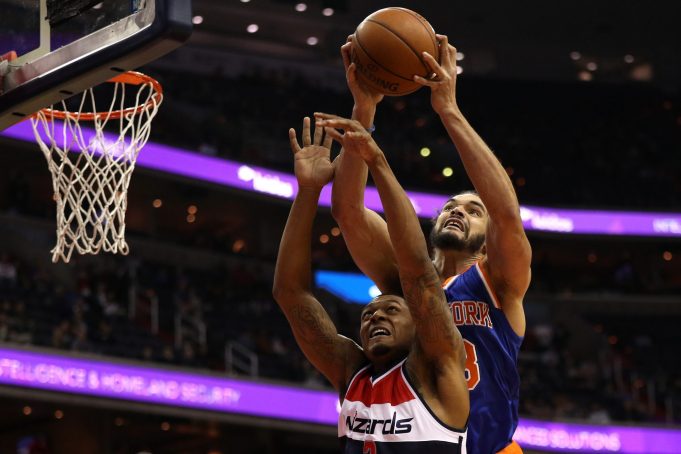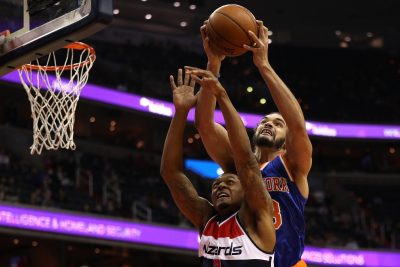 ---
Cleveland Cavaliers
The Cleveland Cavaliers made point guard Kyrie Irving available for trade after he formally requested one in a meeting with the front office. A month since that news broke, the Cavaliers haven't found a deal to their liking (or committed to trading Irving).
However, they did shift their original price tag from two players and a draft pick to one young player on a rookie contract and veteran starter/first-round pick. For the Knicks, that means both Noah and Porzingis.
Again, it's unclear how far New York is willing to go to move Noah, but adding the Latvian forward will be the only way to make it happen in Cleveland. In a recent report, ESPN's Adrian Wojnarowski noted that Porzingis was one of the Cavaliers' many targets.
For a team that's made three consecutive appearances in the NBA Finals and is likely heading to their fourth, this addition could mean everything.
In exchange for the two Knicks, Cleveland would have to send either Irving or forward Kevin Love. New York has shown interest in Love before in regards to a swap for Carmelo Anthony, but talks did not advance.
Dallas Mavericks
Dallas is facing the end of an era, with the retirement of franchise player Dirk Nowitzki growing closer and closer. A team that hasn't seen the playoffs in three seasons, they've acquired young talent and are moving back (slowly) towards relevancy.
For the Mavericks, their center situation for next season is completely up in the air. Restricted free agent Nerlens Noel and the franchise have yet to come to terms on a deal and neither side seems interested in budging off their stance.
Originally, the Mavericks' plan was to hold onto cap space for next summer, so trade for Noah doesn't make much sense. However, attaching the Knicks' first-round draft pick may sway their opinion. They would then have Dennis Smith Jr and (probably) two lottery players to build a future contender around.
I must clarify that any deal involving Noah is unlikely. However, with the Mavericks stalled in talks with Noel, and ready to rebuild, it's worth speculating about.
---
---
Joakim Noah still has 12 games left to serve on a 20-game suspension for violating the NBA's anti-drug policy. Assuming he can stay healthy, all he really offers as a player is a presence on the glass.
For the New York Knicks to make this nightmare contract a dream come true it will cost them a player or pick, both key to the rebuild. Your move Steve Mills.