The New York Knicks need to find a consistent fourth-quarter lineup that works down the stretch on both ends of the floor. Michael Beasley and Kristaps Porzingis both need to be a part of that unit.
As the New York Knicks sit below the .500 mark, but in the playoff hunt, they are frustratingly enigmatic. While at times they show signs of wanting to sneak into the postseason on many a night, they fail to capitalize upon winnable games. With the return of second-leading scorer Tim Hardaway Jr, the fledgling Knickerbockers now have options to finish games, something that has been a struggle of late.
One of the Knicks' biggest issues has been finding a consistent fourth-quarter lineup that works down the stretch on both ends of the floor. First and foremost, they fail to get stops. Secondly, as he acclimates to being "the man" Kristaps Porzingis has found it difficult to find himself high percentage momentum swinging shots that often change the course of close games, especially when playing alongside the Knicks centers.
Enter Michael Beasley
While Hardaway was on the shelf, the enigmatic, loquacious and abundantly talented former second-overall pick, Michael Beasley, has emerged as something of a wunderkind with the basketball. Beasley, often prone to giveth as much as he does he taketh, has become reliable, calm, and is at least putting forth an effort defensively, making his output off the bench invaluable and essential.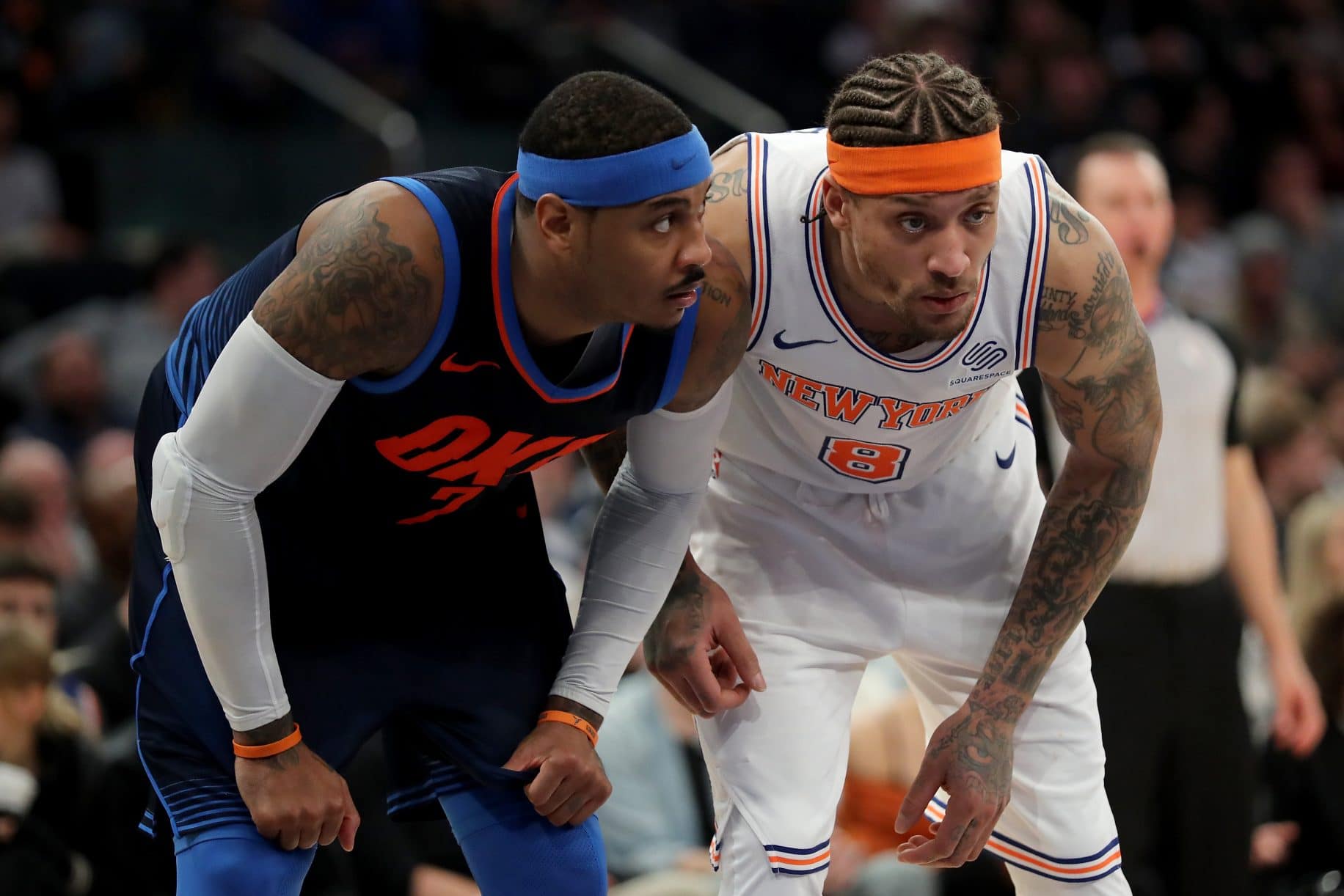 Simply put, Beasley is giving them star-quality minutes and needs to play when games are in the balance.
Signed to a one-year, $2 million deal this offseason to be Carmelo Anthony's backup at the time, Beasley has finally found himself at the age of 29. After bouncing around the NBA and the world, actually—Beasley had two stints in China—he seems to have found a home and etched a role with the Knicks.
It wasn't until KP was briefly on the shelf that Beasley began to thrive as his replacement—then understudy—as a scorer and surprisingly effective rebounder. In the seven starts during KP's absence, he averaged 20.3 points per game as a primary option, while showing similar efficiency off the bench, especially over the last two months where is averaging 15 points per contest off the bench. For the season, Beasley has been exceptionally productive, averaging 23.3 points and a surprising 9.0 rebounds per 36 minutes. He is also shooting over 50 percent from the field and 40 percent from three-point range, the quintessential benchmarks of offensive efficiency.
More importantly, he improves the Knickerbockers strategically. An athletic-but-sporadically inconsistent defender, he serves as a stretch four, able to keep up in transition on defense as more as more teams go small while creating mismatches with his quickness on the offense and allowing Porzingis to do the same to opposing centers. As his three-point shot continues to improve, the left-handed Beasley forces defenses to respect his shot, then uses his uncanny penetrating ability to work himself into the paint and use his boundless set of moves to get to the basket. That creates shots, lots of them, for himself and openings for shooters like Courtney Lee, Hardaway and especially Porzingis, forcing opposing big men to make the unfortunate choice between picking up Beasley at the goal or leaving KP open on the perimeter. This forces switches and creates havoc for opposing defenders.
Kristaps Porzingis' best position is at Center
There are indeed times when Kristaps Porzingis looks like a freak of nature, driving by players who are virtually a foot shorter than him while playing power forward. That said, he is at his best when forcing opposing centers to come out and guard him on the wing, creating pick-and-roll mismatches and using his quickness to exploit opposing big men. Alongside Beasley, slower forwards and centers are forced into mismatches and the choice of leaving either Beasley or KP, who has shown marked improvement as a passer and facilitator as defenses focus on limiting his shots.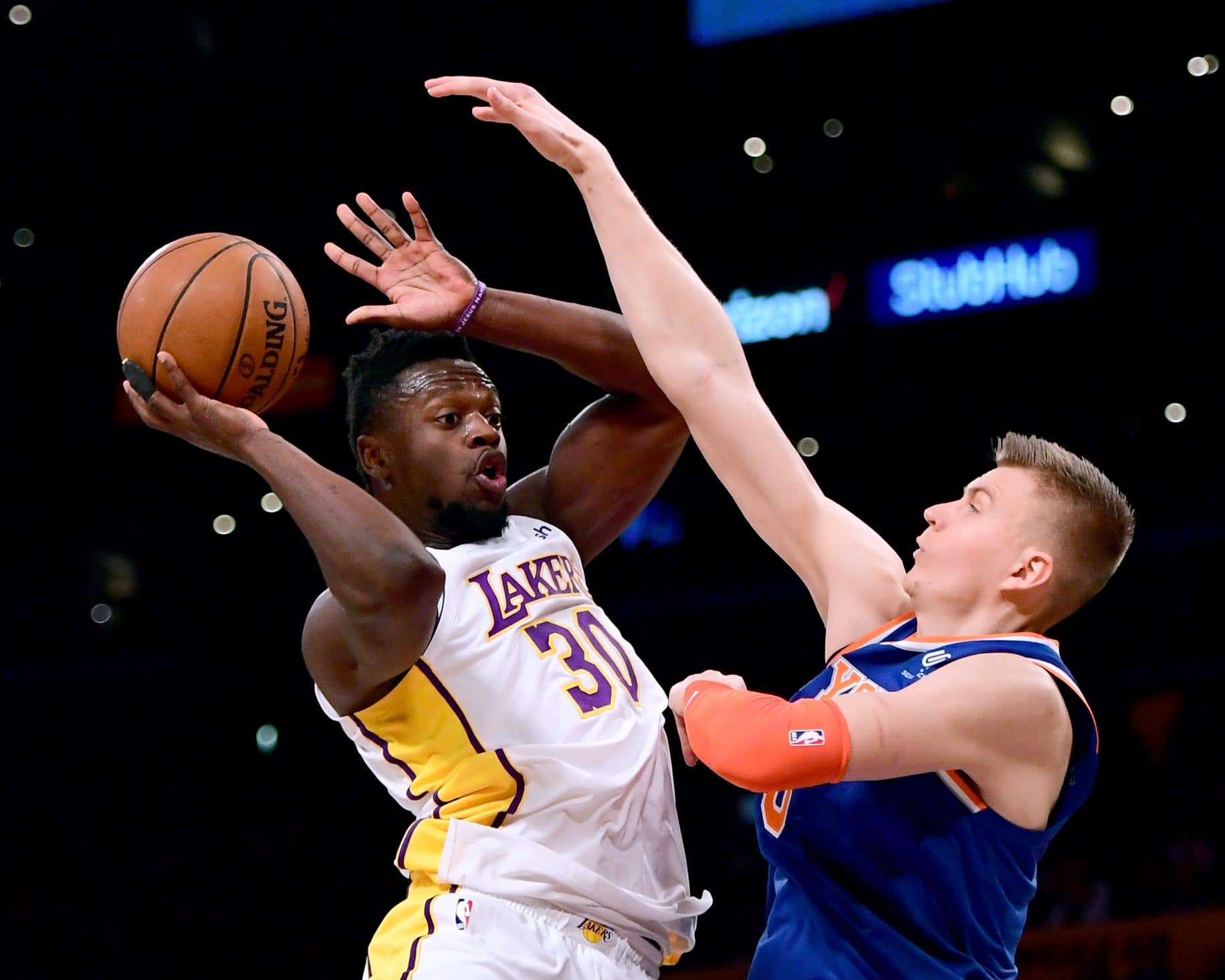 It is on defense, however, where the difference in both Porzingis and the Knicks defense is most apparent. While able to operate the wings on offense, on the other side of the floor KP is typical plodding big who belongs using his length to guard the rim. Leading the league in blocked shots, the 7-foot-3 dynamo is at his best when guarding the goal and not chasing stretch fours. While he may transcend the position offensively, on the defensive end, the five is unequivocally his best position.
This season Porzingis has a block in every game and leads the league with 2.3 blocks per contest, a career high. While his rebounding numbers are down, KP has learned the art of intimidating penetrators without fouling rather than chasing them and picking up fouls. With teams often spreading the floor KP fits the mold of today's NBA big.
The new NBA, that of motion sets, transition three-point-shots and pick-and-rolls doesn't really necessitate banging on the block. Stopping penetrators and guarding against transition buckets are key, making the center position well-suited for Porzingis in every way.
With one-quarter of the roster and roughly $40 million of payroll dedicated to four centers, KP is this team's starting PF but he needs to finish games at his best position, alongside Beasley.
Exit Enes Kanter
Starting center Enes Kanter, now in his third NBA stop is a quintessential compiler. While he is averaging a double-double (14.0 PPG, 10.1 RPG), an effective post player and offensive rebounder, he is half a player. His penchant for hitting the offensive glass often leaves him vulnerable to letting opposing big men release in transition while likewise displaying the habit of meandering back on defense and finding himself out of position. While the numbers look gaudy, he is a defensive black hole and thus cannot be counted on in the fourth quarter.
He likewise seems oblivious to his shortcomings on that side of the floor, something that frustrated teammates and fans alike in his two previous stops, Utah (where he was booed vociferously) and Oklahoma City. On Jan. 10, after sitting the fourth quarter in a heart-breaking overtime loss to Chicago he seemed oblivious when speaking to Marc Berman of the New York Post:
"I don't know why,'' Kanter said. "What'd he say? I have no idea why. I guess it's a little weird. I have no idea. I look at the coach. He looks at me. OK? I'll sit on the bench.'' "I'm ready [to play in the fourth]. It's a little weird to me too. I guess he's trying to make everybody happy."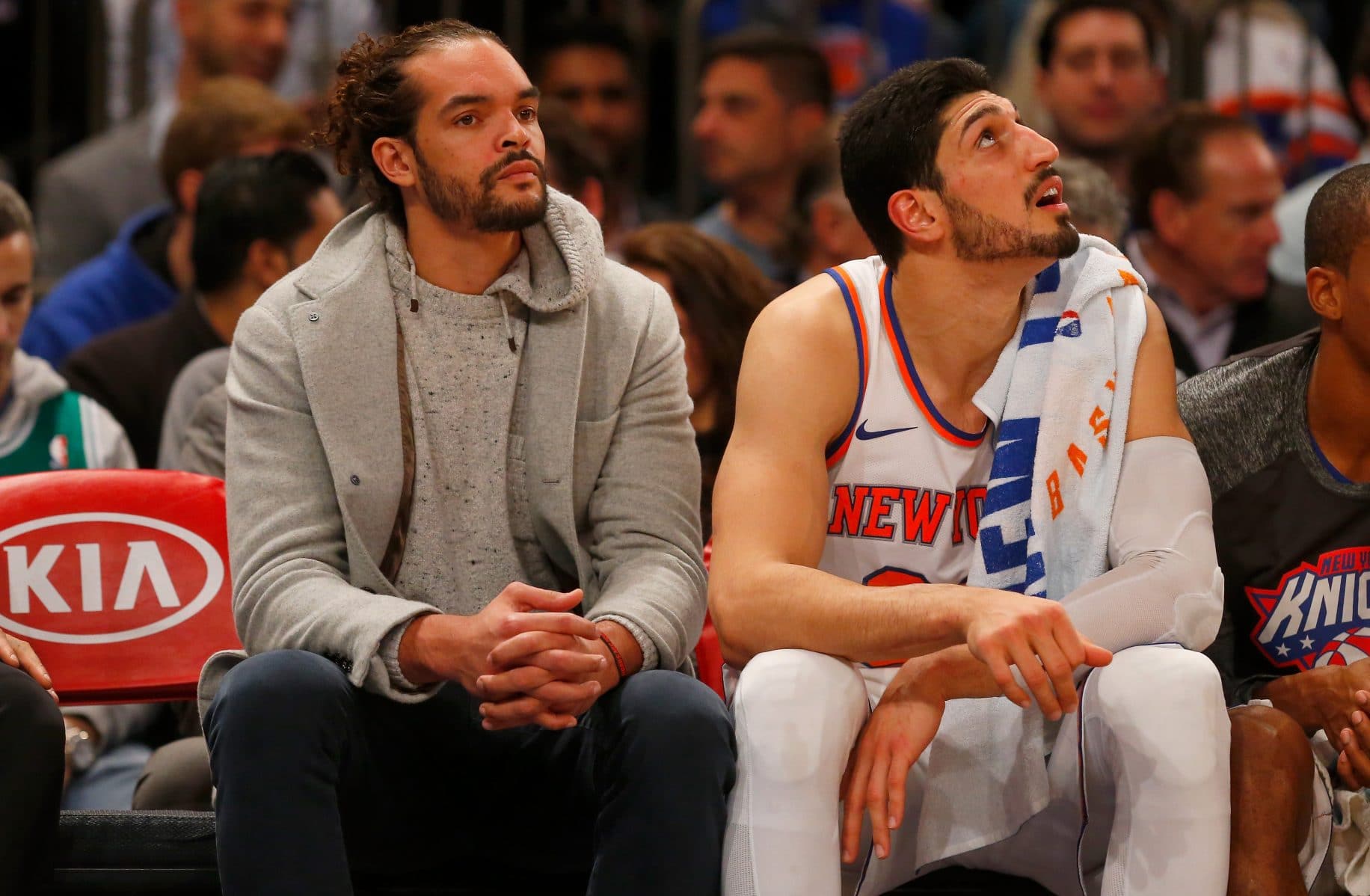 Head coach Jeff Hornacek indicated to Berman that defense was indeed the reason he went with backup center Kyle O'Quinn instead of Kanter. While O'Quinn is a productive spot player, effective in short spurts, he too can also be somewhat inconsistent defensively, and unlike Beasley cannot stretch the floor nor matchup with perimeter big men as the Knicks look to improve the NBA's worst three-point defense.
Alongside Porzingis and Beasley, second-leading scorer Tim Hardaway Jr. gives the Knicks three legitimate all-around scoring threats. The free-agent returnee has markedly improved on both ends of the floor, showing confidence and grit as a penetrator while improving on the defensive end. Courtney Lee, their best one-on-one defender, needs to play down the stretches of games.
While unspectacular, veteran point guard Jarrett Jack has been something of a revelation with his leadership and calm, steadying hand while Trey Burke continues to emerge. As rookie point guard Frank Ntilikina continues to struggle it looks more and more like Hornacek will go with the hot hand to finish games, as the Knicks try to mix-and-match at their weakest position.
Creating mismatches and flooding the floor with the best defensive matchups can go a long way toward masking deficiencies. Three legitimate scorers with a stretch power-forward and center goes a long way to that end.