It is a crucial season for New York Knicks' forward Michael Beasley, and he's making the most of his opportunity. 
New York Knicks' forward Michael Beasley once classified himself as a "walking bucket," capable of dropping 25 points on any given night. While he hasn't quite played at that high of a level, he has been making the most of the minutes head coach Jeff Hornacek has granted him, in what's a prove-it year for the former number two overall draft pick.
In early August, Beasley agreed to a one-year, $2.1 million deal to come in and play for the Knicks. Inking Beasley was intended for the Knicks to have a deep frontline in place — a critical task on their offseason to-do list.
Beasley's ability to put the ball in the cup is well-known. While not much of an outside shooting threat, he shot a career-high 41.9 percent from beyond the arc last season with the Milwaukee Bucks. Additionally, Beasley has always been a player who can force the issue at the rim, drawing fouls and finishing in the paint.
After the Knicks traded Carmelo Anthony, roughly a month after signing Beasley, minutes and roles were up for grabs. And while he hasn't been a starter, or even manned a sixth man role, the trade was a blessing for Beasley, who is making the most of the opportunities he's been given.
In 18 games played, including four starts, Beasley is averaging 8.6 points per game on 53.1 percent shooting in just 15.3 minutes a night. And when Hornacek asked Beasley to start in place Kristaps Porzingis, when he's been sidelined to injury, the forward has answered the call offensively.
Beasley's standout performance came in the team's November matchup with the Houston Rockets on the road. With Porzingis out via injury, Beasley was inserted into the Knicks' starting five and made up for the seven footer's offensive presence. Finishing the night with 30 points on 60.9 percent shooting while also reeling in eight rebounds, he made a profound impact on the Knicks' offensive attack.
In the Knicks' last three games, Beasley is also averaging 16.0 points per game on 61.3 percent shooting.
Beasley has been a void filler and an offensive spark off the Knicks' bench. He's stepping up when others go down with an injury, or simply aren't able to play. He's playing to his strength of being able to score the basketball at any given moment.
Beasley is still not a lockdown defender. As times goes on, it gets harder and harder to be elite on that end of the floor. It doesn't mean he cannot hold his own, though. In fact, Beasley has been better with his low-post defense and is not getting blown by ball handlers at ease.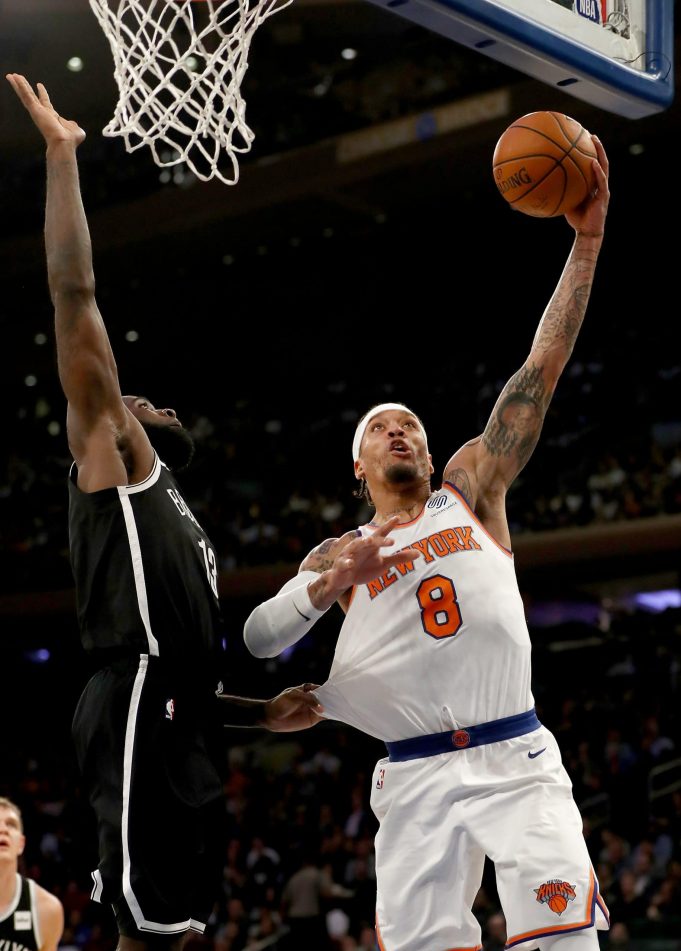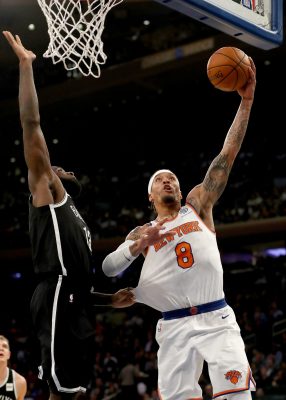 The Knicks are the sixth team Beasley has been apart of in his ten-year NBA career (Heat, Timberwolves, Suns, Rockets, Bucks and now the Knicks). This year, he's been playing in the fewest amount of minutes per game of his career (15.3) and is still finding a way to deliver; it's the efficiency that is encouraging on his end.
Beasley is yet to receive a big-time contract, in terms of money or years. If he can continue to score, improve defensively and answer the call when Hornacek needs him, Beasley may be able to finally get the long-term, financially satisfying deal he's craved over the duration of his career.
In what's a "prove-it" year for the journeyman forward, Beasley has been impressive and surprisingly efficient, despite playing and manning an inconsistent role — only making his success that much more impressive.