We were high on the New York Mets entering last season. Then injuries derailed everything. With largely the same group returning, why are we so low on them entering 2018?
It's amazing what can change in a year. Fresh off of back-to-back playoff appearances, the New York Mets were seen as a playoff team entering 2017. And why shouldn't they have been? They returned largely the same group that miraculously won the National League pennant in 2015 and hosted the NL Wild Card game in 2016.
After 2017 ended up being a full-scale meltdown, fans were left hurt and demoralized. The bad news is that nothing short of a winning season and postseason berth will make it any better. Personally speaking, I'd really like to have something else to write about than the unprecedented injury wave that caused the Mets to implode.
From time to time, it's good to look back and reflect on last season, at how quickly our perception changed regarding the talent level and ceiling of this roster. But why does it only go one way? A year ago, we thought this was a championship-caliber club. With much of that roster returning, why is the common belief that this team is incapable of achieving that kind of success again?
Stars at the top of the rotation
It's going to be a lifetime until fans get over the "five aces" thing. I'm not here to defend Matt Harvey or Zack Wheeler. Both have had their best days robbed by arm injuries. Even Steven Matz remains a huge question mark. He is a tremendous talent that was thought to be the best in the organization at one point. Will he ever stay healthy and put together a full season?
However, even with the comet-like emergence of those three, the Mets still have two aces in their rotation. Jacob deGrom and Noah Syndergaard are both potential All-Stars and have the chance to compete for the Cy Young Award in 2018.
deGrom has consistently performed at a high level since exploding onto the scene and winning the NL Rookie of the Year Award four years ago. He's compiled a total WAR of 16.0 in only 107 starts at the Major League level, and 2017 was his strongest season to date, as he posted career-highs in both innings pitched (201.1) and strikeouts (239).
Let's not forget how spectacular he was against the Dodgers in the 2015 NLDS. In two starts—both wins—deGrom struck out 20 batters and then proceeded to hurl another gem against the Cubs in the NLCS. The 29-year-old is a true workhorse and a likely All-Star selection again in 2018.
Thanks to a torn lat muscle, we only had the chance to watch Syndergaard take the mound seven times last season. With his superhero persona, feud with Mister Met, explosive fastball and devastating slider, Thor is one of the true stars on this team. A full recovery from his injury means that we should see Syndergaard build on his 2016 season, when he won 14 games, struck out 218, and posted an ERA of 2.60 in 183.2 innings pitched.
Those numbers were good enough for a 5.3 WAR, an All-Star appearance, and down-ballot votes in both the NL MVP and Cy Young races. Just like deGrom, there is no reason to doubt Syndergaard's potential this upcoming season.
So the Mets may not have five aces, but having two is still a pretty big deal. With such high-quality pitching at the top of the rotation, it lowers the expectations for what Harvey, Wheeler, and Matz actually have to produce. In a postseason series, having the ability to pitch deGrom and Thor—potentially—in four games gives the Mets just as good of a chance as anyone else. And if that's the scenario, then any contributions from the bottom three are a bonus.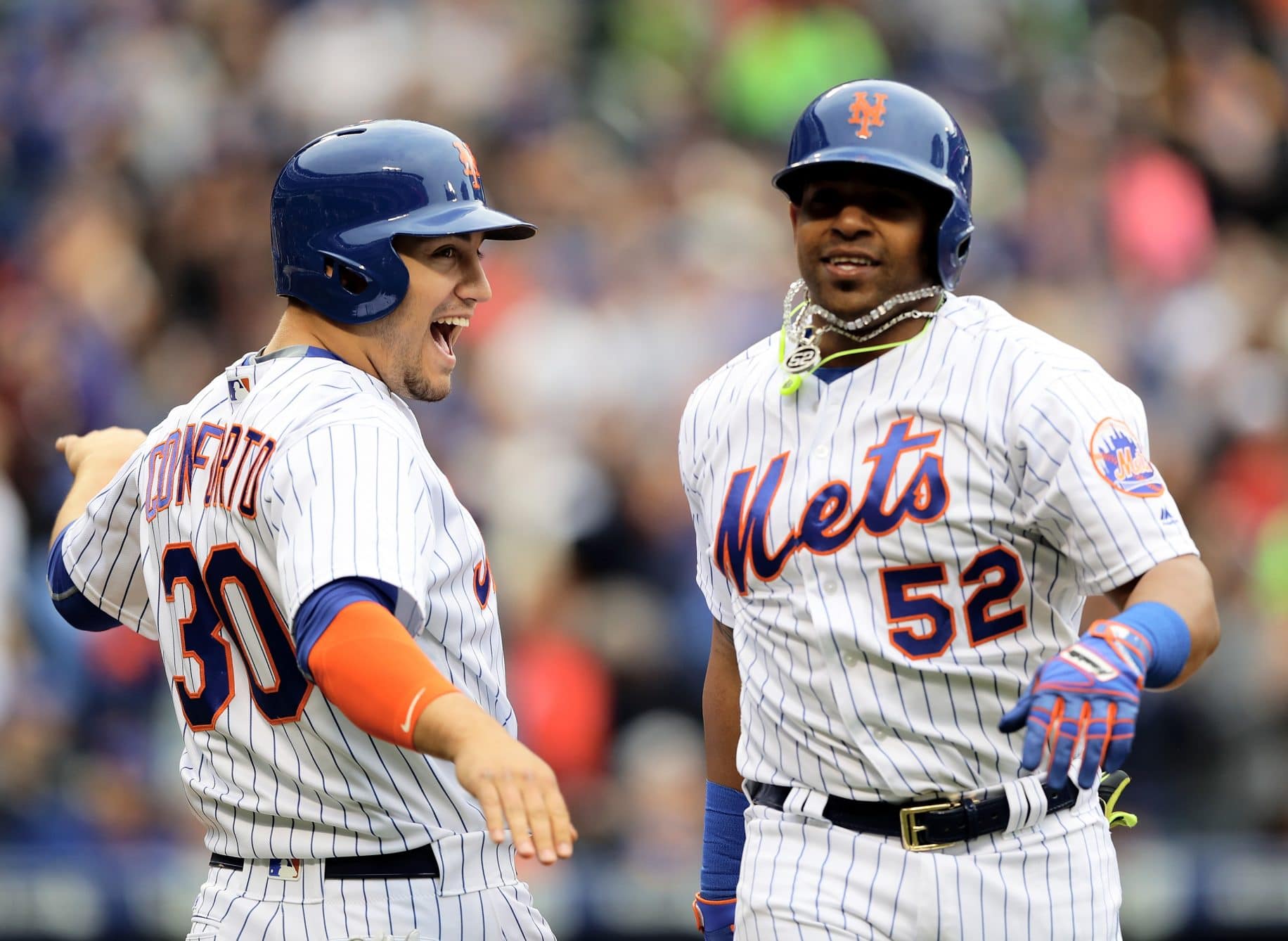 Three All-Stars in the lineup
Take what I'm about to say with a grain of salt. The Mets actually have the foundation of a strong lineup. With Michael Conforto, Yoenis Cespedes and Jay Bruce in the heart of the order, you have three former All-Stars to build around. Thanks to the Yankees assembling the baseball equivalent of the 1992 USA Olympic basketball team over in the Bronx, what I just said may seem like a contentious point.
But 2017 was really our first taste of the kind of player Conforto can be. Hitting up-and-down the order, primarily in the leadoff spot, Conforto had a tremendous season that included an All-Star selection until it was all derailed by a freak shoulder injury. Corresponding surgery corrected the injury and stabilized his shoulder joint, preventing any further harm. That means that the future is still bright for the Mets' young star.
In only 440 at-bats, Conforto blasted 27 home runs and drove in 68 runs. Sure, 68 RBI don't jump off the page but keep in mind that the 25-year-old routinely came to the plate with no one on base. Factor in the outstanding .384 on-base percentage he posted and we have the makings of a great player. There is absolutely nothing better than a player who gets on-base at a high clip.
The catalyst of the Mets' miraculous 2015 run, Cespedes is indisputably a bona fide superstar. In only six years since defecting from Cuba to join the Major Leagues, Cespedes has garnered two All-Star selections, a Gold Glove Award, a Silver Slugger Award, and MVP votes three times. If he had played in the National League for the entirety of the 2015 season, you could have made the case that he'd have been more deserving of the MVP Award than Bryce Harper.
Nevertheless, Cespedes fell victim to a familiar enemy in 2017–injuries. Pestered by recurring leg issues, we never really got to see the version of Cespedes that was worthy of the $110 million contract he signed prior to the 2017 season. The upcoming 2018 season offers a renewed hope that the Mets will see the same player they saw back in 2015–a player that belted 17 home runs in 57 games. The same player that was absolute must-see TV and carried this club to a World Series.
I won't spend too much time on Bruce considering how much I've written about him of late. There's no need to rehash what has been already said or to revisit his numbers—29 home runs and 75 RBI in 103 games before being shipped off to Cleveland. Bruce was arguably the Mets' most productive and consistent producer in 2017.
Not many ball clubs have the luxury of sticking three former All-Stars in the heart of the lineup. With Cespedes and Bruce in their prime and Conforto entering his, the Mets' offense may be more potent than expected. Factor in young phenom Amed Rosario and this could be an offense that goes places.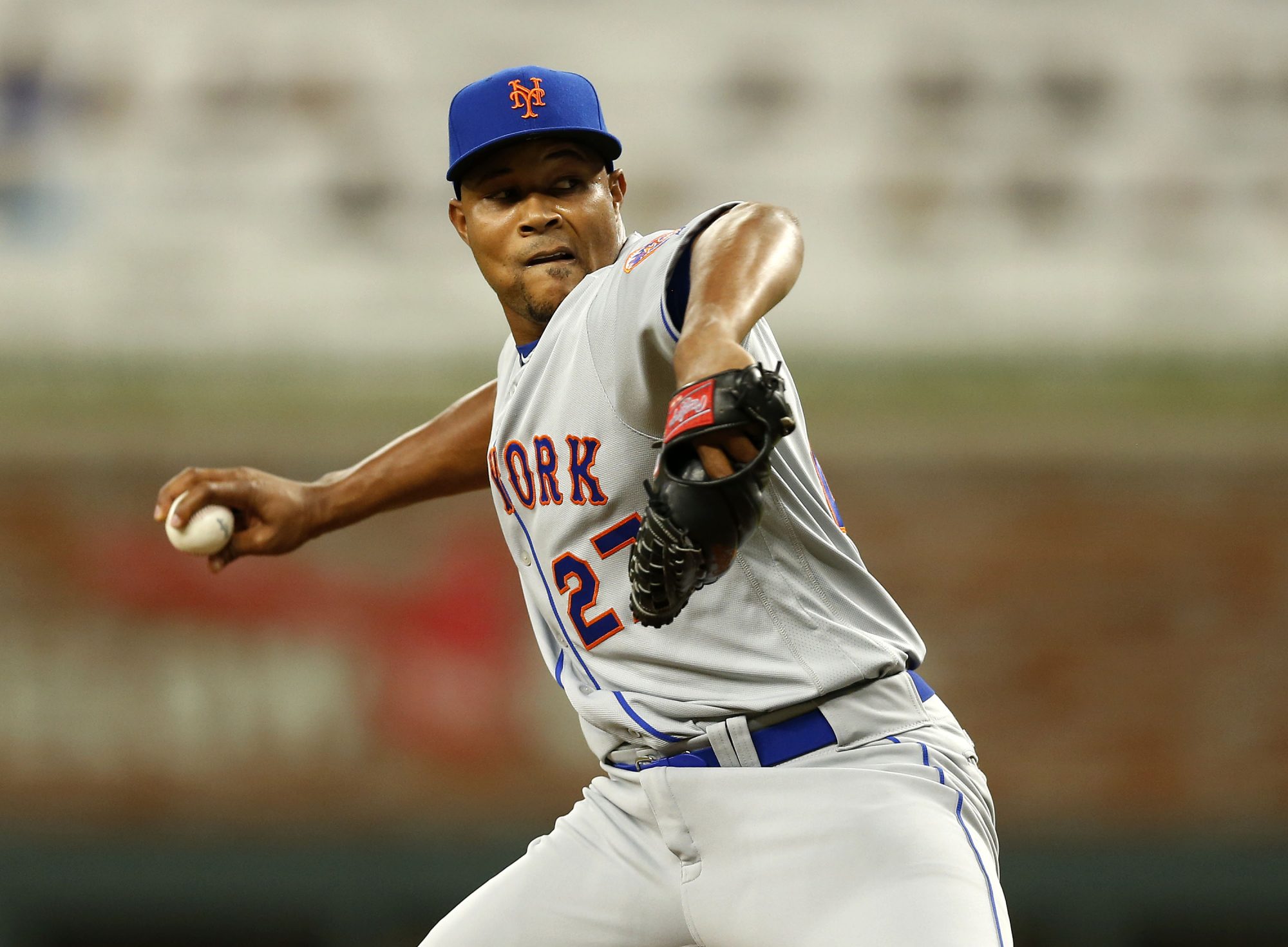 Believe it or not, our closer is still pretty good
I sound like a broken record, but Jeurys Familia is another Met who was forced to spend the majority of 2017 on the disabled list. Familia began the season serving a 15-game suspension after violating the league's personal conduct policy regarding a domestic violence incident that occurred five months earlier. Three weeks after being activated on April 20, Familia was diagnosed with an arterial clot in his right shoulder. After undergoing successful surgery to remove the blockage on May 12, the Dominican Republic native was sidelined until late August.
By the time he got back, the Mets were firmly out of the playoff race and committed to their firesale. Familia never had the chance to find a rhythm in 2017, but still was spectacular in both 2015 in 2016. Over 154 appearances during those two seasons, Familia posted a 2.20 ERA with 170 strikeouts and 94 saves. He was selected to the NL All-Star team in 2016. Familia represents just another player who we can expect to return to form in 2018.
By now, I'd like to hope that we're all on the same page. One year ago the Mets were seen as World Series contenders and now pundits question if this club can go .500 in 2018. This is a roster that has the ability to send six players to the All-Star game and may very well do so.
A lot needs to go right for that to happen, but I find myself asking whether if it's possible for things to go as catastrophically bad as they did last year. Think of it like the "Ocean's Eleven" trilogy. "Ocean's Thirteen" may not have been as good as the first one, but it couldn't possibly be any more unwatchable than "Ocean's Twelve."
If you can't find the optimism to believe in the Mets in 2018, then take solace in the fact that things cannot possibly get any worse than they were last year.