Due to his solid play this season, the troubling trend of feeling horrified for New York Rangers goaltender Henrik Lundqvist while he attempts to lift the horrid team in front of him is at its height yet again. It's wrong as nobody should feel too bad for The King. 
W
e are dangerously nearing a point of no return. The sympathy felt towards
New York Rangers
goaltender
Henrik Lundqvist
among fans who bleed blue and/or reflect upon the blue seat days is on the verge of bursting from its bubble and spreading like Garden ice-melting wildfire.
Everybody is feeling bad for the King.
Two weekend days. Two awful losses. Twice Lundqvist appeared as a top narrative while receiving sympathetic vibes.
Henrik Lundqvist trying to fire up the team. I love this guy #NYR pic.twitter.com/FFCfzHCwef

— Aegon (@adamjayyy27) January 13, 2018
Stop already. Shut it down.
Make no mistake about who the man is. Lundqvist's a legend. In conjunction with going down as arguably the greatest goaltender in Rangers history, the man is an NHL all-time great—a walking Hockey Hall of Famer. Ranking eighth all-time in wins (424), 15th all-time in the goals against average category (2.327), and, perhaps most impressive, fourth all-time with a sparkling .9199 save percentage, his legendary credentials cannot be disputed.
He showed face at the most picture-perfect time in organizational history, similarly to Derek Jeter. After a rough era, he, along with a brand new franchise mindset pertaining to personnel, reversed fortunes in a way that'll forever plant his face as the poster for an era.
Through everything Hank great, there are serious negatives that place the 35-year-old netminder in the middle of the Blueshirts current issues and thus, shouldn't generate the level of sympathy that exists in Rangerstown.
Lundqvist Accounts for 11.3 Percent of the Salary Cap
Money does matter.
In any profession, money matters. The level for which employees are paid affects the organization in either a direct or indirect fashion. Resentment, worth, loyalty—it's all part of how an organization functions on a day-to-day and long-term basis.
Each league brings a different level of salary importance.
In terms of the New York Yankees and Major League Baseball—especially prior to the hardened luxury tax days—money spent meant far less than in other examples. A bad contract didn't necessarily mean a halt in progress in other areas. The NBA, for example, comes equipped with a soft salary cap in place that allows extra spending yet still places importance on salaries.
The NFL and in this specific case, the NHL, is when salary hits home like a ton of bricks.
With an annual hit of $8.5 million, Henrik Lundqvist represents 11.3 percent of the Rangers entire roster (salary cap currently at $75 million). Let that sink in a little. This is a goaltender who only determines and effects one side of the ice (defense), collecting more than 10 percent of the total cap.
It's not a question of deserving. Of course Hank deserves any amount of money offered to him on the free market.
It's a question of value.
At $8.5 million a year, Lundqvist must be the Rangers best player night in and night out without question. If not, the entire structure of the payroll becomes out of whack forcing Jeff Gorton to play catch up.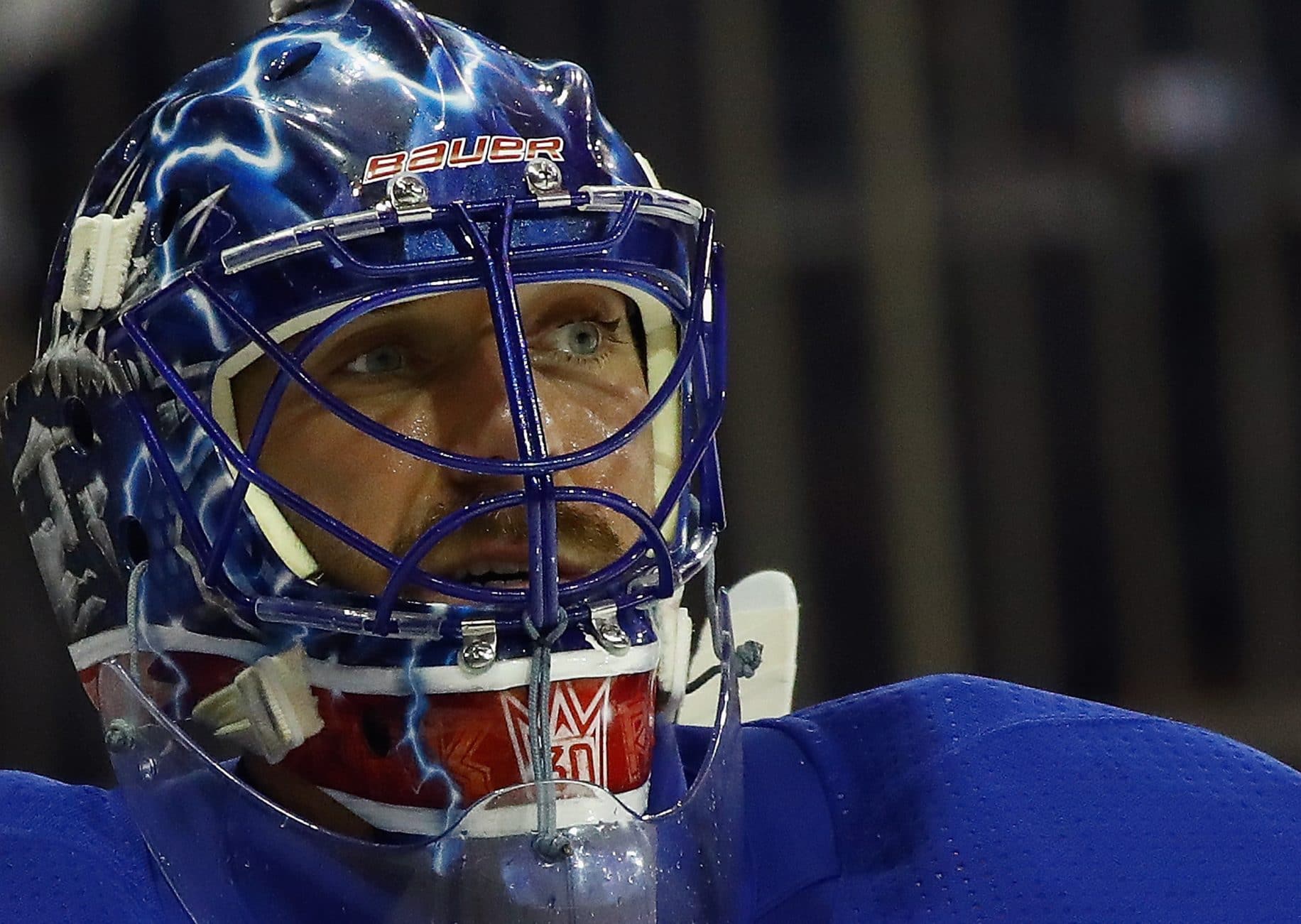 As an NHL All-Star this season, Lundqvist has picked up that value. Over the last few seasons, that's hardly been the case. Only one Vezina (2011-12) and only four all-star nods (2009, 2010-2011, 2018) creates a strong argument that the Rangers face hasn't lived up to his end of the bargain.
What's worse is that prior to Carey Price receiving his massive deal this past summer, Lundqvist has represented the top-paid goalie in the NHL for four straight seasons dating back to 2014. (The year prior, Hank collected $6.875 million while ranking third on the NHL goalie wealth list.) Not until next year will Price finally surpass Hank as the league's top-paid goalie (with an annual hit of $10.5 million).
Nobody can ever say Hank doesn't deserve or should have rejected money, but at the same time, it's fair to question taking that much when he understands the rigors of the NHL salary cap. Going with a team-friendly $5 or $6 million deal could have done wonders for the rest of the team.
Lundqvist is the 18th highest-paid player in the NHL.
NHL Goaltender is a Devalued Position
Think NFL running back. Though it seems like the NHL goaltender can steal games and win a Stanley Cup on his own once in a while, it rarely happens.
Look at the recent cup winners:
| YEAR | CHAMPION | GOALIE | SALARY | NHL $ RANK | LUNDQVIST'S $ | LUNDQVIST'S RANK |
| --- | --- | --- | --- | --- | --- | --- |
| 2016-17 | Pittsburgh Penguins | Matt Murray | 3.7M | 27th | $8.5M | 1st |
| 2015-16 | Pittsburgh Penguins | Matt Murray | $6.3K | 96th | $8.5M | 1st |
| 2014-15 | Chicago Blackhawks | Corey Crawford | $6M | 8th | $8.5M | 1st |
| 2013-14 | Los Angeles Kings | Jonathan Quick | $5.8M | 10th | $8.5M | 1st |
| 2012-13 | Chicago Blackhawks | Corey Crawford | $2.6M | 24th | $6.8M | 3rd |
| 2011-12 | Los Angeles Kings | Jonathan Quick | $1.8M | 32nd | $6.8M | 2nd |
| 2010-11 | Boston Bruins | Tim Thomas | $5M | 9th | $6.8M | 1st |
Who, on the above list, stole a cup through his red-hot playoff play? Cam Ward and Jean-Sebastien Giguere accomplished the feat during the early post-lockout phase. Guys like Matt Murray and Antti Niemi are phenomenal goaltenders, but their respective teams were fortunate to throw out a loaded roster thanks to the pure value of each's contract.
Jonathan Quick is the rare exception to this list. During the Kings second cup—coming against the Rangers, of course—he had already established himself as one of the league's premier goalies and had already received his big payday.
But still, as good as Quick was/is, his current salary of $5.8 million pales in comparison to Lundqvist's $8.5 million.
It's simple to see that these general managers now understand the deal. The rigors of the current salary cap force strategy to not pay big extended bucks to the goaltender while strengthening the collection of skaters.
It just doesn't pay to divvy out cash to the goalie. It's not Hank's fault (as any and every athlete has the right to make as much as he can or wants), but he's indirectly part of the problem due to the devaluing of the goaltender position.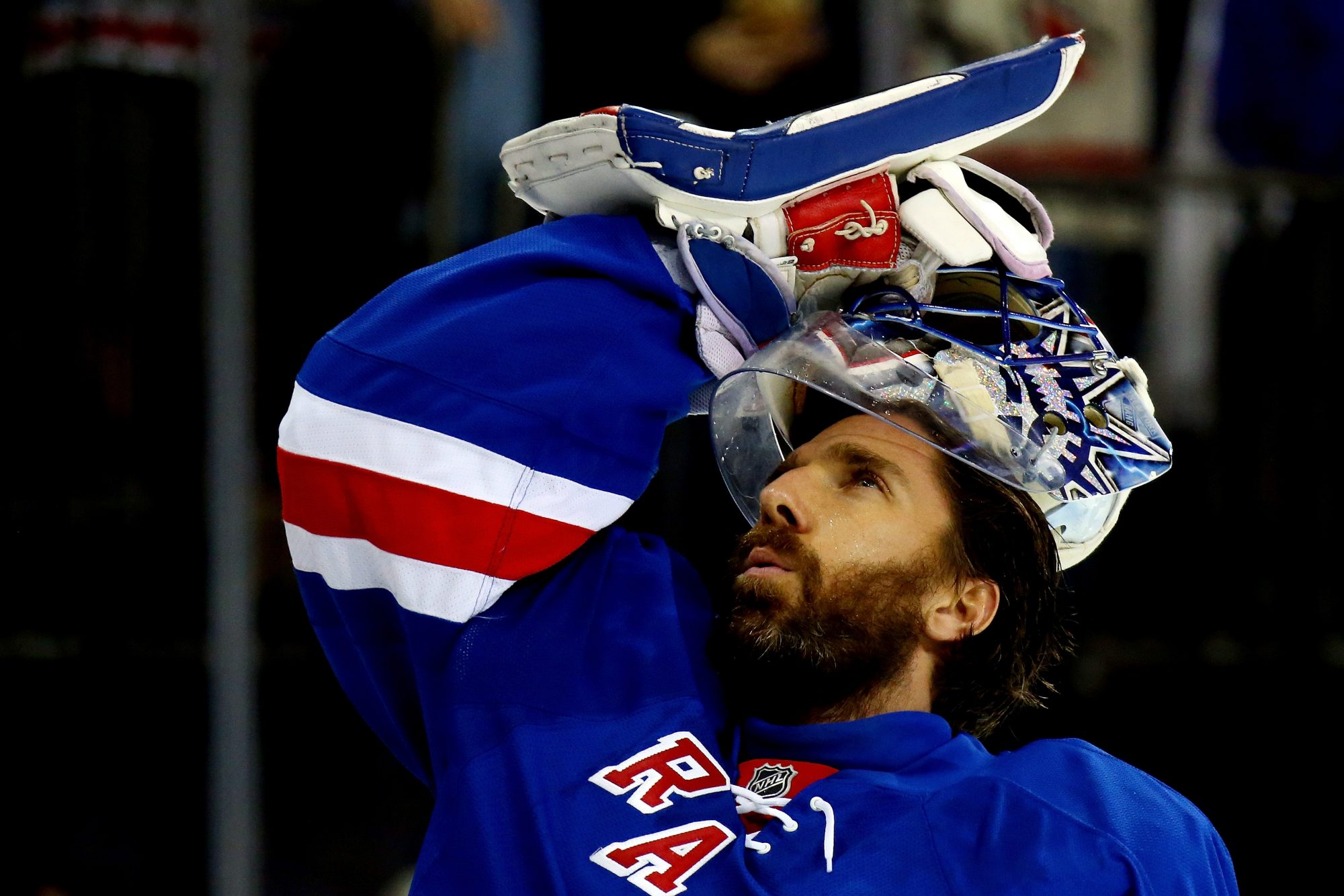 Playoff Numbers Don't Match Up
While Henrik Lundqvist ranks top 10 in wins and goals against average, and 15th in save percentage, his Stanley Cup Playoff rankings don't match up and he's been fortunate (unlike many other great goalies to come before him) to have plenty of postseason opportunities.
He comes in at 14th in career playoff save percentage (.922), 14th in wins (61), and 27th with a 2.28 goals against average. In no way, shape or form has Lundqvist disappointed during springtime. In fact, his save percentage and goals against average are both elevated. But it's fair to say more could be expected from a guy leading the goaltender world in salary.
Final Thoughts
Part of the problem boils down to an unfortunate set of circumstances. When the lockout ended and the salary cap was introduced, Glen Sather and the Rangers were saved from themselves. Instead of racing to collect the next over-the-hill name while racking up the payroll, they were forced to break it down (as evidenced by the world selecting them to finish last in the NHL during that first season of 2005-06).
Henrik Lundqvist, a goalie, just happened to be that next star for the organization and the only way New York could have opposed that was to move on from him early or tell him they'd rather stick with Cam Talbot after the 2014-15 season while convincing Hank to waive that no-trade clause to land with a title contender.
At this very moment, not one of the other 30 general managers in this league would touch that Lundqvist contract with their neighbor's 30-foot pole.
Many of the Rangers active misfortunes aren't Lundqvist's fault. And yes, he's picked up his play to such a level that the rest of the team looks like the weak link.
A dash of sympathy due to his relentless work ethic producing a tremendous career (without that one cup) is only human. While feeling bad for the King, just remember he's not a superhero playing with a bunch of bums every night out over the course of his 13-year NHL career. He has been equipped with solid, defensive-minded-first "built for the playoffs" clubs.
Just don't feel bad for him too much.
A lot of what Hank represents has either directly or indirectly affected his team's chances of winning the cup over the last decade-plus.