The grass isn't always greener on the other side some will say, and for New York Rangers fans ready for Alain Vigneault's head, that might be true.
D
espite currently representing a playoff spot at the midway point of the 2017-2018 NHL regular season, many fans want to see Alain Vigneault's head on a spike paraded through Times Square. Let me be the first to say, he hasn't been good. The team hasn't been good. And that's a reflection of the coaching staff, no doubt.
But for the dreamers, let's take a look at available candidates at this point to replace Vigneault.
Darryl Sutter
The Stanley Cup-winning coach has been gaining steam (among the fan base) as an in-depth hockey mind the Rangers should target. Sure, the pedigree is absolutely there, obviously, but let's take a deeper look at the style Sutter likes to play and the roster he had in order to execute that system.
Down the middle, he had Anze Kopitar, Mike Richards, Jeff Carter and Jarrett Stoll, all of whom are known for their tremendous two-way play. On the wings, power forwards like Dustin Brown, Jordan Nolan, Dwight King and Kyle Clifford helped the Kings become a heavy team to play against. Not to mention an all-world defenseman and goalie (Drew Doughty, Jonathan Quick).
Sutter's coaching plans include never carrying the puck into the offensive zone, relying on simple hockey and showcasing hard forecheckers to win battles down low. He's also relied on creating offense by grinding it out below the faceoff dots and getting traffic to the front of the net.
Does anyone think he would fit well with Pavel Buchnevich, someone who hasn't thrown a hit on the forecheck yet this season? And for those who weren't happy with Tanner Glass being in the lineup, Sutter employs a full bottom six unit of players who come via the defensive ilk.
There is zero questioning that Sutter is a phenomenal hockey coach. He quite simply doesn't fit this Rangers current roster.
Is Mats Zuccarello playing to his strengths dumping the puck in every time he crosses the red line? No, Zucc is better off using his offensive creative abilities to set teammates up on the rush. It would take at least two seasons to get the kind of roster to New York that would help Sutter implement his plan.
(Also, this is for your viewing pleasure:)
Lindy Ruff
Lindy Ruff is the current Rangers assistant and former head coach who's known more for his defensive systems and old school style of play.
Listen, we're talking about a guy who's supposed to be in charge of the defense that's currently allowing almost 34 shots a night, bad enough for fourth worst in the league. Even with a sub .500 record with the Dallas Stars, Ruff's team allowed 29 a game.
He just doesn't appear to be really nice fit with the current make up of the Rangers.
Ruff relies heavily on his top nine forwards and shelters young offensive players and fourth liners. Again, this spells trouble for a player like Pavel Buchnevich. While in Dallas, Ruff was tasked with developing a top 10 overall pick in Russian Valeri Nichushkin. Nichushkin wound up playing 166 games total for the Stars, recording 64 points. Nichushkin was frequently passed up for playing time by minor league call-ups and guys who played a "tougher" brand of hockey. Eventually, Nichushkin wound up back in the KHL.
So, Blueshirt Faithful, if you want a new head coach, fine. But let's at least be realistic about who's the correct coach to take over. The guys who seem to be having the most success are the guys who have more experience on the development side of things.
Take Tampa Bay's Jon Cooper for example. He climbed the ranks of the AHL with players like Tyler Jonson and Ondrej Palat and look at the success of not only those players, but that team. Unfortunately, it's hard to see Tampa firing Cooper anytime soon.
There are coaches like Cooper kicking around that would be good fits though.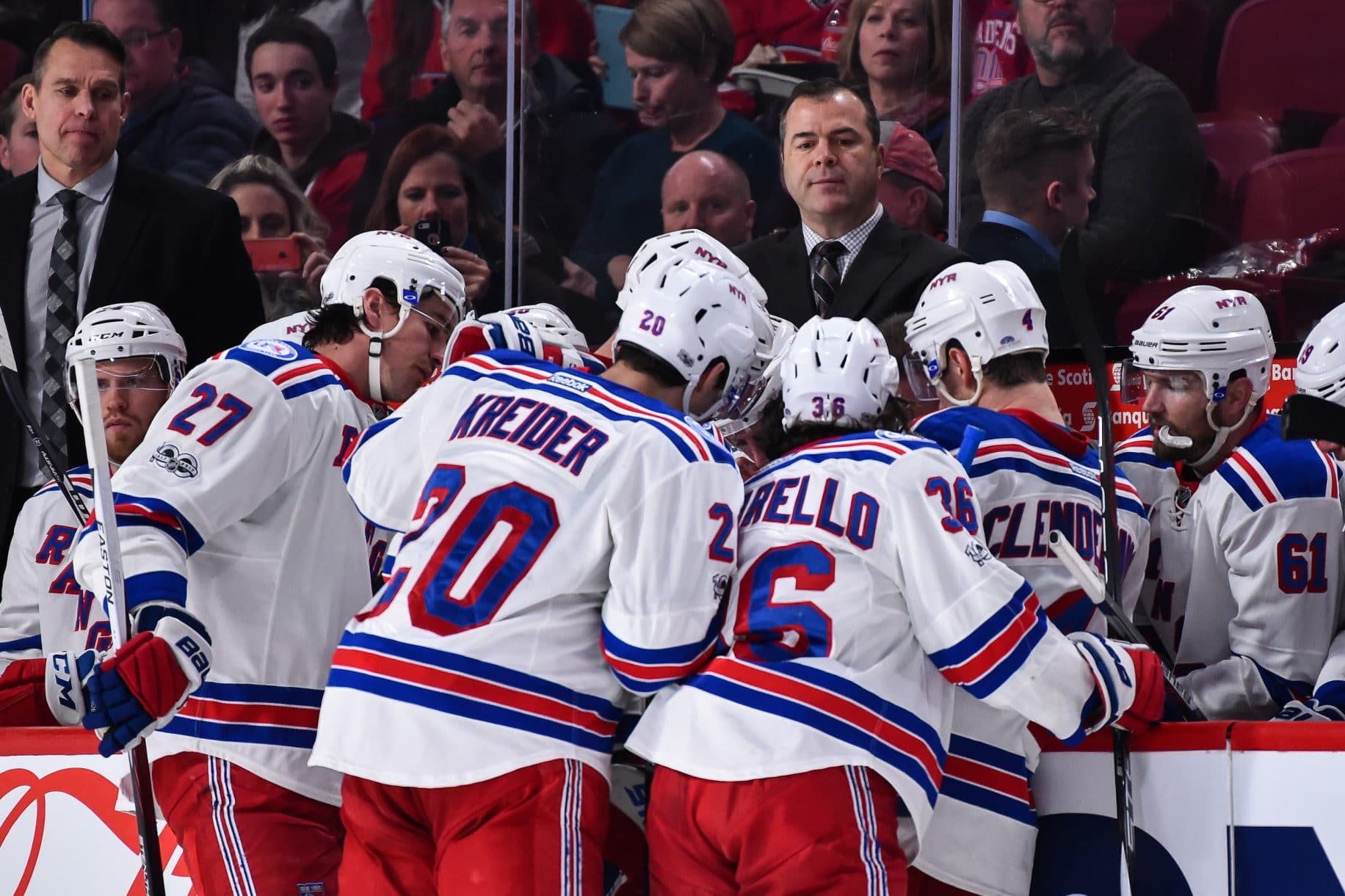 Sheldon Keefe, Benoit Groulx and Todd Nelson
Sheldon Keefe, currently with the AHL's Toronto Marlies, is a young up and comer. He plays a massive role in Toronto's rookie development.
Benoit Groulx of the AHL's Syracuse Crunch has created a perennial winner in Syracuse. He took his team last year to the Calder Cup Finals and this year with a lineup that currently dresses 8-10 rookies a night, they have turned into a winning machine after a slow start.
The man who took down Groulx in the finals is Grand Rapids' Todd Nelson. Representing another young hockey mind, he's developed much of the Detroit Red Wings current roster including Gustav Nyquist, Tomas Tatar and Tyler Bertuzzi.
All three would be an excellent fit with this young Rangers roster and would greatly benefit players like Filip Chytil and Lias Andersson.
If you're looking for a new head coach, expand your horizons.
Unfortunately for us fans, it's not often like the Rangers to make logical "hockey" moves in favor of the sexy variety. Just take a look at how bare the prospect cupboard is.
A young energetic guy with a fresh take on things would be what the Rangers would need—not another old-style dump and chase guy.