Rookie point guards Frank Ntilikina and Dennis Smith Jr. are providing their respective teams (New York Knicks and Dallas Mavericks) with productive and promising play. 
The New York Knicks concluded that French point guard Frank Ntilikina was their best option with the eighth overall pick which paved the way for the Dallas Mavericks to select NC State point guard Dennis Smith Jr. at number nine.
That decision on the Knicks' behalf is one that continues to be questioned, but in reality, has panned out incredibly well for both the Knickerbockers and Mavs, respectively.
Sunday night, Ntilikina and Smith's teams faced off versus one another when the Knicks defeated the Mavericks, 100-96. 
Finishing the night with seven points and rebounds along with five assists, two blocks and a steal, Ntilikina played at a level the Knicks are becoming accustomed to. The Frenchman has showcased an ability to be a playmaking guard who excels on the defensive end. Whether it be finding the open man (Ntilikina is averaging 3.4 assists per game in just 21.3 minutes a night), pick-pocketing (Ntilikina is averaging 1.2 steals per game), or finishing at the rim, he has been a threat on both ends of the court.
While he hasn't yet garnered a starting role (Jarrett Jack has served as the Knicks' starting point guard this season) or played at an elite level, the 19-year-old has shown upside off the bench, and given his 6-foot-5 stature, has the potential to be an athletic facilitator capable of holding his own on both ends.
The downside is his inability to provide a consistent scoring presence.
While Ntilikina is adept at finding his teammates in the right spots and can finish inside, he's not a reliable scoring option, averaging just 5.7 points per game. Ranging from his shaky jump shot to his inconsistency when it comes to forcing the issue, Ntilikina hasn't yet shown an ability to be a reliable, go-to scoring outlet.
Then there's the 20-year-old Smith. While he finished with just 11 points versus the Knicks on Sunday night, he continues to play with an attack mindset and is providing the Mavericks with a scoring presence.
Averaging 14 points per game on 39.3 percent shooting, Smith has shown no fear when it comes to finding ways to put the ball in the cup. Whether it be running the fastbreak, creating his own shot or getting to the rim, he has been an impressive offensive product. Defensively, it has been a different story for Smith.
Failing to consistently limit and defend his man, Smith has struggled to hold his own and pose a potent threat defensively. Mavericks' head coach Rick Carlisle even admitted that opposing teams are "picking on" him defensively, per ESPN's Tim MacMahon.
Look at what Ntilikina and Smith bring to the table. Are they anything alike besides the fact that they're rookie point guards?
On one hand, you have Ntilikina who is a defensive-savvy, playmaking guard that struggles to pose a scoring threat. On the other hand, you have Smith who is the bonafide scorer that struggles defensively; the two are utter opposites of one another.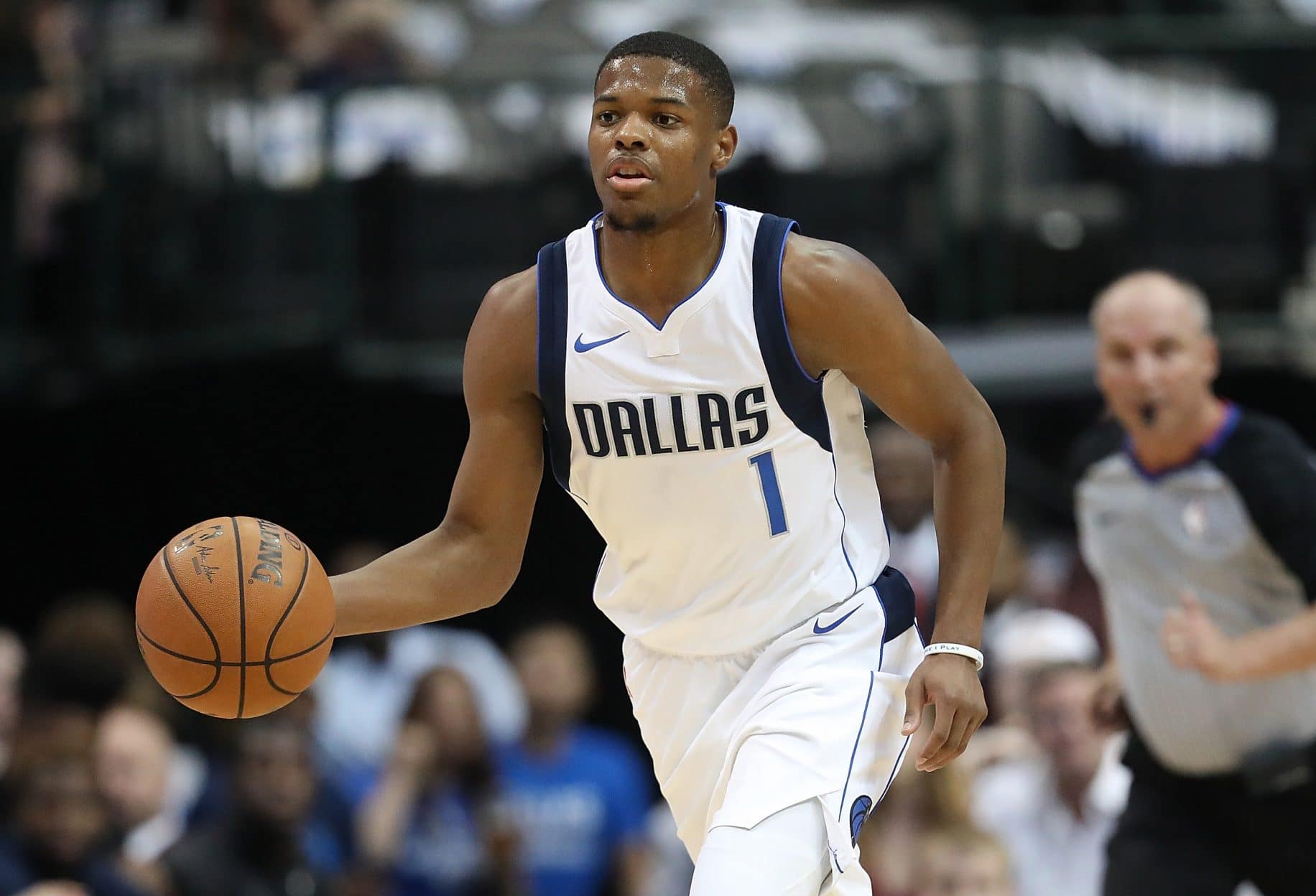 Every time an NBA team has a lottery pick, and a top 10 pick nonetheless, it's crucial that management gets the selection right.
Even though Phil Jackson was the one with final say when the Knicks made their first-round selection last summer, management has supported and backed up its decision to select Ntilikina. In fact, according to Stefan Bondy of the New York Daily News, Mavericks' owner Mark Cuban said that had Ntilikina been available when they selected at number nine, there was a "very good" chance they would've chosen him.
The Knicks and Mavericks each got what they were looking for in the draft. The Knicks got a two-way point guard with athleticism—a skill set they haven't had at point guard in ages. Simultaneously, the Mavericks got a scoring point guard capable of growing into the team's offensive focal point down the road.
Many fans and possibly even players felt as if the Knicks should've drafted Smith, or combo guard Malik Monk instead of Ntilikina and that thinking isn't out of line. This is a franchise that hasn't had a legitimate scoring point guard in a while.
While Stephon Marbury and Derrick Rose were certainly proven scorers, neither lead guard was able to propel the Knicks into the playoffs or make the team's offense a force to be reckoned with. At the same time, it's also been a while since the Knicks had a two-way point guard committed to competing on the defensive end.
And for the Mavericks, one could make the case that Smith has the potential—if his defense improves—to be the team's best point guard since Jason Kidd. Dirk Nowitzki's days in the NBA are coming to an end, and when that time comes he'll pass the torch to the next player in line. Based on his scoring prowess and stellar quickness, Smith may be that player for Dallas down the road, alongside forward Harrison Barnes.
The Knicks got what they wanted in the draft and the Mavs ended up being granted that pleasure as well. The Knicks chose the overseas unknown over the college standout and the risk may or may not ultimately pay itself off, but it hasn't hurt them yet. Ntilikina and Smith are two completely different players, but, at the same time, are blessing their teams with skill sets and production at point guard that they have been in dire need of.