Ryan McDonagh has been a staple for the New York Rangers the past five years. But with his deal set to expire soon, what should the New York Rangers look to do with him?
R
yan McDonagh
 signed a six-year, $28 million dollar contract in 2013 and at the time, it looked like a steal of epic proportions. The
New York Rangers
had just signed a great young player at a solid price.
McDonagh looked like a future elite two-way defenseman that could add offense and shut the opposing team's top players down simultaneously.
Since then, McDonagh has tapered off considerably, while also never quite finding a sufficient partner. Although not concerned about his Rangers' future, murky waters lie ahead for the captain.
Part of the reason for McDonagh never quite reaching his full potential is the lack of a solid partner to complement his game.
McDonagh has cycled through some, most notably Kevin Shattenkirk, Nick Holden and Dan Girardi. At times, the pairing with Girardi worked fairly well simply because Girardi was an old-school stay at home defenseman who allowed McDonagh to join rushes and add offense. The deficiencies of the pair stemmed more from the game moving past Girardi due to age more than anything.
Kevin Shattenkirk, the exact opposite of Girardi, didn't appear to complement McDonagh well as Mac looked timid and afraid to be aggressive with plays, almost as if he was anticipating Shattenkirk to do more. It can be argued that the pair should be tried again, since the one game tryout may have been a little harsh. But clearly, there's something the staff and management don't like about that pair.
Nick Holden, a soft two-way defenseman much like McDonagh in some ways, hasn't worked out very well either. Questionable plays by Holden leave McDonagh hanging most nights and McDonagh is often left hopeless and looking foolish trying to recover.
Another look at those ridiculous saves by Henrik Lundqvist. Nick Holden playing neither the man nor the puck is an interesting strategy #NYR pic.twitter.com/iEMNi7aZV4

— Fitz (@FitzyGSN) January 4, 2018
More was expected of McDonagh, someone who could be counted on night in and night out and even carry some dead weight as a partner.
Drew Doughty has turned Jake Muzzin into a very reliable defenseman over in Los Angeles. Duncan Keith, albeit paired with Brent Seabrook for many years, has juggled new partners all year and is still well over 50 percent Corsi.
Yes, we are talking elite level defensemen here, but wasn't that supposed to be Ryan McDonagh? If not, what does that make him? A "top-pair defenseman" is a relative term based on the team but on this team, he is very much a top pair defenseman.
Question is, "How does that translate to dollars and cents for the future?"
Exploring the options beyond 2018-19 are quite simple. Sign McDonagh, the captain, to a long-term deal as a 30-year-old or trade him. This is where things will become tricky for Rangers general manager Jeff Gorton and his staff.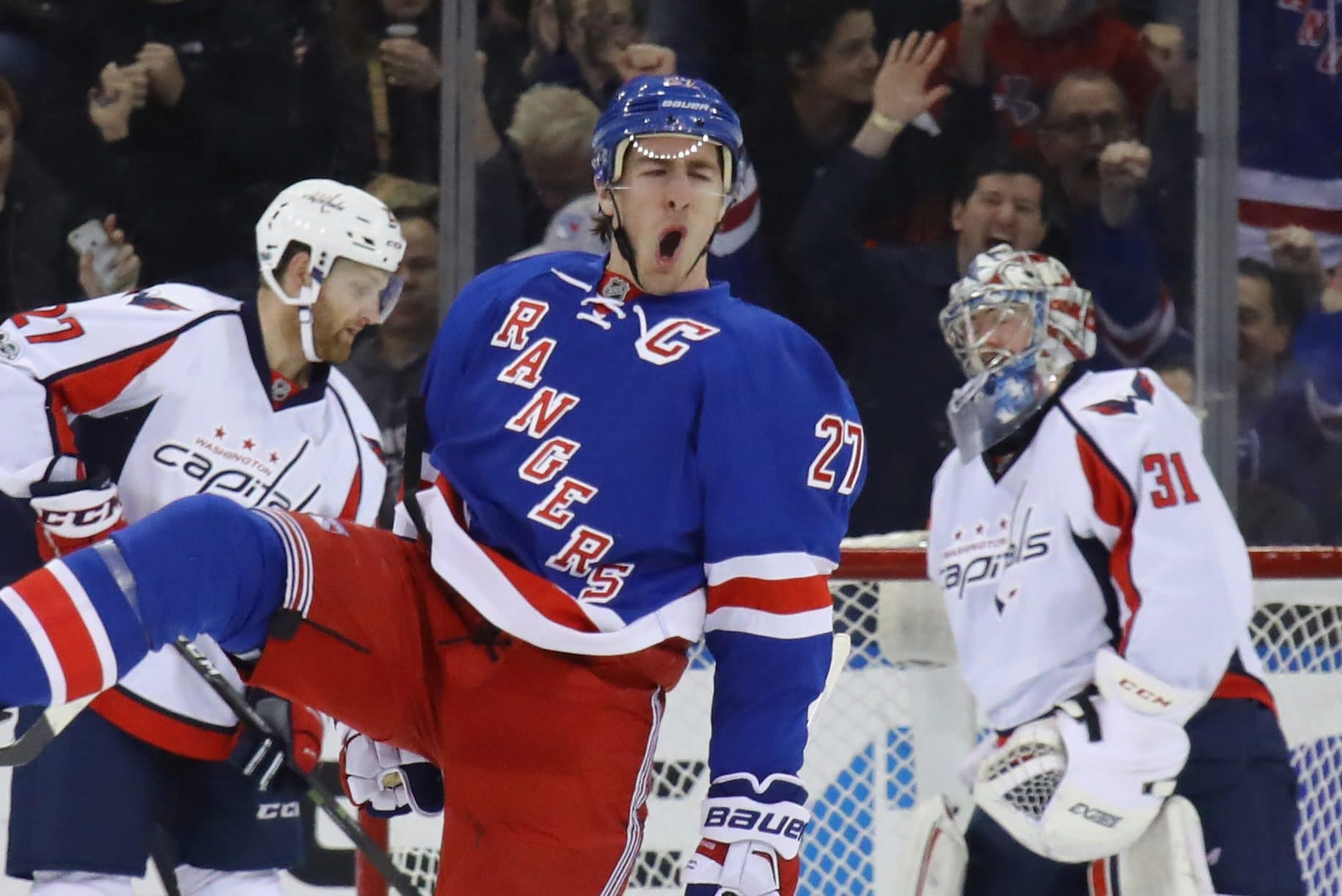 Drew Doughty and Erik Karlsson, also set to be free agents in 2019, will join McDonagh in what could be a loaded free agent class for defensemen. There are already rumblings of Karlsson and his demands for a new contract, but with these two setting the market for contracts, the Rangers can't afford to sign McDonagh to a ridiculous deal.
In an ideal world, maybe six-year, $36 million offer could work—a fair term to bring McDonagh into the potential years of retirement while giving him an annual average salary smack dab in the category of "not elite but very very good defenseman."
The idea of trading McDonagh seems far-fetched.
It's unclear what the return market value might be. A young defenseman coming back in the trade will be nice. This trade idea should only be talked about if the Rangers truly struggle next season. Then it might be time to entertain the idea of a true rebuild. Get younger, build around the young forwards Lias Andersson and Filip Chytil.
But remember, these are the Rangers we're talking about. A full rebuild may not be in Jeff Gorton's vocabulary, and it's definitely not in James Dolan's repertoire.
It's still very early in this process and there's time before the Rangers will need to make this decision. Still, reality cannot be ignored. The New York Rangers need to be proactive about this situation while they still have the opportunity.