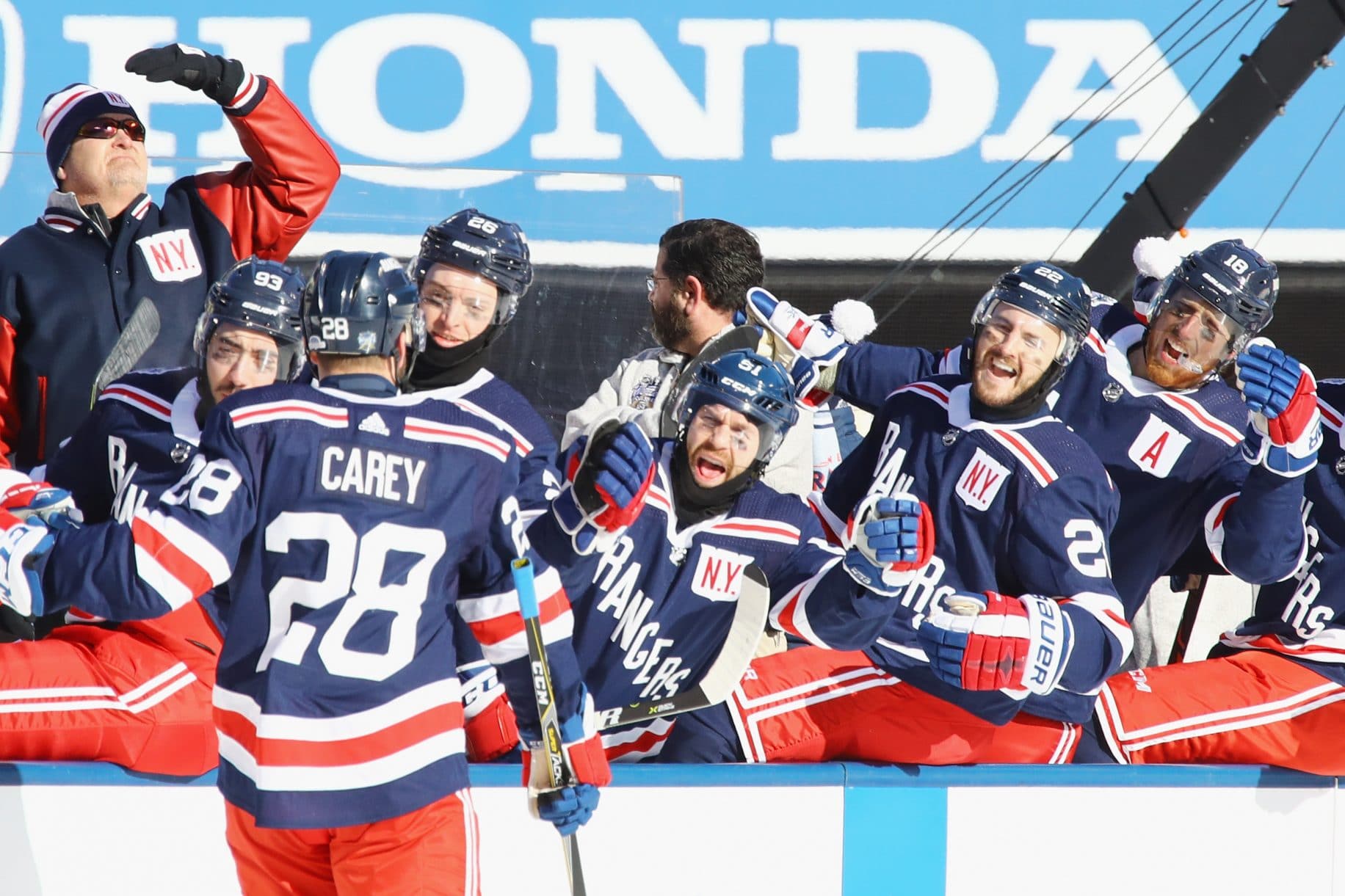 The New York Rangers score two early goals from the slot against the Buffalo Sabres in the first period of the Winter Classic, courtesy of Paul Carey and Michael Grabner. 
The New York Rangers have used their impressive passing and quick shots from the slot to snag the early lead over the Buffalo Sabres in the 2018 NHL Winter Classic.
Fourth-liner Paul Carey got the scoring going early for the team, banging home a shot in the low slot:
What's with the fourth-line centers for the New York Rangers in outdoor games? @Rupper17, now Paul Carey. #NYR up 1-0 early in the Winter Classic. pic.twitter.com/HNC1AJYDcO

— Elite Sports NY (@EliteSportsNY) January 1, 2018
Carey's goal came off of a perfect pass from the returning Jesper Fast who fed him the puck in the low slot. Fast returned from his quad injury earlier than expected and made the immediate impact with an assist on Carey's goal.
The Winter Classic is a great chance for unlikely heroes to make a name for themselves. The game is the only game played on Jan. 1 and is nationally broadcast with a lot of fanfare leading up to it.
Carey's goal brings back memories of another Winter Classic memory featuring a fourth liner when Mike Rupp scored against the Flyers in 2012. He followed that goal by doing the salute made famous by Jaromir Jagr:
Later in the period, the Rangers once again scored off a pass from the slot. This time it was Michael Grabner putting the puck home off of a beautiful spin-o-rama pass by Kevin Hayes.
Hayes was able to pull everyone towards him to get Grabner an open net:
Michael Grabner strikes second in the Winter Classic. J.T. Miller and Kevin Hayes really made the play. #NYR up 2-0 midway through the first. pic.twitter.com/Hum9RcVQae

— Elite Sports NY (@EliteSportsNY) January 1, 2018
Robin Lehner never had a chance to stop that shot by Grabner. Everybody in the stadium thought Hayes was gonna fire a shot as his pass even caught Grabner by surprise. But Grabner was able to recover and push the puck into the open net to give the Rangers a 2-0 lead.
The Rangers are undefeated in outdoor games and are off to another fast start thanks to some nice passing into the slot by the forwards.