Henrik Lundqvist with a nasty set of pads for the Winter Classic ?? pic.twitter.com/gtC8U8Pdy8

— Bar South N Celly™ (@BarSouthNCelly) December 21, 2017
The gear goalies sport in the Winter Classic has become a great interest to fans of the NHL. For New York Rangers goalie Henrik Lundqvist, what he won't be wearing has become a story. 
Get a full look at the gear the #NYR goalies will be wearing in the @NHL #WinterClassic tomorrow! #NYRClassic pic.twitter.com/A9iJIJNCy2

— New York Rangers (@NYRangers) December 31, 2017
When the New York Rangers posted a video on their Twitter account on Sunday of the goaltender's 2018 NHL Winter Classic gear, Henrik Lundqvist's pads were not the same he tweeted out earlier in the month.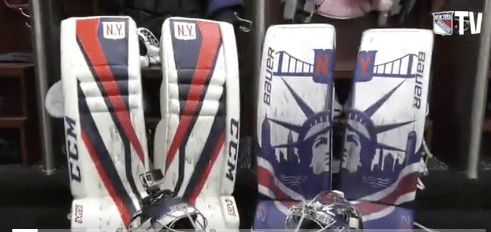 Hank sported the Lady Liberty pads in practice on Sunday at CitiField with the bridge and Rangers Winter Classic log on the top part of the pads. This was a surprise to many as Hank has been wearing event related gear for other outdoor games. He did have a new Winter Classic bucket for the game this afternoon.
Hank had announced he would be wearing these special pads for the Winter Classic game. They paid tribute to the New York Mets, as the game is being played at Citi Field. The pads had a baseball logo with the bridge that is used for the New York Mets logo and the "NY" Winter Classic logo in the middle.
Lundqvist had been trying to break in his Winter Classic pads in recent practices but felt they weren't ready. He decided last night to stick with his normal pads. Equipment manager Cass Marques put the bridge/logo design onto Lundqvist's usual liberty pads.

— Justin Tasch (@J_Tasch) December 31, 2017
Justin Tasch tweeted that Hank had not fully broken in the new pads, so he decided that he didn't want to use them in a regulation game. Henrik decided to wear his normal Liberty pads. Rangers trainer Cass Marques put the bridge and logo design on the top part of Lundqvist's pads
Smart move by Hank as, despite the fanfare, pictures and fun of skating in the annual Winter Classic, this is a real game. Two important points are on the line and Hank wants to be at his best when he faces the Buffalo Sabres this afternoon. He also did this in a way in which the tribute he intended to use was still part of his gear.
The Winter Classic will be broadcast on NBC at 1:00 p.m. ET.