If a consortium put together by Derek Jeter had bought the New York Mets instead of the Miami Marlins, what would the team look like today? My money says the Mets would look no different than the Marlins with their entire roster undertaking a housecleaning that is long overdue.
According to Cot's Baseball Contracts, Fred Wilpon bought full control of the Mets in 2002 when an appraiser valued the club at $391M. Forbes Magazine valued the club at $2 billion in April 2017. But as we have come to know, the Mets are rich on paper only, and their finances are in deep doo-doo with no recovery in sight.
Unlike the Marlins, who invested heavily in an ill-advised deal with Giancarlo Stanton when they weren't being forced to, the Mets have gone the opposite way in recent years by cutting payroll, and with the exception of signing Yoenis Cespedes, avoiding the high-priced free agent market. This season alone, for instance, will see the team cut between $20-25 million from the $155 million payroll they had last year.
This, despite a $50 million expected windfall due in the first quarter of 2018 as a result of a deal made by MLB with the Walt Disney Company.
According to multiple sources all 30 MLB teams are expected to receive a payment of approximately $50 million dollars in the first quarter of 2018 for the previous sale of BAM. #MLB

— Jim Bowden?? (@JimBowdenGM) December 15, 2017
For a team like the Yankees, Cubs, Dodgers and a few others, these monies will be put back into the team in ways other than payroll expenditures. After all, there is the luxury tax to consider even when spending free money and these teams are all at or close to the threshold before the tax kicks in.
But for the Mets, it should, but isn't, mandated by God or at least Major League Baseball, that all of the windfall dollars be spent on players salaries. MLB has done their very best to keep the windfall quiet to protect teams like the Mets, and it's likely you didn't know about it till now.
With no mandate forcing the Mets to spend on payroll, they'll continue on their merry ways not only this season but for the next three years at least while they still have control of the team's nucleus. And that's assuming they will spend the money due to that nucleus as they work their way through their arbitration years.
Consider this …
Using a different chart from Cot's Baseball Contracts, Noah Syndergaard has four years of arbitration due (beginning this season) before he becomes a free agent in 2022, and Jacob deGrom has three years before he earns his freedom in 2021. Team control over both these players is over, and their salaries will rise each season dramatically during the arbitration process. How long will it be before the Mets say, uh-uh, see ya later, because they can't quite afford them, unquote?
Matt Harvey will be history after this season when he becomes a free agent, and both Steven Matz and Michael Conforto will begin their arbitration years in 2019. If the penny rich Mets can salvage just one of all the players mentioned when they'll be $100+ million valued as free agents, it'll be considered a miracle.
So why not "Do A Jeter" now as opposed to facing the inevitable destruction of the team down the road?
Dismantle and rebuild from the ground floor up, which means beginning with the decimated farm system. Trade for prospects and stop the camouflage suggesting the team will be a contender for anything else but a third or fourth place finish in the NL East.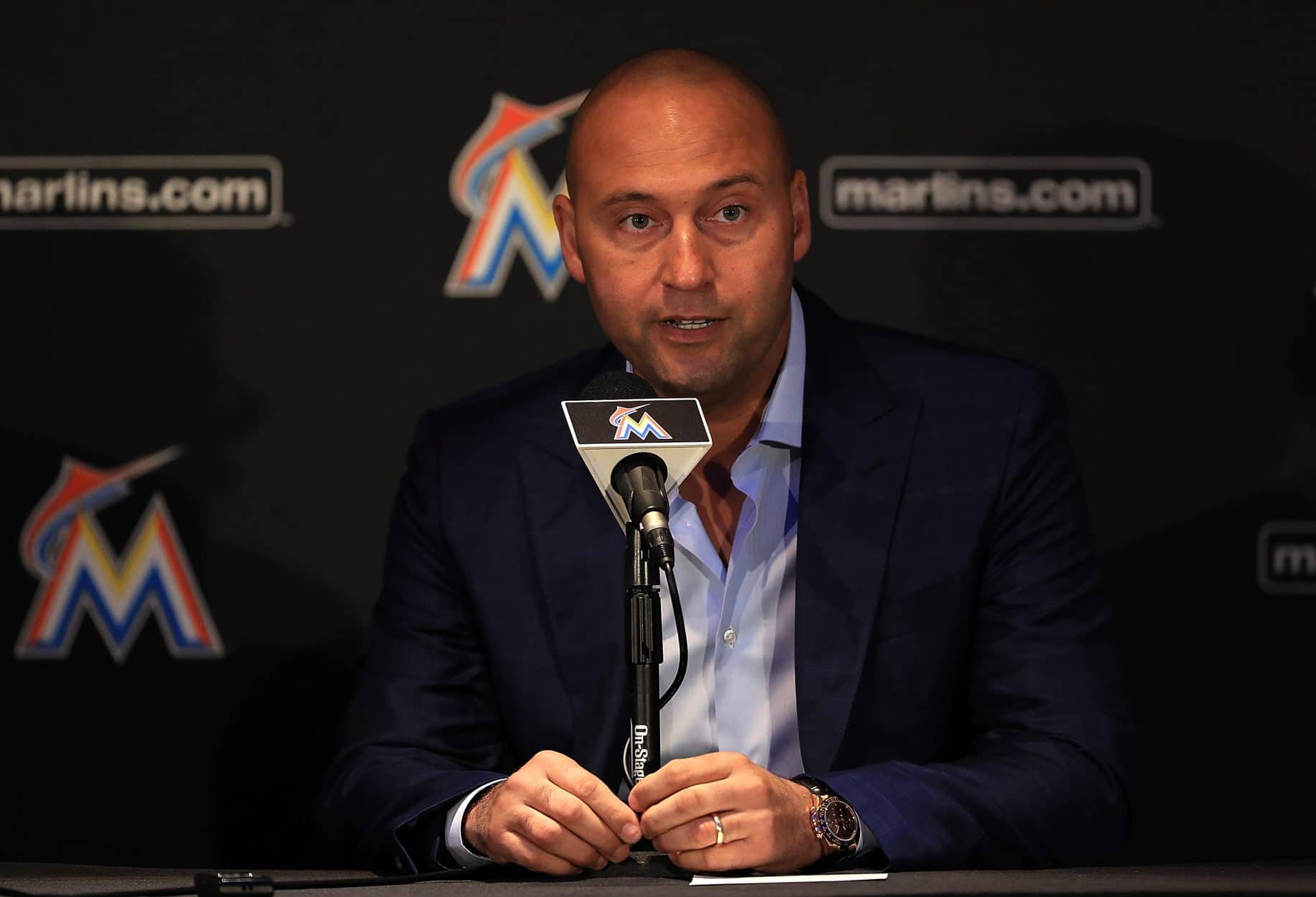 As an added incentive to conduct a fire sale, both David Wright and Cespedes will be off the books after the 2020 season, making their money available to use on the free agent market to fill in pieces where prospects are not quite ready for prime time after spending three years in the Mets organization.
If there is one thing Sandy Alderson knows how to do, it's as an expert evaluator of young talent. He was the best in the business when he was with the Oakland A's. Let him do it again with the Mets. As a bonus, it just might be the kind of challenge that will awaken Alderson from his stupor.
Consider how many first-tier prospects Harvey, Syndergaard, Matz, and deGrom will yield when they are traded. Ten, twelve? Toss in Cespedes at the trade deadline this year or next for a team in the hunt but short on power and you have two more.
Doing a Jeter doesn't mean it has to come all at once as Jeter is doing with Marlins. The Mets can take their time, completing the task by this time next year.
To put it another way, the Mets need to play this like they are a small-market team, selling off their "stars" as they enter big money years, getting prospects in return, and investing wholeheartedly in their farm system to keep the process ongoing.
New York fans are knowledgeable and sophisticated. They see through the facade anyway, so why not bring the fans completely into the fold, declaring a March to the 2020 World Series or something stupid (but honest) like that?
Alderson, together now with Omar Minaya, can do this by himself. The Wilpons need not be involved. In fact, they'll have church bells ringing around the city with saved dollars crammed in beneath their mattresses.
The Mets act like a small-market franchise. So, why shouldn't they become one?