Carmelo Anthony is just one of a slew of phenomenal players to put on a New York Knicks jersey. Where does he rank on the team's all-time list of greats?
After a drama-filled summer where the New York Knicks tried to trade him, even though he wanted to stay at one point, Carmelo Anthony eventually wound up with the Oklahoma City Thunder. On Saturday Anthony returned to Madison Square Garden for the first time and got a mixed reaction, as there were cheers and boos. The Knicks even honored him with a video tribute.
However, Anthony's return to New York didn't go as well as he was 5-for-18 shooting and scored just 12 points as the Knicks beat the Thunder 111-96. In his first season with the Thunder, Melo is averaging 17.3 points, 6.3 rebounds, and 0.7 blocks. In September he was ranked as the 64th best player in the NBA by ESPN. He responded by saying that ESPN shouldn't be so blatant with disrespect.
In October, Slam Magazine ranked Melo at number 15 and he didn't like that either.
"I just looked at it, and it was disrespectful," he told Ian Begley of ESPN. "I feel like I have something to prove, regardless of what's going on. I've always felt like that. High school. College. NBA. I've always felt like I had to work extremely hard to get the respect I deserve."
So where does Carmelo rank among the all-time great Knicks players? I think that he ranks fifth. In six and a half years in New York, Anthony never won a championship but he finished third in MVP voting in the 2012-13 season. That season Melo averaged 28.7 points and helped the Knicks win 54 games and make the playoffs and advance past the first round of the playoffs. On Jan. 24, 2014, Melo set a franchise scoring record by scoring 62 points. Carmelo is seventh on the Knicks all-time scoring list with 10,186 points and is third on the team's scoring average list with 24.7 points per game.
So who is ahead of Melo in the Knicks rankings? Four Hall of Famers—Patrick Ewing, Walt "Clyde" Frazier, Willis Reed, and Bernard King. Ewing, arguably the best player in franchise history, may be the most popular Knick of all-time. When I was growing up he was the face of the franchise. He is the Knicks all-time leader in points, rebounds, blocks, and steals. The only thing missing from Ewing's career is a championship, which unfortunately he wasn't able to get.
Frazier is the Knicks all-time leader in assists. He scored the first four points in the Knicks win in Game 7 of the 1970 NBA Finals. Frazier was named to the NBA All-Defense First Team seven consecutive times. From 1970 through 1976 he averaged 21.5 points, 6.6 rebounds, and 6.6 assists per game.
Reed was part of two Knicks championships. He was the Finals MVP in those two championships. Reed was also the MVP for the 1969-70 season.
King was a shooting star. His 26.5 career scoring average is second-highest among all Knicks. He helped lead the Knicks to the Eastern Conference semifinals in 1984, where New York lost to the Boston Celtics.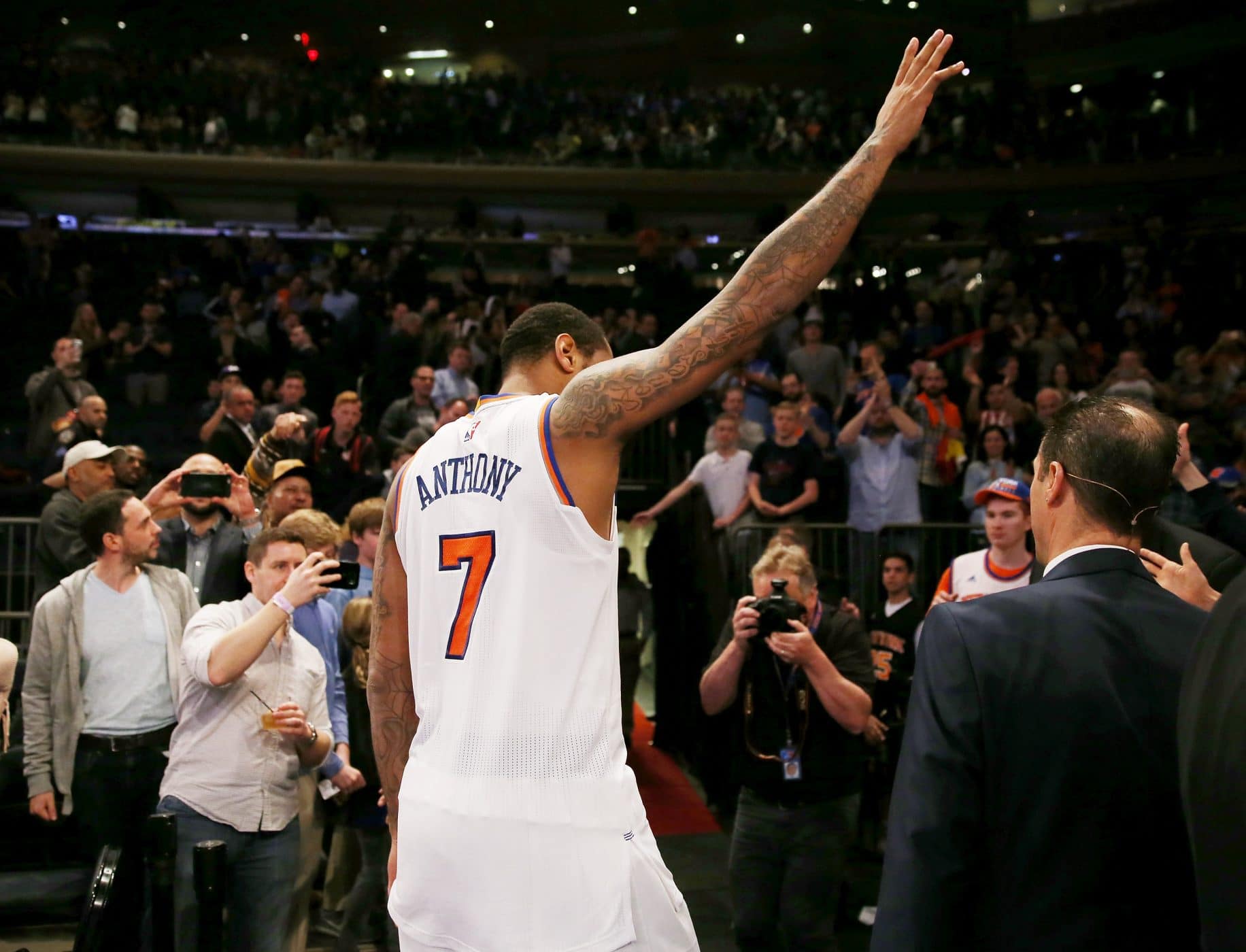 As for who ranks behind Anthony among Knicks players, I think its Harry Gallatin, Richie Guerin, Charles Oakley, and Allan Houston. Gallatin led the NBA in rebounds with a 15.3 average per game in the 1953-54 season. He also had 33 rebounds in one game, which is a Knicks record that still stands.
Guerin is one of two Knicks players to average over 29 points per game over a full season. From 1957 to 1962 he averaged 7.2 rebounds and six assists per game.
Oakley is the Knicks all-time leader in rebounds. During his time in New York, the Knicks never missed the playoffs.
Houston was a two-time All-Star and is fourth on the Knicks all-time scoring list with 11,165 points. He also helped the Knicks eliminate the Miami Heat from the first round of the 1999 playoffs.
Why are Gallatin, Guerin, Oakley, and Houston behind Melo in the rankings? They all had similar stats but Melo was slightly better, which gives him the edge. While it could be debated that Gallatin, Guerin, Oakley and Houston should be ahead of Melo, none of them was the face of the franchise like Melo was. That also was a factor in pushing Melo ahead of this group.
So Carmelo is the fifth best Knick of all-time. If he had won a title or two in New York then he might be ranked higher. Where do you think Carmelo ranks among all of the Knicks players?