While the New York Rangers played in four games last week, they only had two wins for their effort. But it was still a good week.
The Rangers are still struggling in different areas of their game. This was quite apparent last week as the team only managed two wins out of the four games they played. The Rangers can thank goalie Ondrej Pavelec for the one point he literally stole from the Dallas Stars on Monday night at MSG.
Weekly Results
| Date | Opponent | Result |
| --- | --- | --- |
| Monday, 12/11/17 | vs. Dallas | L 2-1 (SO) |
| Wednesday, 12/13/17 | @ Ottawa | L 3-2 |
| Friday, 12/15/17 | vs. Los Angeles | W 4-2 |
| Saturday, 12/16/17 | @ Boston | W 3-2 (OT) |
Oh, Baby!
Let's look at some highlights from last week's action.
Ondrej Pavelec makes one of his 44 saves on the night.
Rick Nash scores the lone goal against the Dallas Stars in a 2-1 shootout loss on Monday.
Pavel Buchnevich scores against Ottawa in a 3-2 loss.
Desharnais to Kreider to Buchnevich for a goal, Sens up 3-2 pic.twitter.com/kSIGo3APSF

— Shayna (@hayyyshayyy) December 14, 2017
Kevin Hayes scores against the Kings on Friday Night.
Hayes gives the NYR a 2-1 lead, from Mac and Grabner pic.twitter.com/yfTvaG77Yg

— Shayna (@hayyyshayyy) December 16, 2017
Rick Nash scored the game-winner for the Rangers against the Los Angeles Kings.
Nash's game winning ? gives you 50% off all reg menu priced ? at https://t.co/C92NtOBcw2 with code Rangers3 today for another #NYR game day! (NYNJCT) @PapaJohns_NY pic.twitter.com/qtgwlvgtqE

— New York Rangers (@NYRangers) December 16, 2017
Michael Grabner scores against the Boston Bruins on Saturday night from a pass off the stick of Kevin Hayes.
Grabner gives the NYR a 1-0 lead, from Hayes & Skjei pic.twitter.com/YjjF8zp4Jh

— Shayna (@hayyyshayyy) December 16, 2017
Mats Zuccarello scores a power play goal to give the Rangers a 3-2 win over the Bruins in overtime.
It's A Power Play Goal!
The Rangers scored three power play goals out of nine chances last week. Two of those goals were scored Saturday night in Boston. Kevin Shattenkirk continues to put power-play points on the board as the team waits for Mika Zibanejead to return from his concussion.
Who's Hot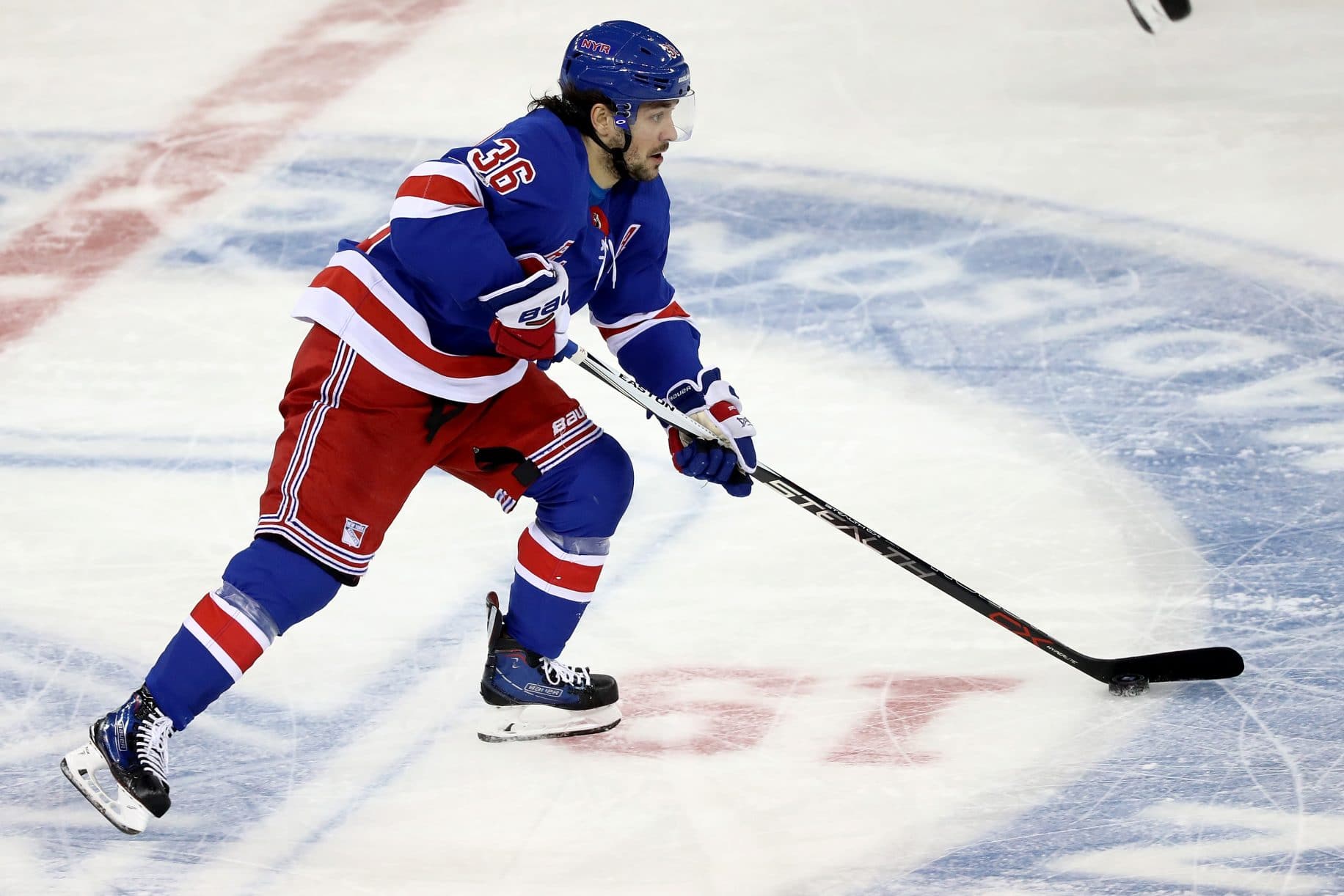 Mats Zuccarello has the hot hand right now. He registered two goals, two assists for four points in the last four games including the overtime winner in Boston Saturday night.
Who's Not
Defenseman Nick Holden has had some struggles this week. He was even in the last four games with no points.
Milestones
Congratulation to Chris Kreider on scoring his 100th NHL goal Friday night against the Kings.
Congratulations to former New York Ranger Marion Gaborik, who appeared in his 1000th NHL game on Friday night at MSG.
Congrats on 1000 @NHL games @MGaborik12! #NYR pic.twitter.com/szrFopfGHd

— New York Rangers (@NYRangers) December 16, 2017
Upcoming Schedule
| Date | Opponent |
| --- | --- |
| Tuesday, 12/19/17 | vs. Anaheim |
| Thursday, 12/21/17 | @ New Jersey |
| Saturday, 12/23/17 | vs. Toronto |