Having a team of young stars is great, but it's tough to keep 'em all. The New York Rangers may have that problem with Kevin Hayes and J.T. Miller.
J.T. Miller and Kevin Hayes have taken great strides over the past couple of years, but there's one issue with that progress.  Both youngsters will become free agents at the end of the year, making offseason life difficult for the New York Rangers.
Both Hayes and Miller have developed differently over the course of the last four seasons and now have become integral parts in what the Rangers are trying to do. They both had to step up their games this season with the trade of Derek Stepan and they have lived up to the hype doing much more than expected.
Miller has rotated between the center ice position and on the wing, this is one of his greatest attributes to his game. The plane was to go with Miller at center entering the season, but head coach Alain Vigneault decided to go against that and see what rookie Filip Chytil could bring. Injuries have forced the team to go with Miller at center and it has worked.
Through 33 games, Miller's 24 points rank second on the team. That alone isn't entirely impressive considering the fact that was one of his strengths coming into the league. For Miller, the biggest issue playing at center was whether or not he can handle to load defensively. So far this season, Miller has been serviceable defensively and his role has increased as the season has progressed.
Kevin Hayes' rookie season gave fans plenty of hope for the future when thinking about the type of player he can turn out to be. A disappointing sophomore season put a damper on those hopes and left some questioning whether or not he can be that player. Hayes answered those questions last year and received the complete trust of Alain Vigneault.
The best attribute to Hayes's game is how well he has developed defensively. This season Vigneault has used Hayes primarily in a defensive shutdown role which has limited his offense at times. With that in mind, his 14 points aren't really that bad considering what has been asked of him. The lack of points doesn't worry the Rangers though because they know he has the ability to put up points at a quick pace.
The biggest greatest that's facing the Rangers when it comes to Hayes and Miller is whether or not they have the financial ability to retain the both of them at the end of the season?
With a little over $22 million projected to come off the cap with the Ranger players heading to free agency, it looks like that keeping the both of them can be an option for general manager Jeff Gorton. The problem here is that Gorton will have to decide if Rick Nash, Nick Holden and Michael Grabner are expendable assets.
If the Rangers want to keep both Hayes and Miller, Rick Nash is going to have to take a substantial pay cut to stay with the Rangers.
Hayes and Miller are due for pay raises and giving Nash a deal along the lines of what he has now is irresponsible and completely unlikely. Michael Grabner is also an unrestricted free agent and might be looking for a pay raise considering the production he's had with the Rangers. Young defenseman Brady Skjei is a restricted free agent this year which means the Rangers will probably do what they normally do and give a two-year bridge deal.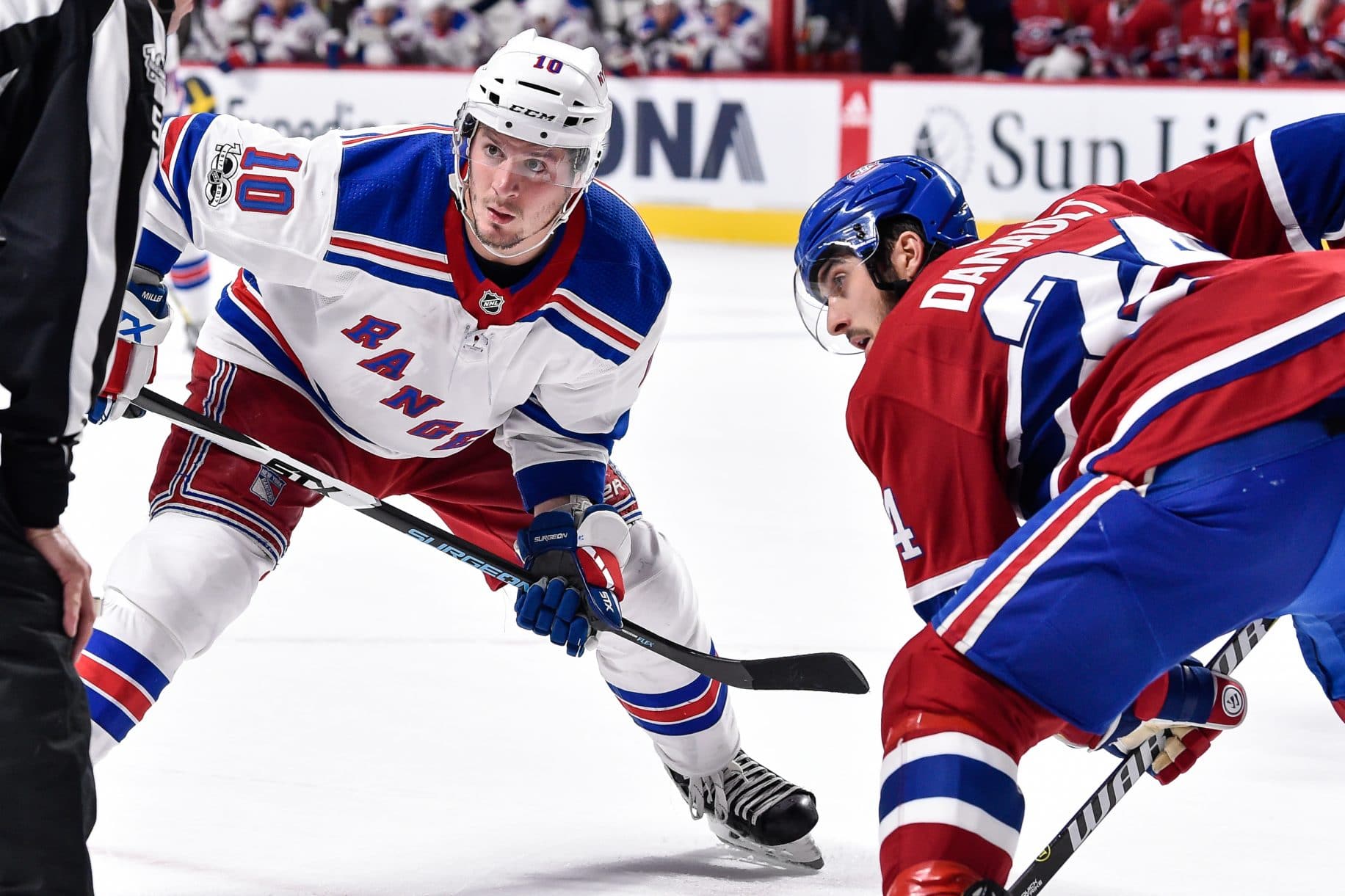 Those are the hurdles that Rangers are facing when it comes to making a decision on whether or not to keep both Hayes and Miller. It's most likely going to come down to one of them and the question then becomes which one do you chose.
If the Rangers have to choose between the two of them, they first must decide where Miller is most valuable at. If it's at center, then that's the player they need to make bringing back a priority. If they feel it's at wing then bringing both Miller and Hayes back is more realistic because they can let Nash or Grabner walk as free agents.
Miller is a year younger than Hayes at 24-years-old and has consistently produced offensively over the course of his six years in the NHL. He might make the occasional mistake, but that's something you can live with considering that the mistake he made might turn into a high-quality scoring chance the next time he tries to make that play.
Hayes' inconstancy offensively is what sets Miller apart. The defense that Hayes brings is important but there are times where Hayes can be snake bitten and pass up on quality scoring chances.
If they can find a way to bring back both Hayes and Miller then, by all means, do it. But, the depth that the Rangers have in the organization allows for the Rangers to let someone like Hayes walk.
It isn't ideal but, when deciding between the two players Miller has the most upside should continue to get the chance to shine on Broadway for years to come.