It's the holiday season and, obviously, it's never too early for a little Christmas shopping. What's the wishlist for the New York Rangers? 
This time of year is always one filled with hope and it's no different in sports — aside from the fact the flowing sound of cash is a tad louder.
As the season has progressed, the New York Rangers are still trying come up with an identity which has made assessing them as a whole pretty difficult. With that, making a wish list for them can go in so many different directions. Do they look ahead towards the future or do they sell and come to a realization that no longer can they fight it via Henrik Lundqvist era?
With that being said, there are some important items on the Rangers Christmas list that should be under the tree.
Extending Kevin Hayes and J.T. Miller 
It's always tough when players come of age. A team has to decide what each player worth is and how they fit into their long-term plans. The Rangers will soon have to face this conundrum with Kevin Hayes and J.T. Miller. Both are at the end of two-year bridge deals and will be looking for a pay raise.
In a salary cap world extending the both of them at market value is going to be extremely difficult to do. Both players have stepped their game up playing in more important roles than they have played in the past.
For Hayes, he has stepped up and become the two-way player that the Rangers needed with the trade of Derek Stepan this past summer. Defensively speaking this might be the best we've ever seen Hayes play. He has become a fixture on the Rangers penalty kill on top of playing against the opposition's number one center. His offense is slowly coming but not at the rate we saw from him last year and when he's on, he is a beast.
Miller is answering all of the major question marks about moving him to center. He has been defensively responsible while centering possibly the team's best line. For Miller, the biggest question surrounds him is if he can continue to produce at this rate. His 23 points this season are tied for third on the team and his 18 assists are tied for the team lead.
It's going to be hard but extending both Miller and Hayes must become a priority.
Determining Rick Nash and Michael Grabner's Future
As the season continues to move along, the Rangers will have a better idea of where they stand in the eastern conference. This will go a long way in determining what they will do Rick Nash.
Rick Nash and Michael Grabner will become an unrestricted free agent at season's end. Nash's $7.8 million and Grabner's $1.6 million cap hit will be coming off the books and both players have a significant amount of value.
This season Nash hasn't had the success that he has seen in the past. His scoring has gone down with just nine goals and eight assists but he could still bring value to a team in contention. His overall game as drastically improved since coming over to the Rangers prior to the 2012-13 season. That alone will bring Nash value on the trade market, but the question becomes will he be able to get back to scoring goals at a consistent rate Nash hasn't had luck on his side this season. At times he's been the best player on the ice but he just hasn't been able to get the bounces this year.
Grabner has resurrected his career with the Rangers since signing as a free agent prior to the 2016-17 season. He has scored 43 goals in just 109 games in his time on Broadway. He scored 45 goals combined throughout the 2013-16 seasons. He is one of the faster players in the game which has translated well with the Rangers system. If the Rangers are out of contention, he might be more attractive to a team considering his cap hit.
Now although the Rangers have control here, these are moves that must be considered and be on this list because it might be better to deal with them now rather than later.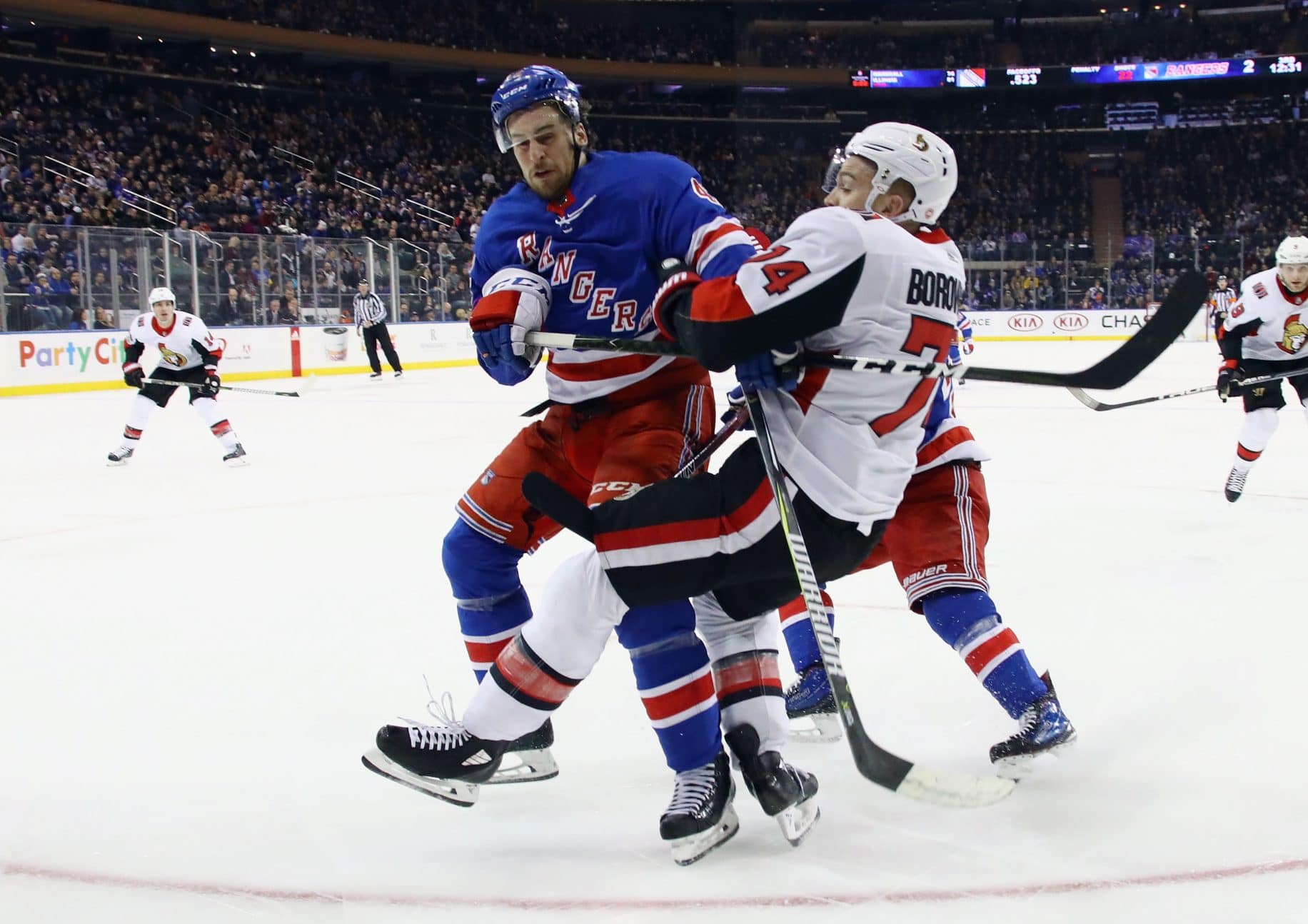 Adding a Defensive Defenseman
If there is still one glaring problem, it's that they can be a mess defensively at times.
A move like they made for Brendan Smith last season might just do the trick, but this time it needs to be a defenseman that has a defensive mentality. Making a move like this might help the struggling Ryan McDonagh who hasn't been the same player since his defense partner Dan Girardi was bought out of his contract this past summer. Girardi was there to cover for McDonagh. Not anymore and his down season might be correlated with not having a defensive-minded stay-at-home partner.
This team is full of defensemen who can move the puck. Those often lead to turnovers which have been hurting the team as of late. Acquiring a defensive defenseman will hopefully help make up for those mistakes in their own end.
Obviously, this will take some time to do as teams still feel that they are in contention currently. As the season progresses and we see which teams are realistically out of it, we will have a better idea of some names that the Blueshirts' can go after.
Christmas is coming and these items won't be there right away, but hey, if you can't get what you want on Christmas, then just go out and get it yourself like the Rangers might have to do.