New York Rangers fans are about to learn more about backup goaltender Ondrej Pavelec – for better or worse.
Alain Vigneault has been able to put this off, though he isn't able to anymore. The early returns on finding out about Ondrej Pavelec, however, look promising.
With his club beginning what will be a very busy remainder of December, the time has arrived for the New York Rangers coach to learn what he has in backup goaltender Ondrej Pavelec.
Now into a stretch of six games in nine days, Pavelec is starting to get his feet wet, more so than he has already to this point.
Vigneault's yearly plan has been to get star goaltender Henrik Lundqvist ample rest during the season to keep the veteran fresh for the playoffs, relying on his other goalie to handle a good portion of the workload while trying to approximate Lundqvist's standards. The fact that Lundqvist became ill and was too sick to start in Pittsburgh on Dec. 5, sending Pavelec to his first start since Oct. 28, only underscored the increasingly pressing need for the Rangers to figure out what they have behind The King.
A spread-out early season schedule has allowed the club to table the issue so far. Before a matchup with Washington on Friday that opened the six-in-nine stretch, the Rangers had played two games in nine days. November featured four instances of at least two days off between games, including one three-day break.
That had left Pavelec mostly collecting dust on the bench, and he's made only five starts and eight total appearances. He's posted a 3.04 goals against average, though it was tough to make much out of his early work given the lack of it – before his last two games, that is.
Given Pavelec's work in those outings, perhaps Vigneault shouldn't be concerned about his backup.
Pavelec made 41 saves in the 4-3 victory over Pittsburgh, also benefiting from the Penguins hitting four posts, but using his 6-foot-3 frame to good advantage in limiting openings and giving the dangerous 'Pens little to shoot at for much of the game.
He was even better against Dallas on Monday, stopping 44 shots in a 2-1 shootout loss that would have been a blowout without his fantastic play.
"I don't think anyone in our dressing room doesn't know that other than Ondrej Pavelec, we didn't play real well tonight," Vigneault told Jon Lane of NHL.com. "There are two positives, (Pavelec) played unreal and because of his performance we were able to get a point. Other than that, we weren't good."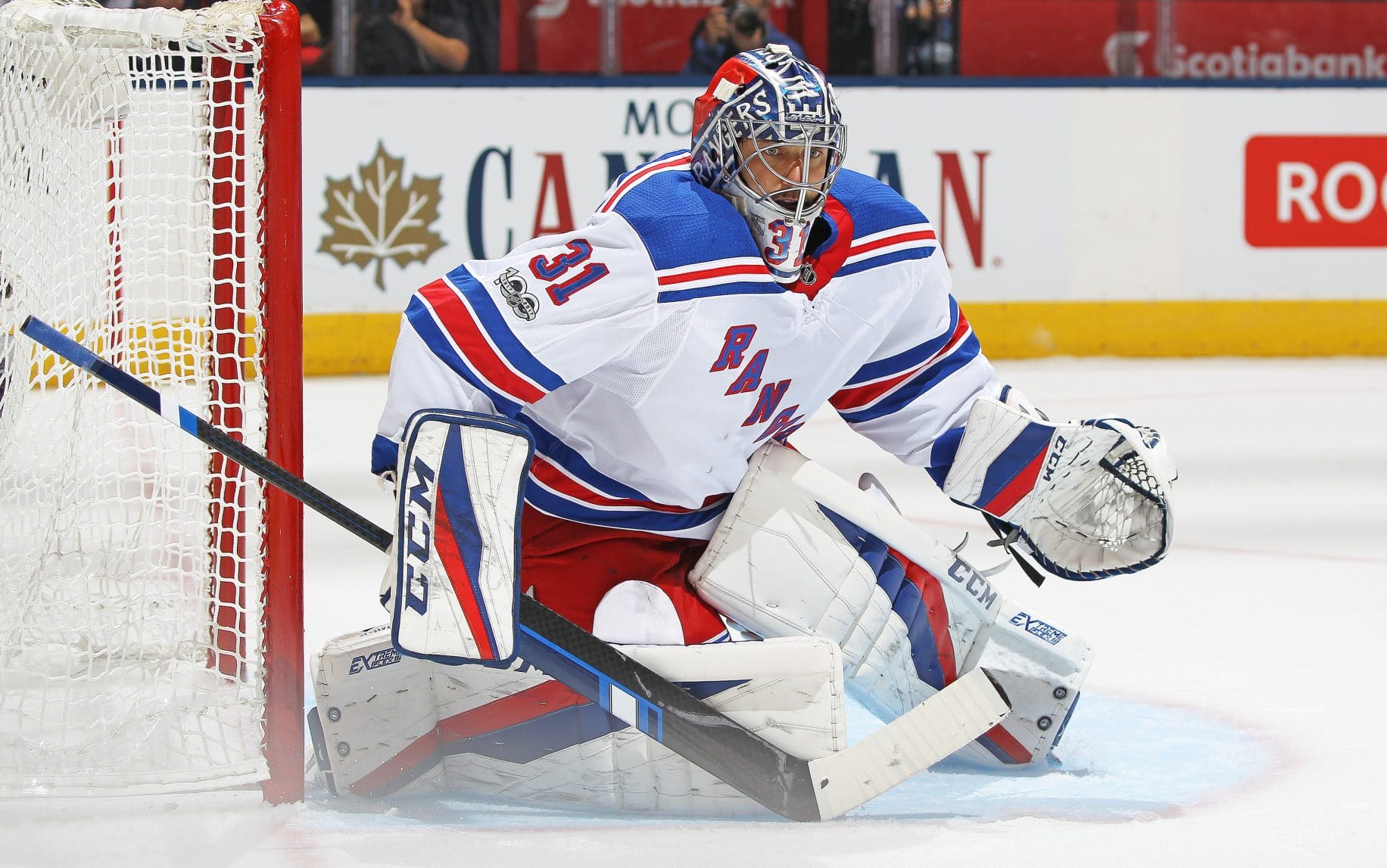 Pavelec, who is expected to get at least one more start during this busy stretch, is trying to revive his career after washing out with the Winnipeg/Atlanta franchise, which drafted him 41st overall in 2005. The Rangers bet in the offseason that getting him away from the Jets' lackadaisical defensive approach, which often left Pavelec in a shooting gallery the past few seasons, and requiring only backup responsibility from him would allow the 30-year-old to flash the form and ability that resulted in a 2.28 GAA average in 2014-15.
Most of Pavelec's career has been just that – flashes of talent and no consistency. The Blueshirts, though, were further encouraged by the prospect of him working with goaltending coach Benoit Allaire, who is known for his ability to make water into wine – or more specifically, get more from a pupil than anyone might have expected.
Ex-Rangers backup Cam Talbot has solidified himself as a top NHL starter in Edmonton after transforming into a hot trade commodity in two seasons with the Rangers. Antti Raanta, who took over as the backup after Talbot departed in a deal with the Oilers, was nearly as good as Talbot in his two seasons on Broadway and was coveted by Arizona in the blockbuster Derek Stepan trade over the summer.
Pavelec has been next up for Allaire. And the Rangers have been counting on "Benny" working his magic with the latest backup netminder because really, there isn't much choice. Vigneault knows he can't send Lundqvist out for 75 games at this point in his career, so he'll need to be confident that he has a viable option waiting on the bench – the way he did with Talbot and Raanta in recent seasons.
Plus, given the Rangers' horrendous start, points are at an even higher premium going forward as they battle for the playoffs. A possible nightmare scenario for Vigneault – at least, until the last week – could be an extended absence for Lundqvist and Pavelec in net as the Blueshirts try to overcome the 3-7-2 stumble out of the gate and find their way into the postseason.
That wasn't the case when Talbot took over for an extended period after Lundqvist was injured in 2014-15. Raanta played so well that Vigneault found himself with a mini goaltending controversy in 2016-17. Will he have the same comfort level/pleasant problem with Pavelec that he had with Talbot/Raanta?
Based on what we've seen in his last two outings, the answer might be a resounding yes.