The Knicks have been overachieving so far this season. We know Kristaps Porzingis is the best they've got. Who's next?
The New York Knicks are a much better team than most expected them to be this year. With a deeper and more talented roster than anyone anticipated, this is a team capable of making noise in the Eastern Conference.
But how does that roster stack up when compared to itself? I will be ranking each of the team's 15 players, based on their ability and how important they are to the success of the team.
25.4 PPG, 6.7 TRB, 1.1 AST, 0.4 BPM, 24.0 PER
I think Porzingis being number one is pretty obvious. He is the best player on the Knicks by far, one of the best in the NBA and the future of the franchise. Onto the next one.
13.8 PPG, 10.5 TRB, 1.3 AST, 4.1 BPM, 24.5 PER
Kanter has been phenomenal so far. He is one of 14 NBA players currently averaging a double-double. He ranks 14th in the NBA with 10.5 rebounds per game, while his 3.8 offensive boards per game are the league's fourth-highest total. He showed his importance when, in his three-game absence, the Knicks went 0-3, losing each game by a wide margin.
17.8 PPG, 4.2 TRB, 3.3 AST, 1.9 BPM, 15.7 PER
The Knicks will be without Hardaway for at least two weeks while he nurses a leg injury. His absence will show his value. He is the second-leading scorer on the team behind Porzingis and an extremely clutch player. THJ has had some big fourth quarters that have helped propel the Knicks to victory. He is having a career year so far and he should be able to continue to produce at that high level when he returns.
13.1 PPG, 3.6 TRB, 2.9 AST, 3.2 BPM, 15.6 PER
Lee does it all. He is extremely underrated and is one of the best three-and-d players in the game. Lee currently ranks eighth in the NBA in three-point field goal percentage (.465), while being the best defender the Knicks have. He provides timely scoring when the bigger stars of the Knicks are having an off night.
5.9 PPG, 3.3 TRB, 6.1 AST, -2.8 BPM, 10.4 PER
Jack's stats are nothing to brag about, but he is one of the quiet leaders of this team. The Knicks started off the season losing three straight games. Then Jeff Hornacek decided to insert Jack into the starting lineup after he only played 17 minutes combined in those first three games. The Knicks have been a much better team since, which proves his value to this team.
6.0 PPG, 6.2 TRB, 2.0 AST, 4.1 BPM, 17.3 PER
O'Quinn is a mean, tough player that doesn't care who he is going up against. He provides much-needed energy off the bench and a spark whenever he's on the floor. O'Quinn is a defensive presence in the paint, has a very nice mid-range touch and is a great rebounder. He is also tied with Kanter for the highest box plus/minus on the Knicks. O'Quinn can be compared to how Todd Frazier was to the New York Yankees in terms of leadership. Every team needs a guy like KO.
4.2 PPG, 2.7 TRB, 0.5 AST, -3.3 BPM, 6.9 PER
Thomas is another player whose stats do not do him justice. He does whatever is needed of him, without question, on any given night. Thomas is usually the player who is deployed to defend the opponent's best scorer while being extremely unselfish on the offensive end. Much of what he does never shows up in the box score but is extremely valuable.
7.8 PPG, 3.0 TRB, 1.1 AST, -0.2 BPM, 10.7 PER
McDermott is another player that provides energy and effort night-in and night-out. He is second on the team in bench points while ranking third in three-point field goal percentage. He finishes at the rim better than most people expect as well. McDermott is putting up career numbers in terms of defensive stats this year, one of the reasons he is ahead of the next player.
8.6 PPG, 3.5 TRB, 0.9 AST, -4.4 BPM, 13.8 PER
The former number two overall pick has yet to live up to the hype. When he has been given the opportunity he shows that he really can score with the best of them. Earlier this year he told the New York Daily News Stefan Bondy: "I'm literally just Carmelo [Anthony] on the left side of the floor." While he is not quite that, he can put up some big numbers. If Beasley can ever improve his basketball IQ, effort, and defense, he can possibly win a Sixth-Man of the Year Award.
5.2 PPG, 1.9 TRB, 3.1 AST, -3.0 BPM, 6.5 PER
The Knicks first-round pick in the 2017 NBA Draft has a long way to go. Ntilikina has proven to be a very good defender. Once he adds some more weight and bulk to his thin frame he may fight for a Defensive Player of the Year Award. However, his offense is still a work in progress. He doesn't seem to have adjusted yet to the bigger NBA ball and he is too timid to take the open shots. If Ntilikina can improve his offensive game he can be a potential All-Star one day.
5.4 PPG, 3.6 TRB, 0.9 AST, 0.9 BPM, 16.9 PER
The acquisition of Kanter has pushed Hernangomez to the back-end of the Knicks' rotation. Willy has the talent to be a solid NBA center, but the opportunity just is not there for him right now. When he is on the court he is productive as he showed when he recorded a double-double against the Indiana Pacers. However, the Knicks have proven that they can win without him and that is the reason he is so low.
2.8 PPG, 1.5 TRB, 0.4 AST, -2.9 BPM, 9.4 PER
Dotson has surprised a lot of people, as he has a chance to be a solid three-and-D player in the NBA as he continues to develop. Dotson has shown the ability to put up solid scoring numbers when he is given the opportunity. He will have a chance to prove his value and gain more playing time in the absence of Hardaway Jr.
4.6 PPG, 1.4 TRB, 2.7 AST, -5.4 BPM, 7.6 PER
Sessions stinks. He has the lowest box plus/minus on the team while having the third-lowest PER. Sessions has played 13 or more minutes in just five games this season. The Knicks have only won one of those games.
2.5 PPG, 2.5 TRB, 1.5 AST, *17.9 BPM*, *36.4 PER*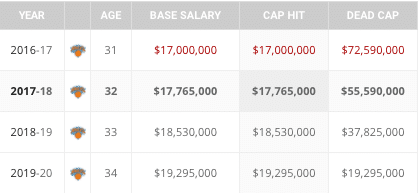 If you're a Knicks fan, your eyes are probably bleeding right now. Noah's contract will go down as one of the worst, if not the worst, in franchise history. He's the fourth center and has only seen action in two games this year after returning from his PED suspension.
3.1 PPG, 0.6 TRB, 2.7 AST, -2.4 BPM, 12.9 PER
Hair is about all Baker is good for, as he's not very good and is under contract for another season after the Knicks signed him to a two-year, $8 million deal in the offseason. The only minutes Baker has seen—and will continue to see—are garbage-time minutes.