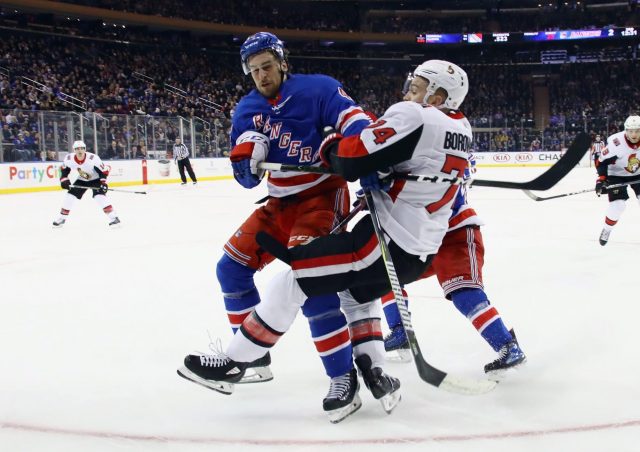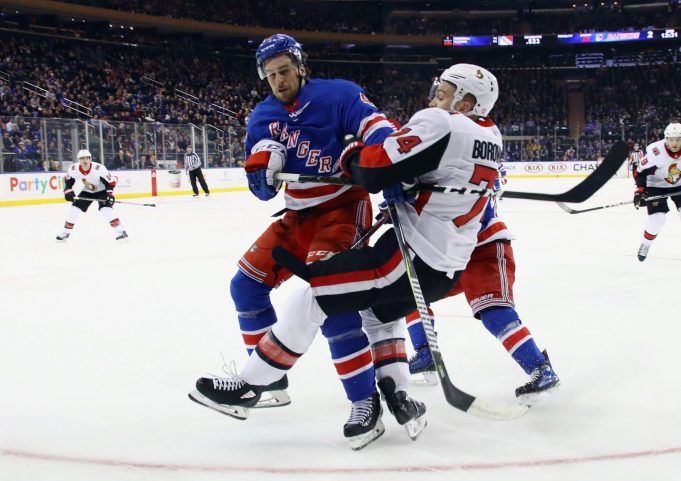 The difference between a hard clean hit and a nasty dirty hit sometimes is a fine line. The referees in tonight's New York Rangers game thought the latter on the hit by Brendan Smith.
You have to love seeing Brendan Smith play with such aggressiveness. This is the Brendan Smith the coaching staff and fans have been waiting for. It's the style of play that led to Smith signing a new contract to remain with the Blueshirts.
Is it dirty? Is it clean? Either way, Brendan Smith is so CRITICAL to this Rangers team thanks to physical statements like this. #NYR pic.twitter.com/fbPg7o18kB

— Elite Sports NY (@EliteSportsNY) November 20, 2017
In the third period, with the Rangers leading 2-0 a play broke down that to some seemed to be a nasty hit deserving of a penalty. To others, this was a clean hard hit as two players were going for a loose puck in the corner.
Ottawa Senators Mark Borowiecki skated down the left side of the ice with Mats Zuccarello and Smith all heading chasing down a loose puck in the corner to Lundqvist's right. Borowiecki and Smith seemed to engage with one another when suddenly Smith seemed to gain the advantage and blasted Borowiecki into the boards. All the players converged on one another. When the dust settled, Borowiecki remained on the ice for several minutes before getting up and heading towards the locker room.
Smith was assessed as a five-minute major for interference and a game misconduct. commenting on the play, Smith said the penalty was "a little harsh." That he and Borowiecki made eye contact and he was expecting to be hit."
Brendan Smith called his penalty "a little harsh." Said he and Borowiecki made eye contact and he was expecting to get hit. "You see those plays happen all over the ice. It's just unfortunate the outcome. Hopefully he'll be OK." #NYR

— Brett Cyrgalis (@BrettCyrgalis) November 20, 2017
This was a turning point in the game as the Rangers needed to kill off the major to prevent the Senators an opportunity to get back into the game. It was a tough call, maybe a two-minute minor penalty, but a major penalty was the incorrect call in that spot. You can see the two players attempting to hit one another without either of them possessing the puck.
Hopefully, Borowiecki will be fine and Smith will not receive further discipline.