He was booed on draft night. Now he's the New York Knicks' franchise player. Simply put, we don't deserve you, Kristaps Porzingis.
Dear Kristaps,
On behalf of every loyal and faithful New York Knicks fan out there, allow me to apologize. You've done nothing but play your heart out and inspire hope for this franchise and yet you've dealt with your fair share of headaches from the James Dolan regime.
On draft night, we booed you. That was our first mistake. When Phil Jackson selected you fourth overall in the 2015 NBA Draft, many, including myself at the time, were skeptical about your long-term future in the NBA.
With three highly touted prospects at the top of draft boards (Karl-Anthony Towns, D'Angelo Russell and Jahil Okafor), our fan base thought we missed the boat again on the first top-five pick the Knicks had since 1986.
Forgive us, as there is a stigma that comes with drafting European players that high.
The last European player to be selected top-five that became an All-Star was Pau Gasol, who was drafted more than 16 years ago now. The group of European top-five picks since haven't exactly been inspiring. Nikoloz Tskitishvili (2002), Darko Milicic (2003), Ben Gordon (2004), Andrea Bargnani (2006), Ricky Rubio (2009), Jonas Valanciunas (2011), Enes Kanter (2011) and Alex Len (2013) were all top-five selections prior to New York selecting you and all of them had failed to reach their potentials and become All-Stars.
Like with most international prospects, the expectation was that it would take several years before you could make an impact. Fans were livid. In a 2015 New York Post article authored by George Willis, two Staten Islanders summed it up best.
"I have no idea what Phil Jackson is thinking. Maybe he thinks he's going to be the next Pau Gasol, but I don't think so. This is the worst thing I've ever lived through as a Knicks fan. He didn't score that many points in Europe. What's he going to do in the NBA?" -Mark Dantuono

"I have no words. It's that bad," he said. "It will actually bother me if he does something in the league because I'm talking like this. But from what I've seen on TV and from what I've heard, this is not good." -Joseph Mangiero
Their frustration was understandable. Critics did not see you as a rebounder or shot blocker. They did not foresee the elite rim protection you would come to provide one day. Endless comparisons were drawn to Dirk Nowitzki, a shooter that could open up the floor … and that's it. Carmelo Anthony was an aging superstar and the Knicks wanted to win now. Because of that pressure, you had to deal with endless doubts and criticisms. Thankfully, it didn't last very long.
This is a DIFFERENT team, already. How is that possible? #Knicks up big on Suns. KP a man among boys. pic.twitter.com/y0j42HTvj1

— Elite Sports NY (@EliteSportsNY) November 4, 2017
One game. That's all it took. Halfway around the world from your native homeland of Latvia, you gave Knicks fans exactly what they wanted to see: a glimpse of your massive potential. In the midst of a 25-point Knicks win, a 16-point, five-rebound performance inspired hope. Personally speaking, that was the day you had me sold.
It didn't take much searching to realize how unique of a player you truly were once you stepped on the court, a compliment that carries tremendous weight when you consider that you debuted against probably the most unique player in the NBA right now in Giannis Antetokounmpo. ESPN's game recap from that night in 2015 sang many praises, including that of Carmelo Anthony.
"You couldn't ask for more than that." -Carmelo Anthony
Traditionally, we are quick to anoint stars on the New York basketball scene; Jeremy Lin will always be the textbook example of that. Iman Shumpert and Landry Fields were once seen as rookies with bright futures. Unfortunately, we New Yorkers can be a bit jumpy when it comes to our Knicks.
It's been a long time since we've had a legitimate superstar to call our own. You could argue Carmelo Anthony was our latest, but in actuality, we've been suffering since the Dolans shipped Patrick Ewing off to Seattle.
By November of 2015, we were all on your bandwagon. After a virtuoso 29-point, 11-rebound performance that led the Knicks to a win over the Charlotte Hornets, there was a legitimate belief that you could be the next great Knicks player and face of this franchise, a belief that looks to be holding true even today.
It was almost unpredictable how ready the NBA was for the prototype you created. The true definition of a stretch-five, elite rim protection featuring tremendous three-point prowess, impressive post moves and a never-ending supply of energy. The early returns of 2015 were good. The current returns of 2017 are even better.
Nevertheless, instead of nurturing your new style of play and embracing your uniqueness, the organization did two things that could have completely stunted your growth: trapping you in the dated triangle offense and forcing you to share a floor with the team killer himself, Carmelo Anthony. For that, I am truly sorry.
I respect you for being a team player and trying to go with the flow while Phil Jackson continued to shove his philosophy down this team's throat. I commend you even more for speaking up when it clearly wasn't working. ESPN's Ian Begley quoted you last season as saying:
"We're really basic [with] what we do. A lot of times it's, especially one on one, whoever it is, myself, Carmelo [Anthony], Derrick [Rose], Courtney [Lee], we try to make something happen and that's not how it's supposed to be. It's very random."

"We don't know the triangle that well."
The dysfunction this organization plunged itself into had a negative effect on everyone around it. It was only natural that you would become frustrated. I don't blame you for skipping your season-ending exit meeting when the 2016-17 season came to a close. A message needed to be sent. But this act cornered the Knicks into a tricky situation. They were put to a decision: stick with their budding superstar or their President of Basketball Operations. As a result, we had to endure weeks of trade rumors and scenarios that were cringe-worthy at times.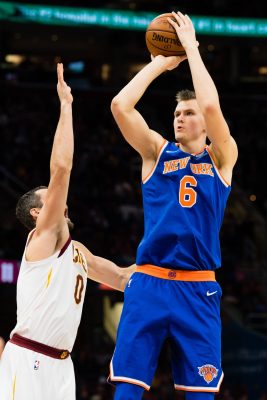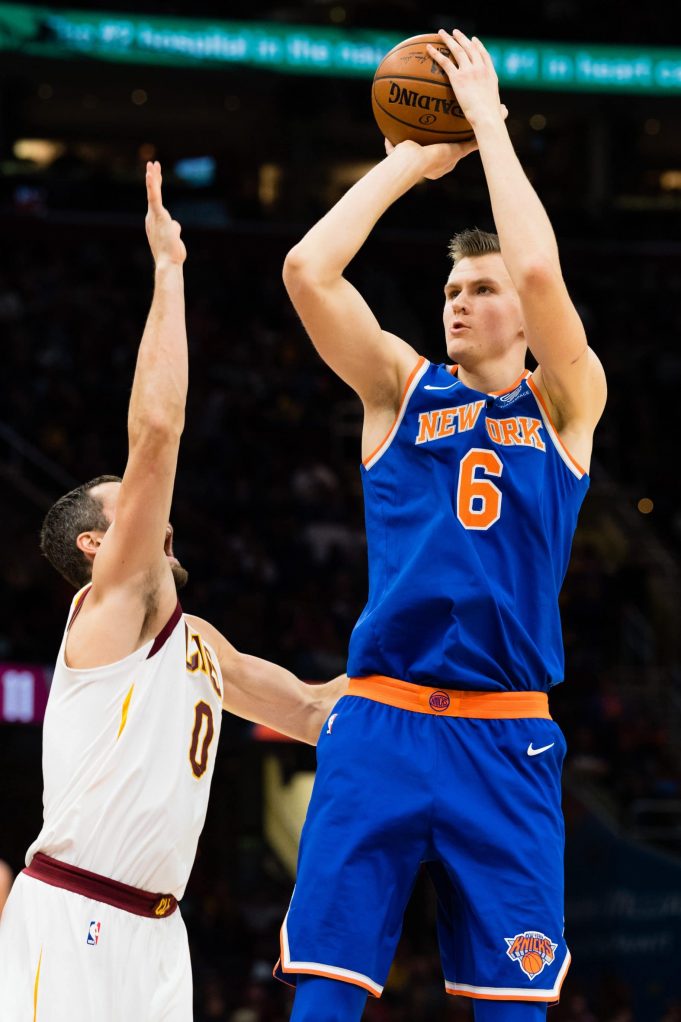 The idea of Kristaps Porzingis playing for another franchise made me physically sick and I'm only a fan. I can only imagine how it made you feel. Thankfully, no deal ever materialized and, to the delight of every Knicks fan out there, management canned Phil Jackson shortly thereafter. The team was sending a message, the right message, to you. The New York Knicks were going to stand by Kristaps Porzingis for the long haul.
The only obstacle that remained was the proverbial ball-stopper, Carmelo Anthony, and to the surprise of many, that obstacle was cleared fairly quickly relative to all of this. Shipped off to the Oklahoma City Thunder for pennies on the dollar, the organization had removed any impediments to your ascension as our franchise player and let me be the first to say you have not disappointed.
We may only be seven games into this young NBA season, but Kristaps, you have taken your game to a whole other level. With Melo off the roster, you've been shooting more and it's been paying dividends, not just in volume but in efficiency as well. Only two players in NBA history have scored 30 points, made a three-pointer and blocked a shot in three of their first four games of a season. Obviously KP, the first one is you. But if you're wondering who the other player is, he's some guy by the name of Michael Jordan. I'm pretty sure he played for the Chicago Bulls and won a few titles in his day.
No New York Knicks player has ever gone for 30 points in five of their first six games … until you did it this season. Between unlimited range on your jumper, revised footwork and deceptive post moves, you've taken your offensive game to an entirely new level. On the defensive end, you are flying all over the court and blocking shots like another great Knicks center named Ewing once did.
Most importantly, you've already inspired an era that looks completely different from the eight seasons we endured under the tyrannous rule of Carmelo Anthony — an era in which hustle, sharing the ball, making the extra pass and playing exciting basketball is at the forefront.
I guess in retrospect, we should be thankful to Phil Jackson.
For all the heartache and incompetence we've had to deal with, you as a player and the rest of us as fans, Phil had the foresight to draft a skinny Latvian forward that would redefine the prototype for forwards in today's modern NBA. If you continue to improve and reach your seemingly limitless ceiling, then we can score one final win for the Zen Master, endowing the Knicks with one of their greatest modern players.
Kristaps, your team may not be earmarked to win many games in 2017, let alone be a playoff team, but thank you. Thank you for making basketball in Madison Square Garden fun again. Thank you for breathing energy into a team that needed it, for revitalizing a dying fan base. There's no other way to say it than this: Kristaps Porzingis, we do not deserve you.
Sincerely,
Justin Birnbaum
A Loyal Knicks Supporter