Brendan Smith came up clutch for the Rangers in the 2016-17 playoffs but has found himself on the bench for most of the 2017-18 season.
Brendan Smith emerged as an integral part of the Rangers blueline after his acquisition prior to the trade deadline last season. The organization rewarded him with a four-year contract in free agency, but Smith has found himself out of the lineup of late.
Smith gives the Rangers blueline a different dynamic that was evident during the playoffs. His physical game really stood out in the eyes of all Ranger fans and it played a major role in the teams round victory over Montreal. This season though Smith has struggled in his own end and he has been a victim of some poor giveaways.
The 28-year-old defenseman hasn't played since Oct. 31 after being benched in the third period against the Vegas Golden Knights. After that game, head coach Alain Vigneault decided that the team was better off going with Steven Kampfer over Smith and the results have been there for the Blueshirts.
Smith and the Rangers have options when it comes to getting him back in shape and into the lineup on a full-time basis. Let's take a look at them.
Send Smith to Hartford on a Conditioning Loan
There is a clause in the NHL's Collective Bargaining Agreement (Article 13.8) that a team may send a player to the American Hockey League, without risk of losing him, on a conditioning loan.
Smith had a very active summer as Newsday's Steve Zipay wrote earlier this month. Zipay explained that Smith got married, moved, and became the team's NHLPA representative during the summer. This may have affected Smith's game and if the Rangers can prove it, they'll be able to send Smith to Hartford.
The conditioning loan would last for 14 days. Smith would not lose out on any compensation and the Rangers won't lose him to waivers. Doing this would allow for Smith to get back in proper shape while seeing game action.
Even though Smith would be playing against minor leaguers, he'll be getting ice time that he isn't seeing with the Rangers right now.
Ultimately this option is the best one for Smith and the Rangers because it allows for Smith to see game action. There is no way that Smith will be able to work out the problems in his game by sitting out and working as an extra in practice. Giving him time on a conditioning stint would help both him and the Rangers.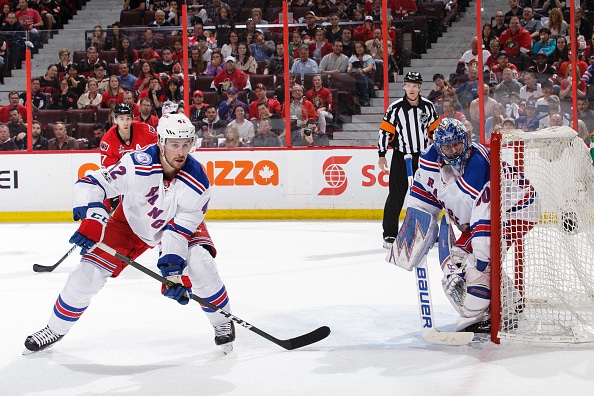 Insert Him Back in the Lineup
Although not likely right now, the only way Smith will be able to work on his flaws is in game action. If the team doesn't want to send him a conditioning assignment then they should just put him back in the lineup.
Doing this would require scratching either Nick Holden or Steven Kampfer, who have both been a part of the team's winning streak. The problem with this is that when the team is winning, Alain Vigneault does not like to mess with his lineup, and rightfully so.
Although Holden and Kampfer aren't top names on the backend, they have filled in quite nicely for the Blueshirts. Holden's game has drastically improved from the playoffs while Kampfer has been a steady NHL caliber defenseman for quite some time. While both players have flaws, those flaws have not hurt the team this season.
Smith will get his chance to crack the lineup again, but how soon is the real question. Does Vigneault trust him enough to go that root once again?
Trade Him for a Center
Although not the ideal situation in the first year of a players contract, trading Smith could be an option should his lack of playing time continue.
If general manager Jeff Gorton feels that this is an option for the Blueshirts, they could be able to acquire a quality center for Smith. A team looking for help on the blueline would be more than willing to take Smith and since he is under control for the next four years, the Rangers would have a high asking price.
This is all purely speculation, but shouldn't be overlooked. The Rangers need to add a top-six center because Kevin Hayes is not the answer. In order to do that, the team is going to have to part with someone and as of right now Smith is expendable.
The Rangers have options with Smith. Trading him shouldn't be one unless they are forced into it. Until then find him some playing time and he should be able to get back to the player he was.