The New York Rangers continue to play great hockey and have moved into third place in the Metropolitan Division.
Winning makes everything better. After a miserable 3-7-2 start to the season, the Rangers are now 9-7-2. They are in eighth place in the conference.
Weekly Results
| Date | Opponent | Result |
| --- | --- | --- |
| Monday, 11/6/17 | vs. Columbus | W 5-3 |
| Wednesday, 11/8/17 | vs. Boston | W 4-2 |
| Saturday, 11/11/17 | vs. Edmonton | W 4-2 |
Oh, Baby!
Let's take a look at some of last week's highlights.
Michael Grabner scores against the Blue Jackets.
#NYR got on he board with this @grabs40 ?! Stay tuned to @MSGNetworks or https://t.co/TMLf6zaGIh for the 3rd period. pic.twitter.com/ODMAD3yejA

— New York Rangers (@NYRangers) November 7, 2017
The Rangers come back to defeat the Blue Jackets on Monday night.
5️⃣ ?????
4️⃣ In the 3rd
3️⃣ On the Power Play
2️⃣ By Grabner
1️⃣ #NYR WIN!
? It all here! pic.twitter.com/QQYIBWieJg

— New York Rangers (@NYRangers) November 7, 2017
Pavel Buchnevich goes around Boston's Zdeno Chara to score.
BUUUUUUUUUUCH!! What a move! What a ?! #NYR up 3-1 after 1! pic.twitter.com/XraIQzYojQ

— New York Rangers (@NYRangers) November 9, 2017
Jimmy Vesey scores two goals in 29 seconds against Tuukka Rask.
29 seconds…all it took @19Vesey to score his 2 goals and all it will take you to ? both! #NYR pic.twitter.com/rbdWTPwSVK

— New York Rangers (@NYRangers) November 9, 2017
On Veterans Day, Rangers take a moment to remember the Veterans of our great country.
In honor of all those who have served our country, together we salute you. #VeteransDay #NYRSaluteToOurTroops pic.twitter.com/uXz0xoKH3P

— New York Rangers (@NYRangers) November 11, 2017
Buchnevich scores off of a great pass from Kevin Shattenkirk.
That puck movement was nothing short of textbook. ?

More #EDMvsNYR highlights: https://t.co/dWvvy1Aovh pic.twitter.com/aIYH1CfeHN

— NHL (@NHL) November 11, 2017
It's A Power Play Goal!
The Rangers power play has been the best part of this six-game winning streak. The team is ranked fourth in the National Hockey League with the man advantage.
Who's Hot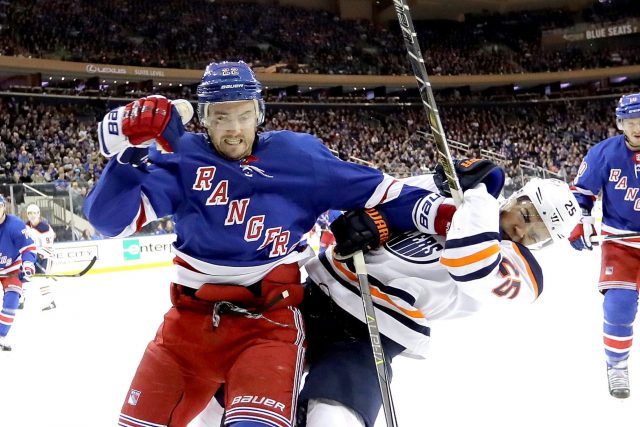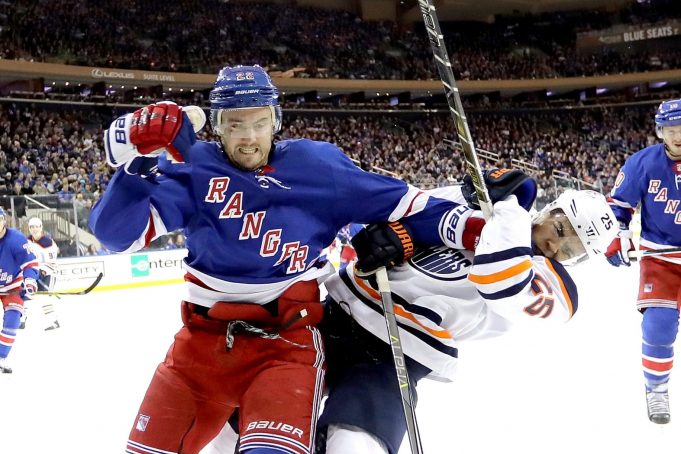 Kevin Shattenkirk is on fire right now. He is currently on a seven-game point scoring streak. He has recorded three goals, seven assists for 10 points in this streak, along with one power play goal and three assists with the team on the man advantage.
Who's Not
The only player who is not playing well right now and the is Brendan Smith. That's because Smith isn't playing as he has been scratched for the last five games.
Most Interesting Play
The most interesting play has to be when Jimmy Vesey was kicked in the mouth during the Edmonton Oiler game on Saturday at MSG.
ow Vesey ow pic.twitter.com/I5d2BFYewH

— Shayna (@hayyyshayyy) November 11, 2017
Vesey would leave the game for the rest of the second period but would return to play the third period with a full shield.
It would later be reported that Vesey would have some teeth implanted in his bottom lip. Vesey posted some pictures of his injury which was seen all over social media throughout the night.
That's hockey #SorryMa pic.twitter.com/oeYJg6FgfV

— Jimmy Vesey (@19Vesey) November 11, 2017
The Week Ahead
| Date | Opponent |
| --- | --- |
| Wednesday, 11/15 | @Chicago |
| Friday, 11/17 | @Columbus |
| Sunday, 11/19 | vs. Ottawa |