Pavel Buchnevich's flash and Jimmy Vesey's grit Thursday might have been the New York Rangers' most significant developments of this up-and-down season.
The goal evoked the skills of elite scorers past and present, a breathtaking display that even casual hockey fans could recognize as something few players can do.
For Pavel Buchnevich, it was the clearest sign yet of what the 22-year-old Rangers forward can become.
"So impressive," Henrik Lundqvist told Larry Brooks of the New York Post about his second-year teammate after he and the Russian helped propel the Rangers to their fifth straight win Thursday, 4-2 over Boston. "I could see his skill last year, but he's more confident now. He's more determined to make things happen."
Buchnevich's goal in the first period to open the scoring had everything that you'd want to see out of an elite goal scorer. There was speed, as he switched gears and darted around diminished-yet-still-all-world defenseman Zdeno Chara from the right side. There was assertiveness and power, as he then confidently drove to the net without fear. And finally, there was the eye-popping fast release and wrist strength to snap the puck into the top of the net.
Looks like Buch is here.
"Incredibly skilled," linemate Chris Kreider told the Post, echoing a theme.
Desperately in need of a top offensive talent, the kind the Rangers seemingly don't have access to as they never pick near the top of the draft, the Blueshirts hope Buchnevich might be such a player that instead arrived as what could prove to be a third-round steal in 2013. His first season in North America in 2016-17, facing a new culture and new language mostly at age 21 was marked by some highs and plenty of predictable lows in his initial taste of the NHL.
Now that he appears to be settling into his new life and surroundings, he's looking like he'll provide something for the organization and fans to watch grow – into what, of course, still to be determined.
Buchnevich recorded eight goals and 12 assists in 41 games as a rookie. He has seven and seven in 17 contests this season. Three goals and four assists have come on the Rangers' dangerous power play.
"He's pretty happy-go-lucky," defenseman Marc Staal told the Post. "At the same time, though, you can see that he wants to be called on. He wants to be on that first line. He wants to be on the power play.
"You can see that he thrives on that. He wants to make a difference."
The other difference-maker Thursday didn't put the puck in the net in quite as spectacular fashion – but Jimmy Vesey did it one more time than Buchnevich, and his two goals in 29 seconds late in the first period came from the "dirty" areas around the net and might have been even more beautiful to watch for coach Alain Vigneault.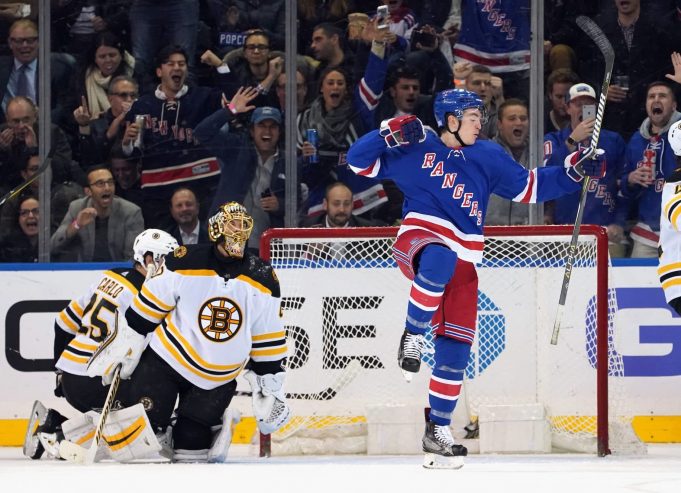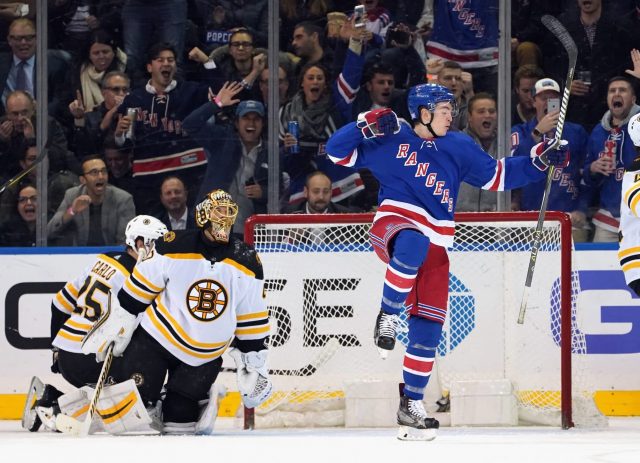 "Before he scored the goals, he made a couple real strong plays along the wall in our end that permitted us to get the puck out," Vigneault told Brett Cyrgalis of the Post. "There's a complete 200-foot game, and tonight, the positive thing and the confidence-builder for him is he was able to finish."
Though Vesey's second season may appear to be a mess so far, marked by some irresponsible play, subsequent benchings and health issues, there's really no cause for concern. The 24-year-old has been a big target of Vigneault's characteristic tough-love approach – the one that's yielded gradual yet clear benefits for Kreider, J.T. Miller and others over the past several seasons.
Suffice it to say a strong game in his own end to go with two goals prove that the results do eventually come. Especially after Vesey's latest benching that resulted in him sitting for the final 22:45 of Monday's 5-3 comeback win over Columbus.
"I think that's also part of my development," Vesey told the Post about riding the pine after doubling his goal total for the season Thursday. "So in a couple years or whatever maybe I'm the guy on the ice all the time because of what I've watched and learned or gone through and made mistakes and learned from."
The maturity to understand what his coach is trying to accomplish bodes so well for the former Harvard forward in whom the Rangers have placed plenty of hope for the future. It's worth remembering that Vesey was playing in the ECAC two seasons ago. It's going to take time.
And yet, Buchnevich's stellar rush for a goal and Vesey's gritty determination that earned him a pair of "tap-ins," as Miller playfully called them postgame, just might be a window into the future of this team, the uber-talented Russian sniper complemented by the tough Boston kid who stands in front of the net. Though the five straight wins are encouraging, Thursday's performances by the two young players are all the more important in the big picture.
The Rangers probably aren't a threat to challenge for a championship this season – in fact, they might be playing over their head somewhat right now. Lundqvist going back to what he does – covering up for a flawed team in front of him, as he did Thursday when a significantly depleted Bruins club kept coming and carried the play after the first period – has been the major factor in righting the ship.
There's plenty more to like from the last five games, of course, with Kevin Shattenkirk fueling the lethal power play now that he's not being asked to fill the role of top-pair matchup defenseman – a role for which isn't and never has been suited. His partner, Brady Skjei, appears to be back on track after a rough start. Twenty-something forwards Mika Zibanejad, Miller and Kreider have been productive and confident.
But this remains a team in the middle, trying to pivot to a new identity and reload with the previous core having led the club to the cusp of a championship before its window closed. Whether that pivot is relatively quick to a new period of success depends on players such as Buchnevich and Vesey proving they can be part of a high-end new core, responding to Vigneault's teachings and not taking (too many) steps back.
Certainly, it should be exciting for fans to watch. And who would have said that about the Rangers a few weeks ago?