Teams are calling the Calgary Flames about 21-year-old center Sam Bennett. The New York Rangers should be one of them. 
It's no secret that the New York Rangers are still in need of a center. The team was in on Matt Duchene prior to his trade to Ottawa and it wouldn't shock anyone in the industry if they make a deal at the center position.
One name that could serve as a fix at center for the future and the present is Sam Bennett of the Calgary Flames. Taken with the fourth overall pick in the 2014 NHL Entry Draft, the expectations were high for Bennett.
Bennett put up an impressive rookie campaign in the 2015-16 season, scoring 18 goals in a year that saw Calgary finish 10 points outside of a playoff spot. Bennett's sophomore season saw his production drop as the center scored just 13 goals, but there was still some upside to his game.
While Bennett has seen time with multiple key top players with the Flames this year, he's recorded just one point in 15 games. Because of Bennett's struggles, teams have called Calgary about making a potential deal, hoping that a change of scenery could help spark his game according to TSN's Bob McKenzie.
The question becomes this: Why would the Rangers trade for someone who is struggling so mightly? The answer is simple, upside.
Even though it might feel like he has been around the league forever, Bennett is only 21. The upside that he possesses is one that teams, including the Rangers, should be attracted to.
Bennett put up 131 points over the two seasons played at Kingston of the Ontario Hockey League, including a 91-point season at the age of 18. His ability to accumulate points is one of the reasons that he was taken so high in the draft.
Several players on this current Rangers team have flourished under head coach Alain Vigneault at a young age. Chris Kreider, Ryan McDonagh, Brady Skjei, J.T. Miller, and Kevin Hayes have all put up the best seasons of their young career under Vigneault. Although it didn't happen overnight and it took some tough love, Vigneault has done wonders with their development. All of them are now playing key roles for the Blueshirts.
Just this season, Mika Zibanejad and Pavel Buchnevich have become key components of what the Rangers are trying to accomplish. Vigneault challenged Zibanejad after last season and he's answered with the best start of his career. Buchnevich has seen time on the fourth line after being a healthy scratch numerous times in his first two seasons with the Rangers. Now, he is second on the team with seven goals.
Having a coach that is able to get the best out of young players is a hot commodity in this league because of where the game is heading. If general manager Jeff Gorton thinks that Alain Vigneault can harness the potential that Bennett has, then Gorton should go all in on acquiring him.
Now don't think that acquiring Bennett will take just a couple of late draft picks because he only has one point. Calgary still looks at Bennett as the rest of league does and will give up on him for nothing.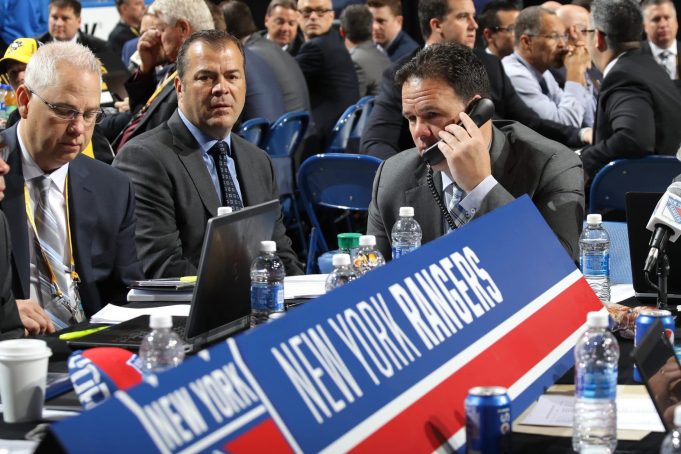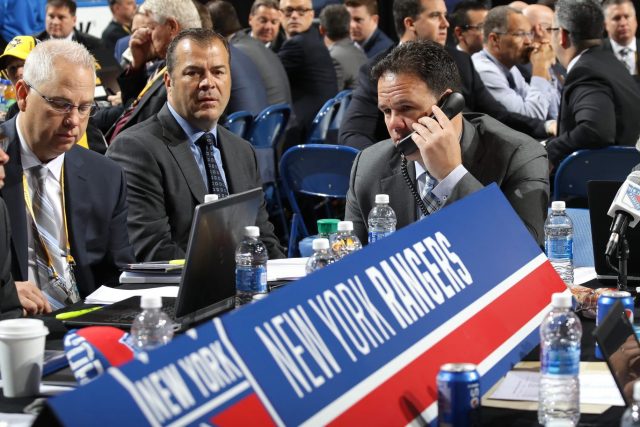 A perfect example of what Calgary could be looking for is what the Tampa Bay Lightning received from Montreal for Jonathan Drouin. Tampa got a top prospect in defenseman Mikhail Sergachev. Drouin and Bennett are in a similar situation considering that they were both top-five picks and seem to be overstaying their welcome with the team that drafted them.
Realistically speaking, the Rangers could pull off a deal for Bennett without having to give up the likes of Brady Skjei and Buchnevich. Calgary does not have depth at the goaltending position and the Rangers have plenty of depth within the organization in Igor Shestyorkin and Adam Huska.
This would mean that the Rangers would have to decide if they want to go with Shestyorkin or Huska as their goalie to succeed Henrik Lundqvist between the pipes. Giving up Huska or Shestyorkin should be more than enough for Calgary to pull the trigger on a deal for Bennett and this type of trade will help both teams long-term.
It isn't ideal to give up prospects for someone who hasn't lived up to the hype that they've been given. But, Bennett fills a hole that the Rangers still have yet to fill.
The Rangers won't be asking Bennett to put up numbers that a number one center does. He'll have time find his game skating on the third line and allow for David Desharnais return to a lesser role.
Bennett on this Rangers team has the chance to develop into something special. If Calgary is truly willing to make a deal, then the Rangers should be all in.