The New York Rangers have their first winning streak of the season, but the pressure remains as they try putting their ugly start behind them.
So this is how the New York Rangers envisioned they would look going into the season.
Signs of life have finally been detected around the team this week, with the Blueshirts following up an emotional 6-4 comeback victory over surprisingly formidable Vegas on Tuesday with an even more impressive 2-1 overtime win over Tampa Bay on Thursday, the result giving the Rangers their first road win of the season – coming against the NHL leaders and highest-scoring club in the league.
With stout defensive play, a pair of goals from young power forwards and strong work in net from Henrik Lundqvist, the Rangers fashioned their first winning streak of the season.
"We needed probably one of our better games this year to get two points," Lundqvist told Matt Calamia of NYRangers.com.
They unquestionably got it, with goals by Chris Kreider and then J.T. Miller in OT preventing Lundqvist's 27-save performance from going to waste. It also made the reunion with former Rangers Dan Girardi, Anton Stralman and Ryan Callahan – the latter two of whom would certainly be welcome in Alain Vigneault's lineup right about now — a footnote.
If the Rangers somehow rise from the morass of their 3-7-2 start, it's possible the turning point will prove to be the four-goal third period at home against the Golden Knights, an effort that followed the terrorist attack along a west side Manhattan bicycle path that killed eight people just hours earlier.
"I thought for our group it was good," Vigneault told NYRangers.com. "It's a good win and we'll move on to Florida (on Saturday)."
Of course, every game remains big for this team at this point. Two stirring wins won't mean much if the Blueshirts turn in a stinker against the feeble Panthers, one of the worst defensive teams in the league that's allowed 15 goals in losing its last two games.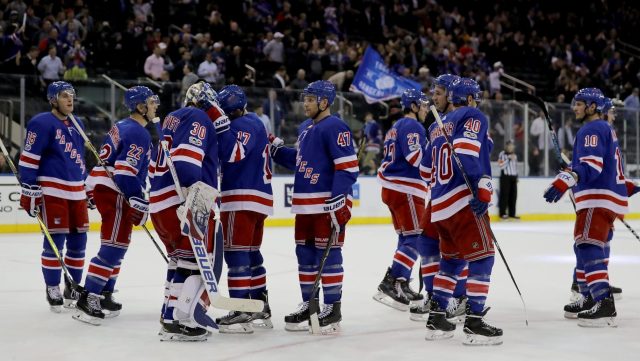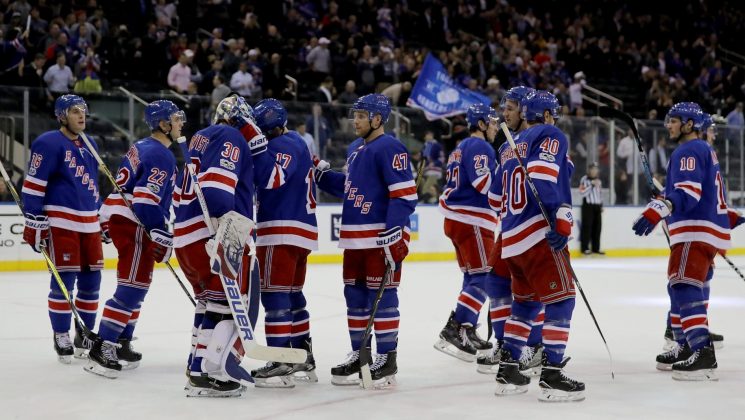 Such is life when you dig a fairly significant hole so early in the season.
"We knew how to play all along," Miller told Brett Cyrgalis of the New York Post after patiently waiting for Lightning goaltender Andrei Vasilevskiy to go down after Miller had swooped through the crease and then roofing the puck for his third goal of the season. "I think we were doing a lot of good things even when it wasn't going well. We put it together for a good little stretch here, and it feels good — especially the first away win of the year. We're going to enjoy it."
Miller is off to a strong start with three goals and eight assists while Kreider has goals in two straight and three of his past four, giving him four tallies on the season.
That will have to continue for the Rangers to climb back into the playoff hunt, with the club counting heavily on the two big forwards to make a leap this season.
Issues remain. The defense continues to be a work in progress as Vigneault's search for the right pairings grinds on. Brendan Smith was a healthy scratch for the second straight contest Thursday despite insisting he's "been playing pretty well." His status remains cloudy, though there's probably a good chance he'll be back in the lineup Saturday.
Steven Kampfer's two sort-of fights Thursday were promising if nothing else demonstrating that there might be at least some fire in this club. Also promising is the power play, which despite not scoring against Tampa Bay was 10th in the league at 20.4 percent through Thursday's games.
"This was probably the most full game we played from start of the game to the end," captain Ryan McDonagh told Corey Long of NHL.com. "This is definitely something that we can fall back on to when things aren't going our way. We have to look to continue to keep that effort when we play (Florida)."
That contest represents yet another pivotal moment in this strange season, the Rangers looking to show that they won't suffer a letdown and didn't become overly pleased with themselves after two wins.
That's heavy pressure for early November, a tough place to be. But it's the Blueshirts that have put themselves there.