With two straight wins including a road win against LeBron James and the Cavs, this New York Knicks "team" brings a nostalgic feel.
There's just no possible way you can be convinced. You, whether it comes in the form of a bright-eyed youngster, a 1990s hustler or the long beard who remembers a couple of chips, could never fully, truly buy in.
I don't blame you.
You've witnessed too much garbage. Since Jeff Van Gundy saw through that dark tunnel and to the other side back in December of 2001, you've been poked and prodded far too often. You've been mocked and paraded too many times to count.
An Isiah Thomas and Stephon Marbury takeover that would kick the inept Scott Layden out of town. You witnessed that. A tremendous Donnie Walsh job in breaking it down and building it back up only to leave prematurely for reasons we'll never find straight answers for. You experienced that. A frustrating Carmelo Anthony era coupled with the madness of Phil Jackson that allowed our heads to spin at every turn over the last three years? Oh baby, you were there.
There's just no way to totally convince you of anything in terms of New York Knicks basketball.
I'm not even going to try. At the same time, where there's misery, there's hope — a word so closely tied to Knickerbockers fandom that it outta be a banner hanging from the famed ceiling of The Mecca with a triple-zero number accompanying.
Something happened on Sunday night that allowed the entire city to wear hope on its sleeve.
A 13-2 run by LeBron James and the Cleveland Cavaliers to start the fourth quarter cut the Knicks once commanding double-digit lead to a measly six points. The building was rocking. LeBron was confident. The shots were falling from every angle for the defending Eastern champs.
Jeff Hornacek then called timeout.
We've seen this story play out 50 too many times over the last few years. The underdog Knicks would jump on a team early and look fantastic only to see a gigantic lead choked up in the fourth quarter.
Not this time.
After the well-timed break, the young Knicks composed themselves. They looked for their new leader, Kristaps Porzingis, as he navigated his way through any and every area of the paint. Not only did he finish the final frame out to extend his point total to 32 on a very efficient 13-of-27 from the floor, he led in terms of selfless offensive basketball and a defensive structure any coach would die for.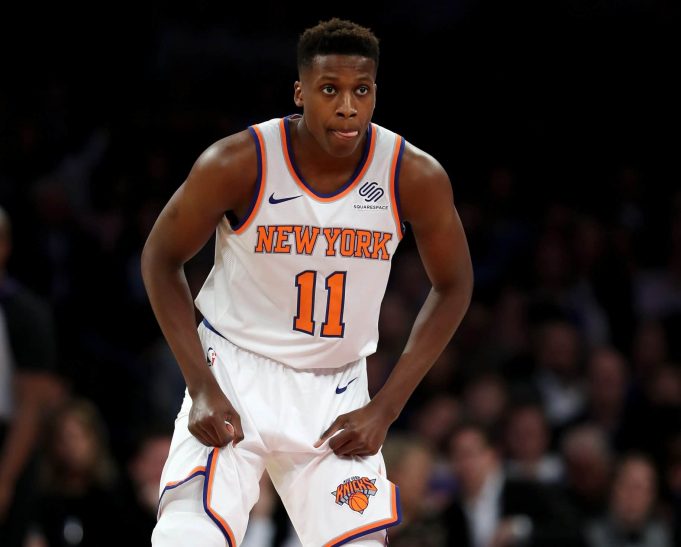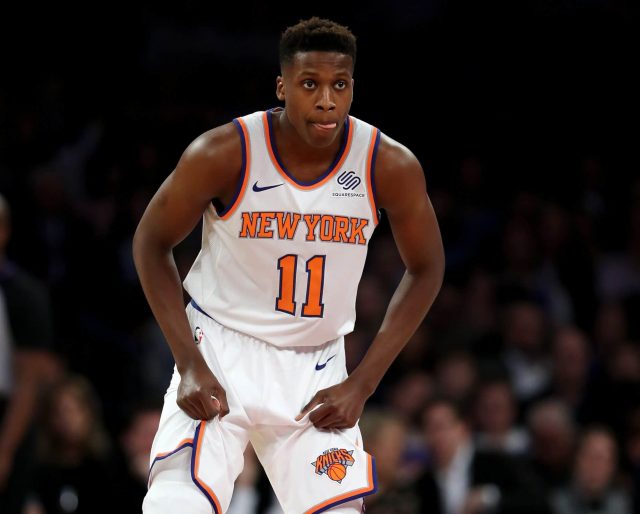 This time around, the team just feels different. They act differently. They play differently.
Recent Knickerbockers fourth quarter history is easy to surmise. The team would get the ball to No. 7 and clear out. They would live or die on offense with Carmelo Anthony eating up at least half of the shot clock with the ball in his hands. They also played loose, soft defense as a unit.
Nothing about these Knicks showcase a one-man band or lazy on the defensive end.
From every indication and point of view, it seems as though the Knicks new captain gets it — despite his inexcusable exit interview flight and a few other child mishaps, via Marc Berman of the New York Post.
"We're capable of beating a lot of teams if we play like we did tonight," Porzingis said.

"A lot of 'L's," Porzingis said. "It's nice finally to beat the Cavs for the first time in my career. Hopefully, we can be in the playoffs, and that's when it really matters."

"Going forward, Tim, Courtney, Jarrett, once we have that connection where all of us are making shots, then it's going to be pretty hard to stop," Porzingis said.
KP even said all the right things about his running mate, Tim Hardaway Jr., who finally broke out of a massive shooting slump with 34 points in the stunning victory.
"I did a better job of attacking," Hardaway said. "I took the 3s when they were there. I had a lot more confidence. When the first one goes down, it opens up a lot."
Remember, the last time this organization was a true NBA force came 16, 17 years ago. At that time, Patrick Ewing was the sole superstar. While in-and-around New York the conversation was always, "We gotta find Ewing a second superstar," we now crave and ache for those days of the tough, rugged Knicks who attacked the game of basketball in the correct fashion.
KP, acting as that low-post presence with shooters, hustlers and youngsters surrounding him, is actually a better formula than the mishmash duo of KP and Melo combined.
A little basketball MATH.

Melo > Timmy Hardaway
KP by himself > KP and Melo together#Knicks

— Elite Sports NY (@EliteSportsNY) October 30, 2017
And they're winning games without a legitimate point guard — although young Frank Ntilikina seems to be on the up-and-up.
No, I don't expect you to be convinced of anything just yet. It's going to take months, even years of basketball to convince your Knickerbockers soul regarding winning basketball. It's a still a stretch to even believe they'll win 35 games.
At the same time, don't argue the idea that this team has a different feel to it — a nostalgic feel partly resembling the way they used to do things two decades ago.
These guys aren't 14-plus-1 anymore. These guys are 15+0. They play hard. They hustle. They do the right things while on the court. They have each other's backs.
No Melo.
No Jax.
No petty social media headlines.
No nonsense.
Turning that page was the first step. Now that we've seen the new product on the floor, picking up a sense of something "different" is the next natural step. Has that officially happened yet? Nobody knows.
They definitely don't have the talent. All I know is something just feels different about these New York Knicks.