Both the New York Rangers and Montreal Canadiens have struggled this year so there might be a trade brewing between the two of them.
The New York Rangers and Montreal Canadiens are the 14th and 16th place teams in the Eastern Conference, respectively. Both teams are looking to make a major shakeup to get back on the right track.
Sportsnet's Elliotte Friedman speculated on Hockey Night in Canada that the Rangers could consider trading Chris Kreider to the Edmonton Oilers. However, the Rangers and Oilers don't seem to be talking about a trade. Rumors have been circulating for weeks, however, that there might be a deal to be found with the Canadiens and that might be more realistic.
TSN's Shawn Simpson tweeted late Monday afternoon that Glen Sather, Doug Risebrough, Giles Leger, and Marc Schoenfeld are in attendance as Montreal takes on the Ottawa Senators in Ottawa Monday Night.
Schoenfeld, Leger, Sather, & Risebrough from NYR all here tonight. Very rare to have senior staff at one game. @TSN1200 @TSN690

— Shawn Simpson (@TSNSimmer) October 30, 2017
With the Rangers struggling and the Rangers having the entire senior staff at one game there must be something brewing.
Here are some realistic trades that the Rangers and Canadiens could possibly make.
A Swap Of Great Potential 
Montreal gets F Chris Kreider
New York gets F Alex Galchenyuk
Kreider has had a solid career with the New York Rangers scoring 91 goals in six seasons after making his debut in the 2011-2012 Stanley Cup Playoffs. He's struggled this season and, after disappearing down the stretch last season, some are wondering if a change of scenery might be best for the 26-year-old winger. Montreal would be a great change of scenery for Kreider, who would be able to get back to that aggressive style that Ranger fans have become accustomed to seeing.
Galchenyuk would give the Rangers a piece that they've been missing this year. Although his primary position isn't center, Galchenyuk has the ability to play center. He has the ability to win faceoffs with a career 45.3 faceoff percentage and gives the Rangers a legitimate option at center. Galchenyuk also has the ability to find the back of the net as Kreider does, having scored92 career goals.
The Rangers and Canadiens would virtually be exchanging similar players, but the thought behind this trade is that both players could succeed in a new environment.
Montreal gets F Lias Andersson, D Alexei Bereglazov, Jimmy Vesey and a conditional draft pick
New York gets F Max Pacioretty and a conditional draft pick.
Making a deal for Pacioretty would be a home run for the Rangers. There were offseason rumors that the Rangers were working on a deal for him but never could get one done. Adding Pacioretty gives the Rangers another veteran player who knows how to put pucks in the back of the net. The 28-year-old has 212 career goals, 49 of them on the powerplay. He'll serve as another threat and a compliment on the Rangers first line.
Montreal was looking at potential Pacioretty trades during the summer but decided to keep their captain. For them to make a deal of this magnitude, they would be admitting that this season is a lost one and look to build for the future.
It'd be just the opposite for the Rangers, who would be making a statement that despite their rough start, the 2017-18 season is far from over.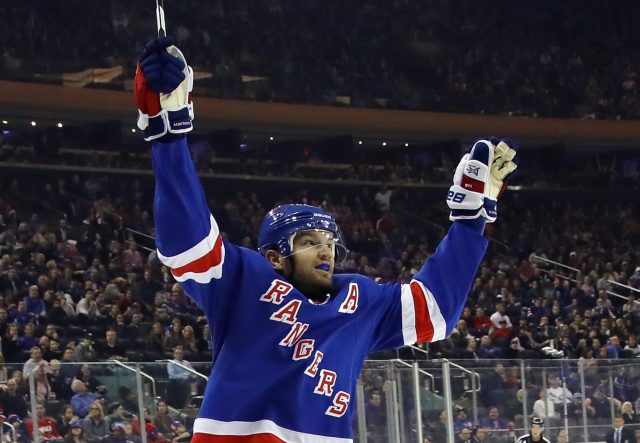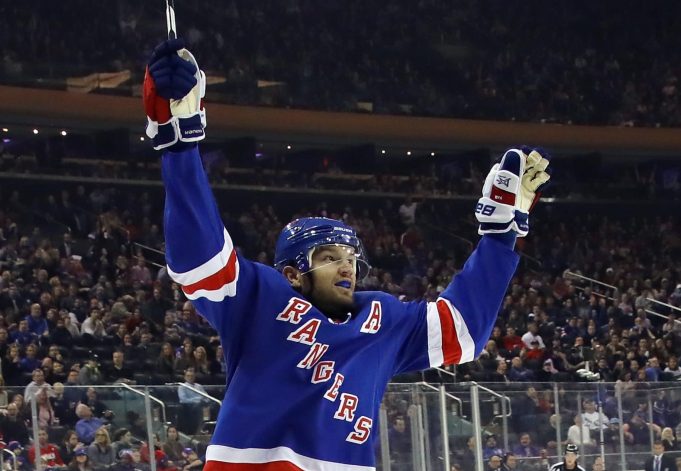 Its Getting Nashty In Montreal
Montreal gets F Rick Nash
New York gets C Ryan Poehling and a second-round draft pick
With the Rangers struggling, this might mean the end of the Nash era, as he's a UFA in the summer. The Rangers won't be able to get a huge return for Nash, but they can snag a quality player in a deal. The 25th overall pick in the 2017 NHL Draft, Poehling has recorded eight points in six games this season with St. Cloud State University. His addition would stick another center on the depth chart, an area that the Rangers need help.
Nash's overall game would do wonders for Montreal and, like Kreider, maybe a change of scenery would help him find that goal-scoring touch again.