The New York Rangers have been slumping, but their biggest problems don't require a blockbuster trade to fix.
It's no secret. The Rangers are currently one of the worst teams in the Eastern Conference. In all of the NHL. With this, they still find ways to convince fans that they can be one of the game's best. But the feeling never lasts.
You can argue that only 13 games into the season, it's still relatively early to be judging teams, But when the same problems continue to cost you games, it's unlikely that they will improve on their own.
Let's take a look at these issues and how the team can fix them without making a major move.
1. Poor Starts
Getting off to a good start is so important in today's game because there are plenty of teams that can jump on you early. The Rangers have learned that the hard way this season, which has created a really bad trend.
There are plenty of ways to fix this problem.
One of them is mixing up the way that they prepare for games. Now no one is asking for a major shakeup when it come's to the teams' game preparation, but at times it looks like this team isn't prepared enough to start. This starts with head coach Alain Vigneault and it is up to him to fix.
When the Rangers do get off to a good start, someone winds up taking a bad penalty, killing whatever momentum that the Rangers had gained coming out of the locker room.
The fix here is quite simple: Be more disciplined at the start of games. They have done a great job throughout the season at not taking the bad penalty as games have progressed, but these early penalties are what is killing this team.
2. Stop Chasing The Puck
Playing defense in this league is one of the hardest things to do. Every team plays with speed and the puck moves quickly. When the Rangers are down, they get caught chasing the puck—and many times the play—forcing them to get away from their system.
This problem is something that they can fix in one of two ways: Either make a small system adjustment or commit to playing physical and force the opposition off the puck.
The Rangers employ man-to-man coverage in the defensive zone. It's been like that ever since Vigneault took over as head coach. The struggles the team has with it now are the same struggles they have with it before. Making a small, simple adjustment—to a box plus one alignment, for example—could kill the puck-chasing problem.
Rather than a one-on-one scenario, each defender is responsible for covering a different part of the ice. If it's done right, even if a puck-handler gets past say, the left wing at the point, the left defenseman is waiting for the puck—and the wing is coming to help.
Getting physical is always an option, but that is a part of the game that is slowly dying. With teams focusing on speed and puck movement, don't expect the team to make this a priority in their game.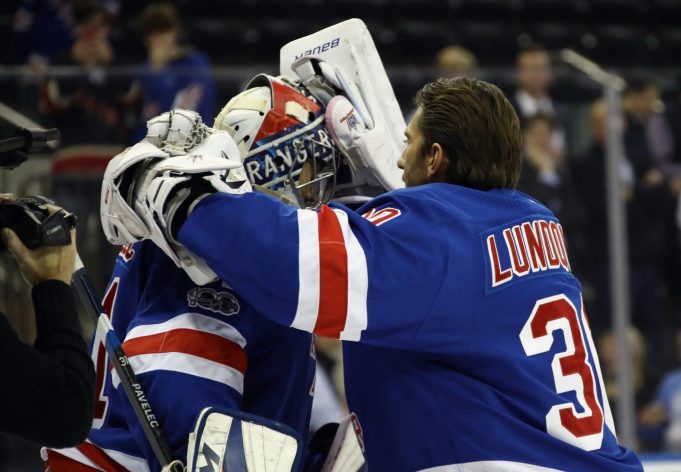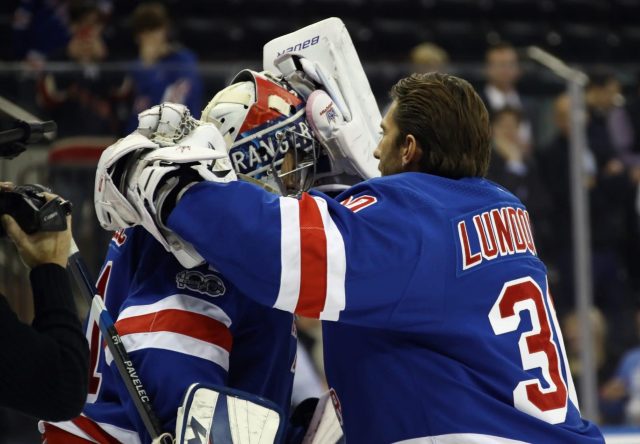 3. There's No Kingdom Without A King
The numbers don't look pretty for Henrik Lundqvist. In nine games, he's gone 2-4-2 with a 3.01 goals against average and .900 save percentage. Despite showing some signs of life in stretches this season, Lundqvist has yet to be an intimidating force in net.
The most concerning, telling stat for Lundqvist is his .900 five-on-five save percentage, which is down 18 points from last year's .918 mark. It's even worse when you consider that he's had a five-on-five save percentage of .925 or higher in seven of his 11 seasons in the NHL.
This stat is the most telling stat for a goalie because it looks at their numbers when they aren't up-or-down a man. It gives teams a chance to see if a goalie is really struggling, or if his numbers are inflated by bad special teams.
Even though the numbers aren't encouraging, Lundqvist had a solid stretch against the Penguins, Islanders, and Predators where the Rangers recorded four of a possible six points. Lundqvist was determined during that stretch. One bad game against the Sharks shouldn't completely ruin his game and leave him unfocused.
The fix here is another simple one: Lundqvist needs to become more aggressive in his crease. Hank made that small adjustment last year and it did wonders for his game. That—and the small defensive tweak we talked about earlier—will help both the Rangers and Lundqvist. If he can see it, he usually stops it.
4. Get Over Their MSG Fears
The Rangers will have played 10 home games in the month of October and they'll play another seven at Madison Square Garden in November. They need to be better and stop leaving points on their home ice.
Because that's what they've done so far. Through nine home games, the Blueshirts are 3-4-2 at MSG, with two of those wins coming against teams at the bottom of their division.
Winning at MSG has been a problem for the Rangers in the past, but they are usually able to fix it. The fix is simple: Figure out what the problem is. Are they distracted at home? Are they nervous playing on the big stage? Figure it out, deal with it and move on.
If they don't, they could be in some trouble. The Rangers don't have a road trip of three or more games until the end of January, when they're on the road from Jan. 20 to Feb. 1.
Fixing these issues isn't impossible. But everyone needs to start dealing with them and acting as if their jobs are on the line. Because from the coaches to the players, they are.