Boo Nieves' performance in his season debut should remind the Rangers that youth—not veteran imports—will be the key to returning to contention.
It was only one game—a game against a very bad team. The lessons, though, should be apparent.
Thursday night's 5-2 home victory over winless Arizona and old friend Derek Stepan should have told the Rangers something, even if only at a whisper. Powered by a new fourth line of Michael Grabner, rookie center Boo Nieves in his season debut and second-year forward Pavel Buchnevich, the Rangers received an important reminder in what's so far been a lost season.
The message: The kids are the way forward, whether it's this season or down the road.
"I think we just meshed really well," Nieves told NHL.com's Dan Rosen after assisting on both of Buchnevich's goals and one of Grabner's two. "Grabner is a really fast player like me so it's easy to keep up with him, and a guy like Buchnevich can put the puck just everywhere. They made my transition here really easy."
At age 23, with size and speed, Nieves is the type of player the Rangers wish they had in droves. Unfortunately, it's clear from their 3-6-2 start that the bill from trading their first-round pick each year from 2013-16 as they chased an elusive championship has finally come due this season.
A minor league system mostly bereft of NHL-ready forward talent has led to an NHL club lacking young depth up front—a cause and effect that was probably predictable, if uncertain when it would arrive.
But on a night when Stepan's Madison Square Garden homecoming reminded the Rangers of their gaping hole down the middle—with Oscar Lindberg set to do the same thing Tuesday when the surprising Vegas Golden Knights roll into town—the Blueshirts for the first time this season looked like the four-line team that coach Alain Vigneault always covets.
"I think that's what Boo's line helped us do by playing well and being efficient on the ice," Vigneault told Rosen.
Of course, this newly formed fourth forward unit is highly unlikely to fix the Rangers' considerable problems and somehow elevate the club back to its lofty perch of the past few seasons. What it should have done is remind the organization that trading a player like Nieves or perhaps some of the Rangers' impressive defensive prospects for a veteran quick fix, such as, say, 38-year-old Joe Thornton, would be folly.
The ceiling for this season's Rangers might be the middle—not contending for the Stanley Cup, not at the bottom of the league with a top-three draft pick and a shot at elite young players waiting as the considerable consolation prize. And the middle, of course, is not where any team wants to be—unless it's clearly on the way up, and it's tough to make that case for this group based on the early results.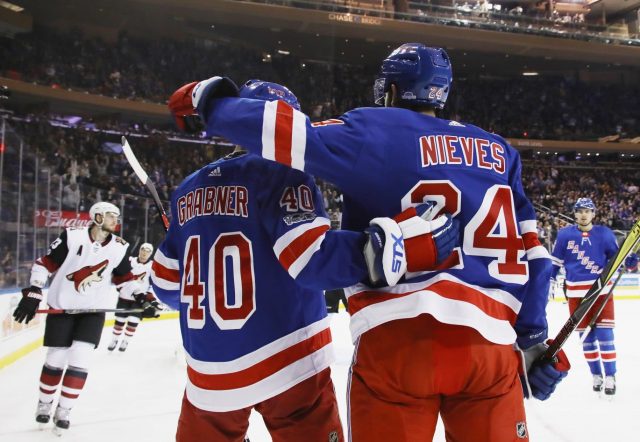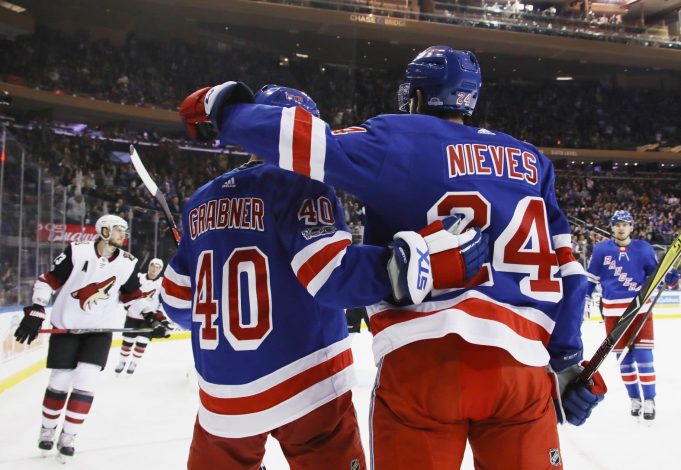 Wherever they end up, the priority for this organization needs to be restocking the mostly bare cupboard of young talent. Preserving first-round picks and taking the long view needs to win out over a "get in the playoffs no matter what" approach this season. Trading those four consecutive first-rounders represented an admirably aggressive mindset, but now it's clear that the time has come to reload.
"I don't think we're missing personnel or a mindset, or anything like that," defenseman Marc Staal told Larry Brooks of the New York Post. "We're definitely working through some issues right now, but I don't believe we're a bad team. It's too early for anything like that."
Staal's optimism is very welcome as the Blueshirts look to right the ship in 2017-18, but general manager Jeff Gorton can't afford to maintain too similar a viewpoint as the season moves forward.
Because Gorton, not Staal, is the one at the personnel controls, and unbridled optimism might not do any favors for a GM whose team sits in the cellar of the Metropolitan Division.
The pull of wanting to get Henrik Lundqvist a Cup will probably be present in this organization for at least a couple more seasons, but Gorton needs to be the one to accept that it's possible that opportunity has sadly passed.
Giving Nieves, Buchnevich, Jimmy Vesey, Kevin Hayes, J.T. Miller and friends the comfort level to develop and play progressively bigger roles – regardless of the inevitable bumps along the way – represents the right approach to keep this early season malaise from becoming a period that stretches over multiple seasons. Even if it means the best the Rangers can do this season is to look to improve from this ugly start, with a playoff berth not necessarily in the cards.
And, just as importantly, prioritizing their draft picks and rebuilding the system. Fixing this team will be impossible without youngsters in the salary cap era.
The trade of Stepan along with the loss of Lindberg in the expansion draft is certainly causing the team short-term pain, and the temptation to add outside help likely increases with every loss. However, this year's drafting of Lias Andersson with the seventh overall pick obtained in the Stepan deal, along with the selection of fellow center Filip Chytil with the 21st pick, made for an encouraging offseason.
The Rangers will need plenty more of that going forward if they want to get back to where they were. Avoiding a knee-jerk reaction to what's happening with the club now might prove to be pivotal for the team's future.
There's probably a deal to be made later in the season. Doing so at the expense of significant inexpensive young talent and draft picks, however, could be ruinous in the long run.