The New York Rangers rough start to the brand-spanking new NHL season has left coaches, management and fans in limbo.
T
he all-out panic is probably unfounded. The same, however, can likely be said for any feelings of optimism.
Such is life for the New York Rangers these days.
Off to a 1-5-2 start, their worst since the 1959-60 season, the immediate future for the Blueshirts is more than cloudy – it's positively opaque. And as a result, there's little team management can do but wait.
Despite the alarming start, the Rangers are probably better than this. There is talent up front, though some of it is very young. The highly touted defense probably just needs some time to jell. Henrik Lundqvist has always started slowly before finding his elite form later in the season.
And yet, even if that positive outlook comes to fruition, what then? What's the ceiling for this club? At this point, contention for a playoff spot might be the best they can hope for – and also might be a pipe dream.
"We buckled down," embattled coach Alain Vigneault told NHL.com after a heartbreaking 4-3 shootout loss to the Islanders on Thursday. "Our guys worked extremely hard. Maybe our execution may not be perfect, but the work ethic in that room and the commitment to try and play the right way is there. I'm a firm believer in that if you prepare, work hard, things are going to fall into place."
This is a new dynamic for Vigneault, who presided over a Stanley Cup finalist, a Presidents' Trophy winner and Eastern Conference finalist, and two more playoff teams in his first four seasons on Broadway. At this point, he's on something of a voyage of discovery while trying to keep his team together and relevant as it wanders in the wilderness of a brutal first month.
"We need wins now," Lundqvist told NHL.com after the loss to the Isles. "We're going to go to work tomorrow and really try to focus on the next game here. A lot of good things. Try and feel good about the situation even though it's a tough week so far here."
The Rangers have lost five straight since their only win, 2-0 over Montreal on Oct. 8. There have been encouraging stretches of play, like the rally against the Isles and the taking of a one-goal lead into the final minute against defending champion Pittsburgh on Tuesday, only to blow it and lose in overtime.
Unfortunately, there have been even more bad ones – especially early in games. The Rangers have trailed after the first period in five of their seven defeats.
"It's challenging. It's challenging for our group. It's challenging mentally," Vigneault told NHL.com of the early deficits.
It's also challenging mentally for the front office, which sees a group that is lacking in depth up front and surprisingly, unable to defend effectively. The blue line was supposed to be a strength going into the season, but big-ticket acquisition Kevin Shattenkirk has struggled to find his game while his fellow defensemen have struggled along with him.
It's clear now that the departures of old warhorse D-man Dan Girardi, as well as centers Derek Stepan and Oscar Lindberg, have had a larger effect on the club than anticipated. The buyout of Girardi and the trade of Stepan were correct moves; the exposure of Lindberg in the expansion draft was debatable, but the club was going to lose a good player to Vegas regardless.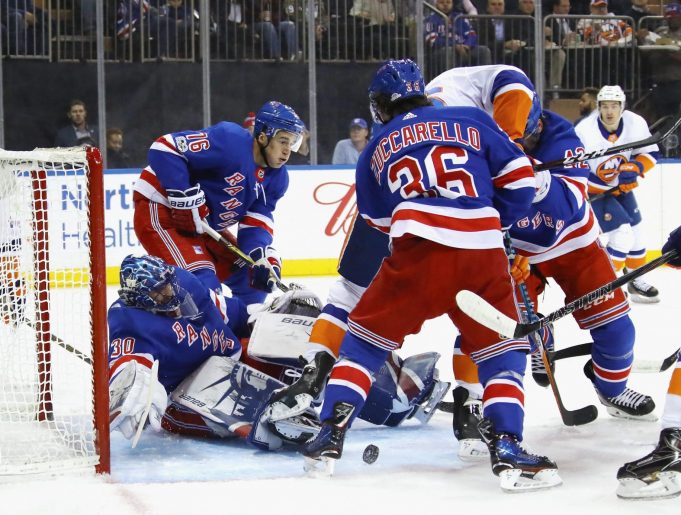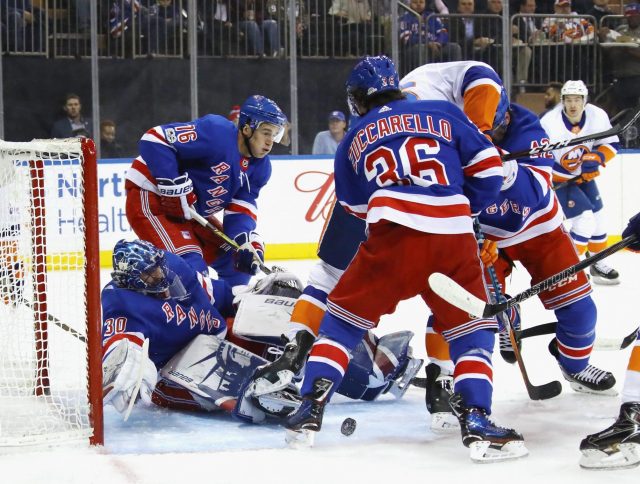 The problem is that there aren't ready replacements. The Rangers counted too heavily on seventh overall draft pick Lias Andersson being able to make the club and help fill the gaping hole in the middle. When he and fellow 2017 first-round center Filip Chytil proved unready for the NHL (hardly unforeseeable), the club has been left with reclamation project David Desharnais centering the third line and journeymen Paul Carey and Adam Cracknell as pivots on the fourth unit.
Of all the signs that this is a troubled roster, perhaps none is more telling than Vigneault's near-nightly consideration of whether to put J.T. Miller – one of the team's biggest advantages when he plays his hard-to-handle power game on the wing – back at center, a position he hasn't played regularly since his rookie year of 2012-13.
The Rangers' 2.50 goals-per-game mark was 26th in the league and their 3.63 goals-against average the eight-highest through Thursday.
"The bad teams I've been on, guys get away from the game plan, they don't give the effort and there's finger-pointing, whether in the room between guys; from the coach; or in the media. That's what happens when things get away from you as a team," forward Rick Nash told Larry Brooks of the New York Post.
"None of that is happening here. We're together and we're focusing on taking this one step at a time."
Nash, who has been unable to finish on numerous close-in opportunities and has just one goal, will eventually start to get pucks to go in. Mats Zuccarello, a horrific minus-9, didn't forget how to play hockey in the offseason. Promising young forwards Jimmy Vesey and Pavel Buchnevich should start to improve.
In short, the Rangers aren't this bad. Still, something isn't right here, and they risk suffering the same fate as that of the 2017 New York Giants – a team whose season was rendered quickly irrelevant when they opened 0-5 – if they can't find a way to scratch out some wins while trying to right the ship.
If that happens and they become an afterthought in the competitive Metropolitan Division, management will at least have a sense of direction for the rest of the season. The trickier scenario happens if they don't totally fall out of it – does general manager Jeff Gorton make a trade for badly needed help up front, or does he wait longer to see if it's worth surrendering assets to do so?
The obvious catch-22: The Blueshirts might not be able to get the season turned around without a trade, but if they give up draft picks and/or young players that could be used in a rebuild to make a deal and flop anyway …
There's just no easy answer at this point. It's still so early, yet the start has been SO bad. Plenty of the players should improve their play, but what if they don't?
For now, the club, its management and fans are stuck in an uneasy limbo as everyone waits and watches for signs of improvement. Or for signs that the season is lost and that it's time to approach the rest of it accordingly.
What's certain is that the clock is ticking. We'll all know soon enough.