Thursday night, New York Knicks'forward Kristaps Porzingis dropped 31 points in Oklahoma City, but the rest of his team didn't pick up the slack offensively.
T
he
New York Knicks
are in the midst of a rebuild, that features
Kristaps Porzingis
as its focal point. And in their season
opener on Thursday night in Oklahoma City
, Porzingis showed just why the Knicks aspire for him to be their main-man. Finishing the night with 31 points and 12 rebounds,
Porzingis looked like a player ready to carry the scoring
load for head coach Jeff Hornacek and the Knicks.
But after Porzingis, the Knicks' offense was relatively non-existent in Oklahoma City. And if they want to play for a playoff seed or, at the very least, be competitive, they need others to step up.
It can't be a one-man show.
When it came to simply putting the ball in the cup, the Knicks struggled. Scoring a combined 60 points from quarters two to four, the Knicks' offense was figured out in a hurry following their 24-point first quarter — they rely on Porzingis to do it all.
After Porzingis, Enes Kanter totaled 10 points, Courtney Lee posted nine and Tim Hardaway Jr. had eight. Rookie Frank Ntilikina went scoreless in eight minutes of play off the bench.
Losing 105-84 in their season opener, the Knicks showed they have a long way to go, pertaining to scoring at ease and playing with cohesion. A glaring and arguably the most discouraging first impression made by a newcomer was of Hardaway.
Inking a four-year, $71 million deal to come back to the franchise he was once drafted by, Hardaway is expected to be a go-to man and/or big source of offense for the Knicks. Scoring just eight points on 3-8 shooting is not what the Knicks envision from their well-paid two-guard.
After Hardaway, the Knicks will look to Kanter, Lee and maybe even Doug McDermott — who scored just four points Thursday night — for offense. But collectively putting together 84 points versus a Thunder team, that isn't necessarily a unit primed to thrive on that end of the floor, is a bad start that should worry Hornacek and the Knicks.
This Knicks' team is one that is and should absolutely feature Porzingis as its center of attention. He can play out on the perimeter, attack the rack and held his own in the post on Thursday night. He can also pose as a shot-blocking presence; for his career, Porzingis has averaged just under two blocks per game.
Porzingis is an intriguing and unique offensive threat at 7-foot-3; he simply can do things other bigs cannot. But if the Knicks continue to rely on or receive production from just him, they're doomed.
Hardaway must pick up the slack and begin to force the issue at the rim. He cannot settle for outside jumpers, falling back into his bad habits of old. In addition to Hardaway, though, the Knicks will need to see more efficiency from beyond the arc with their other wing players.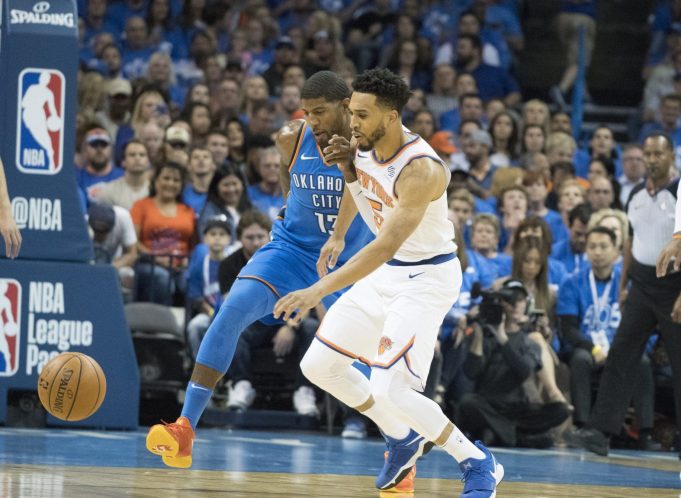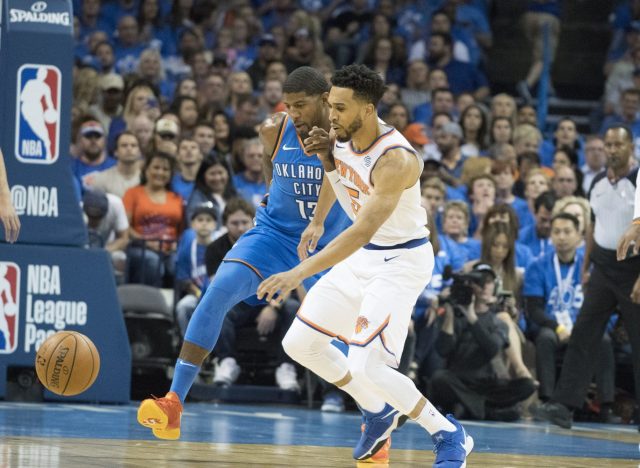 Shooting just under 30 percent from three, Lee, McDermott and the Knicks' perimeter game were little to no factor versus the Thunder. The two wings, as well as the rest of the Knicks' frontline pieces, must shoot with more efficiency if this team is going to become a well-rounded and respectable offensive unit.
Being blown out in Oklahoma City gives an early indication of where this team stands at the moment, but there's still 81 games to play and lots of room to improve. In order to begin racking up wins, the Knicks must begin to assist Porzingis in carrying the scoring load.
If they rely solely on Porzingis, the Knicks' offense will never flourish. This's a rebuilding team, but being one isn't an excuse for lackluster offensive production. Hardaway, Lee, Kanter, Ntilikina and company must step up.
It may very well be a long year, that features a number of frustrating defeats, but this Knicks' team has some young, intriguing players who possess offensive upside. In order to accumulate wins, both the veteran and youngsters on this team must begin to force the issue and assist the focal point of their foundation.
Porzingis is beginning to look like a franchise player, but he needs help from the ones around him.