The New York Knicks dropped their season opener against Carmelo Anthony and the Oklahoma City Thunder, 105-84.
New York Knicks 84 (0-1)
Oklahoma City Thunder 105 (1-0)
NBA, Final, Box Score
Chesapeake Energy Arena, Oklahoma City, Oklahoma
As expected, the New York Knicks got stomped on by former franchise face Carmelo Anthony and his new team, the Oklahoma City Thunder.
After battling with the New York front office for what felt like years, Anthony was traded to the Thunder just before training camp.
In tonight's heavily anticipated season opener, he got his revenge on the Knicks, scoring 22 points against the team's lowly defense.
New York struggled from all over the floor, with only two starters tallying double-digit points.
Kristaps Porzingis led the way with 31 points and 12 rebounds. He was a monster defensively and was notably the best player on the floor.
Unfortunately for the Knicks, that doesn't win basketball games.
Enes Kanter, who was apart of the package received for Anthony, was the only other conscious Knicks player through four quarters.
He tallied 10 points and 7 rebounds, displaying some quality footwork in the low post.
---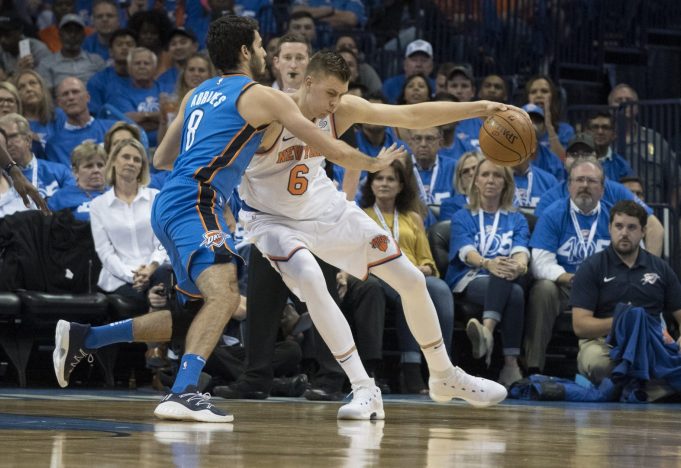 ---
A silver lining from the 21-point blowout; New York managed to keep up on the glass.
Porzingis and Kyle O'Quinn both grabbed double-digit rebounds, as the two teams finished with 41 total rebounds apiece.
Speaking of rebounds, big man Willy Hernangomez was nearly nowhere to be found. After making the NBA's All-Rookie First Team last season, he didn't enter tonight's game until the end of the fourth quarter.
Another minutes disappointment, rookie Frank Ntilikina played just under eight minutes in his NBA debut. He's been recovering from a bruised knee, which likely played a part in his minute restriction.
New York looked terrible on offense, and even worse on defense. Yet there were some very fun plays, and Porzingis is no doubt on a continuous incline.
Hang in there Knicks fans.
The draft will be here before you know it.
---
New York will play their home opener Friday, against the Detroit Pistons. Opening tip is at 8:00 p.m. ET.
Get that CRAP outta here old man! Kristaps Porzingis sends Carmelo Anthony back. #Knicks pic.twitter.com/awOk4on9Wp

— Elite Sports NY (@EliteSportsNY) October 20, 2017
Kanter now with 10 points and 6 boards for the #Knicks. NYK cut the deficit to 62-52 with 7:25 to go in the 3Q. pic.twitter.com/wYlj1AFKbw

— NEW YORK KNICKS (@nyknicks) October 20, 2017
We're all tied up. KP leads with 17 points. pic.twitter.com/ddo8imaWvQ

— NEW YORK KNICKS (@nyknicks) October 20, 2017
Oklahoma energy. #WhyNot? 18p-12a-8r after three. pic.twitter.com/Sytv0QOlgm

— OKC THUNDER (@okcthunder) October 20, 2017
To the rack
At the buzzer#PG13 pic.twitter.com/XpnxNWw2tS

— OKC THUNDER (@okcthunder) October 20, 2017
? Some early Melo. #OKCvsNYK pic.twitter.com/QkUE1nGsa9

— OKC THUNDER (@okcthunder) October 20, 2017