The New York Rangers are off to a horrible 1-5 start to the 2017-18 season. ESNY's Rangers team tries to pinpoint why they've been so bad. 
A
s Saturday night's game concluded, the scoreboard said it all—New Jersey Devils 3, New York Rangers 2. Another loss. More missed points. After six games, the Rangers sit last in the Metropolitan Division and 15th in the Eastern Conference. Sure, the season is young, but the points lost now can cost the team a playoff spot come April.
So I asked ESNY's Rangers' team a simple question: What is wrong with this team?
As we all know this isn't an easy question to answer. There isn't one thing to point to, one player or position we can point at and say "that's it, problem fixed." The Rangers losses are a team problem. No one in the organization is free of blame. That includes everyone, from Pavel Buchnevich to Mats Zuccarello. From head coach Alain Vigneault to general manager Jeff Gorton.
Does it mean a total overhaul is needed after only six games? Is Vigneault, as many fans believe, the problem? Has he worn out his welcome at the Garden?
Let's see what the staff at ESNY—along with legendary New York Post scribe Larry Brooks—has to say on the matter.
Tom Castro, ESNY Contributor
This is a thin, poorly constructed team that seems to also be lacking leadership. Depth up front has been a strength in the last however many years, which allowed them to at least partially overcome the lack of a game-breaking threat. Now they have neither. The bottom six is a black hole, and that's even more apparent given how poorly the top six have played. They are beyond desperate for a center. Maybe more importantly, the defense is a big problem. Vigneault amazingly has not been able to construct a top matchup pair, in part because Kevin Shattenkirk simply isn't a top pair defenseman. I read a number of evaluations prior to his signing that insisted he was a second-pair power-play specialist at best, and that his strong advanced metrics were due in part to playing on very good teams. That's proven true so far; he's not good at even strength and in his own zone and he and Ryan McDonagh don't work together. Brendan Smith has been lousy. Nick Holden shouldn't even be playing. They also have no sparkplug-type players, which was apparent against Ottawa in the playoffs. Righting the ship might require a trade, but that probably won't fully solve their issues.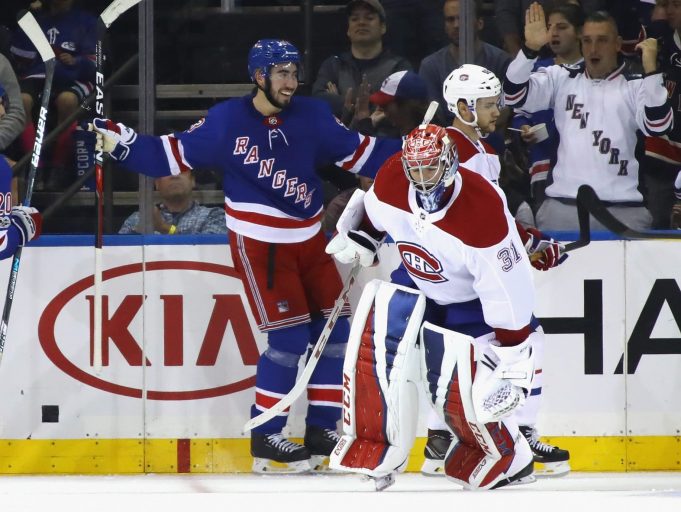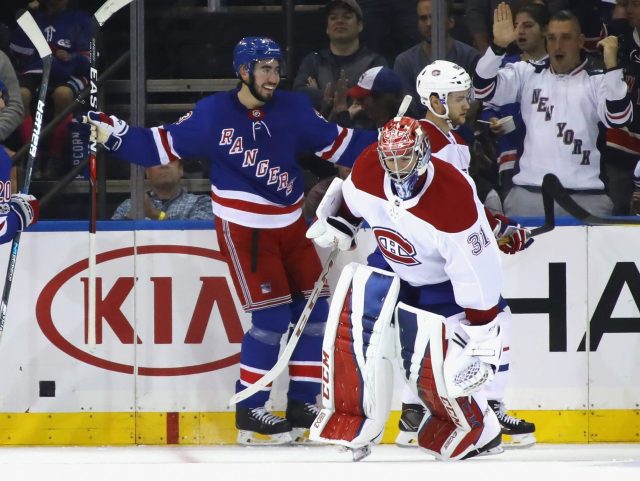 Billy McInerney, ESNY Contributor
The Rangers have to make two significant changes to have success: Simplify the offense and play consistent line combinations, especially along the blue line. Mika Zibanejad has been the only player to finish with any consistency. The best way to combat this is to work pucks towards the net through screens and traffic and take the goalie's eyes away from the shooter. This early in the season, Vigneault needs to be patient with his defensive pairs. All of them are still getting familiar with their partners' playing style. Constant change will only extend the feeling-out period that has resulted in some good scoring chances against the Rangers.
Dominick Renna, ESNY Contributor
The biggest problem that the Rangers have right now is that they're expecting big things from players that are actually second line players. The depth they have is non-existent and the only way to fix it is by making a move. Do I think they'll make one? No, because I believe the organization thinks they don't need a major shakeup.
In his column for the Post this past Sunday, Brooks put most of the blame on the players directly.
"Perhaps Shattenkirk has been even a bit shakier in his own end than anticipated. Maybe the transition to New York has been more difficult than expected. The situation is a mess down the middle after four years in which Vigneault had a 1A/1B pair of Stepan and Derick Brassard or Mika Zibanejad and solid fourth-liners in Dom Moore/Brian Boyle and Oscar Lindberg.
The first line of Kreider, Zibanejad and Pavel Buchnevich, the one unit that has been inviolate since the season-opening puck draw, has scored one even-strength goal. That was the Zibanejad short-sider against Carey Price in the third period of the third game.  It appears as if everyone underestimated what the loss of Derek Stepan and Dan Girardi, two pillars of Vigneault's who matched up against the opposition's top guns from Day 1 through the final bitter moments of last year's elimination by Ottawa before being sent away, would mean to the coach."
As for me, I believe the team has not yet found its identity. They are still suffering the effects of losing Oscar Lindberg and Derek Stepan, two centers who have not been replaced since their surprising departures. Though Stepan struggled last season, he still recorded 55 points, which isn't easily replaced.
The Rangers did sign David Desharnais, but he's not a big offensive threat. The team's failure to find a quality center is a glaring, ongoing problem. Shattenkirk has had a rough start, especially at even strength. Maybe it's because he is on a new team with a new system, but things need to get better. Hopefully, after a few more games we will get to see Shattenkirk skate and play at his best.
I stand by my story last week saying fans needed to let him do his job, but he has to start putting players out there that will complement the team's system and stop sending messages by sitting players to prove his point.
A way of getting back to simple hockey may be to get back to line combos that work. Chemistry is a word we hear often. Regarding the forwards, maybe work some lines with players that already have chemistry. I would think something like this might work:
Many of these combinations worked last season when the Rangers were scoring a lot of goals—particularly in the early part of the year. The coaching staff needs to look at everything. With only one win on the season, any line combination has potential right now.
Realistically the line combinations aren't as much of a concern as is the players themselves. These guys have to play to their potential, which hasn't been the case so far. Vesey, Zuccarello, Grabner, Shattenkirk and Smith are among those who need to play a lot better then they have. When you don't have your top players playing their best hockey, you get a team with a 1-5 record.
There are no easy answers and there is no time to waste. The Rangers schedule is compact, especially for the month of October, when they play just 13 games. The coaching staff is going to have to find a way to make the team they have now a winning one. They need to play a full 60-minute game, something they've yet to do this season.
If things continue as they have, one of two things will happen: Either the organization will make a blockbuster trade in order to bring some consistent scoring to the team, or Vigneault will be cleaning out his office before Thanksgiving.
The Rangers will try to snap out of their funk on Tuesday when they host Sidney Crosby and the Pittsburgh Penguins.