Scoring goals have been a major issue early on for the New York Rangers, here is how they can fix that problem.
C
oming into this season, the New York Rangers liked the depth that they had, but that depth has yet to produce.
Through five games this season, New York is being outscored 18-11 and Mika Zibanejad has accounted for five of those goals. Outside of Zibanejad, only three other forwards have scored a goal and it has created major issues early on for this team.
This is a major drop from last season in which the Rangers ranked fourth in the entire league in goal scoring with 253 goals. The personnel is the same as that team minus Derek Stepan, which makes this goal-scoring drought confusing.
Fixing these issues won't happen overnight, but here are some ways that head coach and Alain Vigneault can help fix these scoring issues.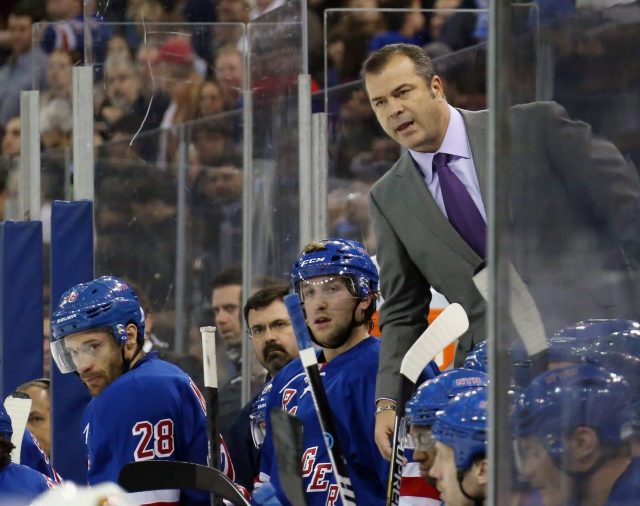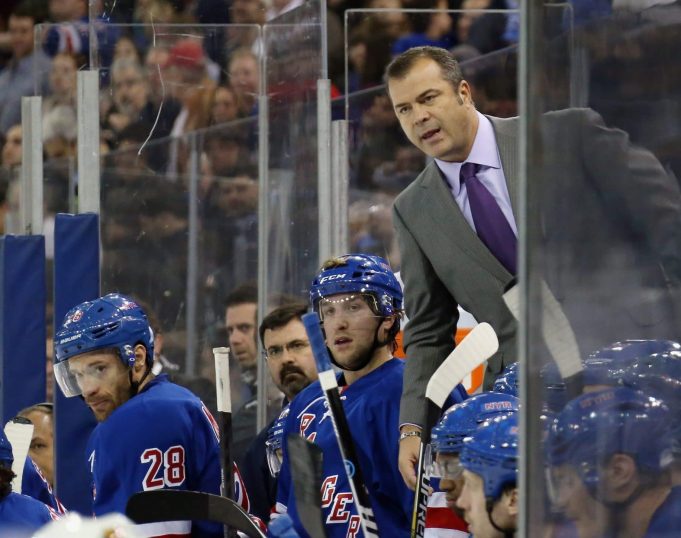 1. Quit Changing Lines So Quickly
Throughout Alain Vigneault's tenure with the Rangers, we have learned that he isn't afraid to change lines on a daily basis. Once again Vigneault has done this, with the exception of the first line, which really hasn't allowed the team to generate any consistent chemistry.
Through the first five games this season, only one line has remained in tack since opening night. The line with Mika Zibanejad centering Chris Kreider and Pavel Buchnevich is a perfect example of chemistry and production. This line was created early in the 2016-17 season and was productive for the Rangers up until Buchnevich injured himself. Coming into this season Vigneault was hoping that chemistry would return and it has, as this is one of the best lines in the NHL.
Outside of this line finding chemistry has been an issue for Vigneault. If Vigneault stops changing his lines so quickly after a loss then perhaps each some of his top players will start producing.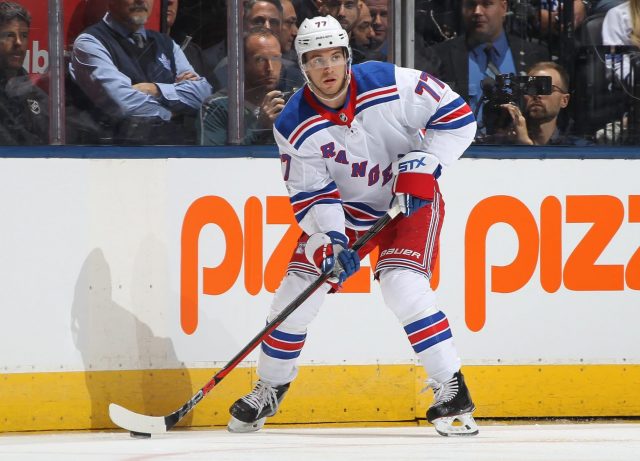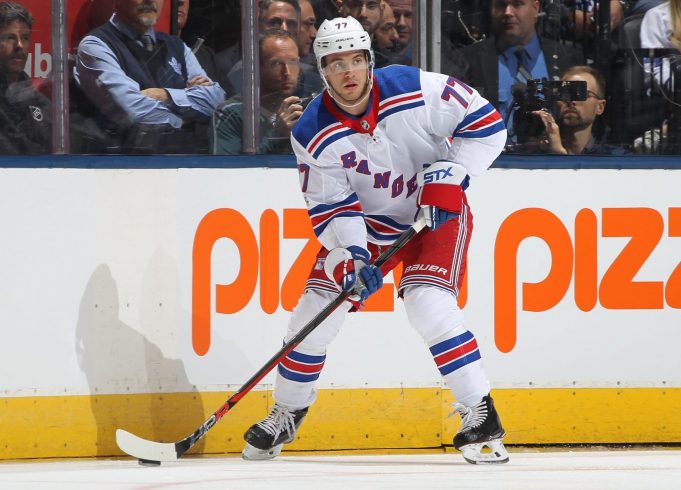 2. Give Tony DeAngelo a Legitimate Chance
Tony DeAngelo was acquired in the Derek Stepan trade last summer and is a player that can be a game changer offensively.
DeAngelo has been a healthy scratch the last three games after he was a minus two against the Toronto Maple Leafs in an 8-5 loss.
The Rangers didn't acquire DeAngelo for his defensive ability. That isn't the type of player he is. DeAngelo has the potential to be solid offensive defenseman when given consistent ice time. Although he is a liability at times defensively, his puck-moving ability is one of the best on the time and he might be able to generate more offense.
With the Rangers continuing to struggle scoring goals, it's time for Alain Vigneault to give the 21-year-old defenseman a chance.
3. Play Better Defensively
A team that struggles to score goals needs to focus on the defensive end of the ice. This has been the Rangers achilles heel the last two seasons but is something that needs to be fixed in order for them to compete.
Playing better defensively all starts with keeping the players that give you the best chance to win in the lineup. Brendan Smith was a healthy scratch for two games, that cannot happen especially after the longterm contract he was given last summer.
If this scoring slump that Rangers are on continues, Vigneault might just have his team focus on winning games 2-1 or 1-0 until players start to come out of the funk that they are in.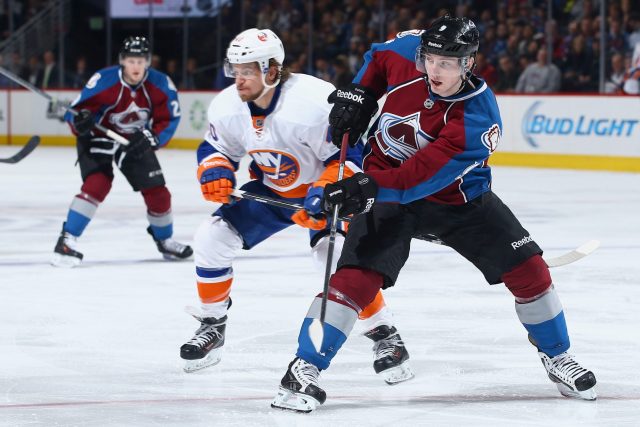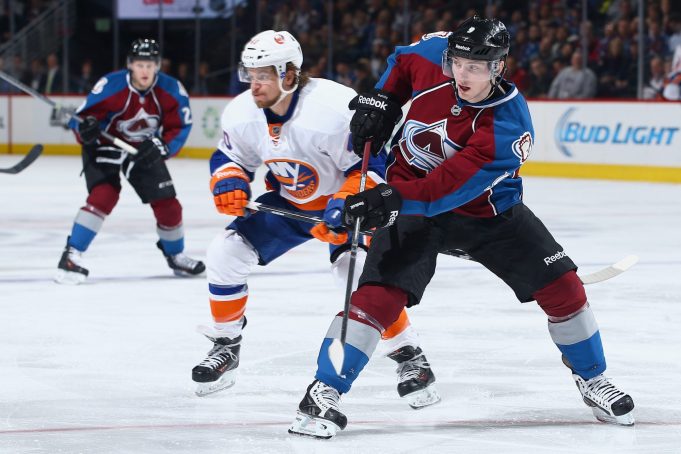 4. Acquire a Legitimate Center
The Rangers don't have the depth they thought they had at center. Although it might be a little bit too early to make a trade, the Rangers need to consider it.
This team cannot continue to go out there with David Desharnais playing third line and powerplay minutes. Desharnais isn't the type of player that the Rangers need. If this team wants to change their fortune they need to look outside the organization for a legitimate center.
Looking at the trade block the most enticing name out there is Matt Duchene. Right now a deal for Duchene does not seem realistic as the asking price has been too high and the Rangers don't feel they need a number one center. However making a deal for Duchene could mean moving Kevin Hayes back to a smaller role on the team where he thrived last year.
Another name that has been linked to the Rangers since the summer is Alex Galchenyuk. The Montreal Canadiens have been rumored to be looking for a deal involving Galchenyuk and the Rangers might be the best fight for the 23-year-old center.
Making a deal for a center on the level of Duchene or Galchenyuk would most likely require the Rangers to part ways with Brady Skjei and the team doesn't seem willing to do that. Should they acquire a center it would have to be off waivers or a trade for a third line center. Anything would be better than having Desharnais as the third line center.
The Rangers know what their major problem is thus far, it's on them to find a way to fix or else they could dig themselves a deep hole early on.