The curious case of Filip Chytil, a mess on defense and J.T. Miller likely staying put on the outside for the New York Rangers.
A
ny excitement New York Rangers fans might have had over 18-year-old rookie center Filip Chytil making the club out of the preseason was quickly extinguished.
In fact, missing the first couple of games meant that fans wouldn't have gotten to see him play at all.
So quickly after his high-profile elevation to the NHL level, Chytil was gone, sent to the AHL after just two games in which he did look overmatched and not ready for the speed of the NHL game.
Still … just two games?
Chytil is young and will have to learn to play at the world's highest level of hockey. Some rough times are to be expected. What's confusing about this situation is why the Rangers didn't—or weren't—willing to accept any rough patches at all.
Very rare is the teenager who can make a big impact at the NHL level immediately. Chytil impressed in the preseason, so maybe the club felt he was guilty of not being capable of carrying over what he showed before the games counted.
More likely, though, is that the whole episode reeks of desperation.
The Rangers had seven more games in which to evaluate Chytil to see whether he could make progress before his entry-level contract kicked in. It's a no-brainer not to burn a year of that deal on a very young player who needs more development in the minors. Still, seven more games is seven more games. Given the message that the Rangers sent to Chytil by telling him he made the club—you've earned it, we think you can play here—they should have been willing to give him closer to the nine contests to prove them wrong.
Instead, the decision to cut bait and send him down so quickly confirms the club went into the season woefully unprepared at the center position – and was willing to try almost anything to solve the problem. Hoping Chytil could mimic the 18-year-old success of, say, Sidney Crosby, in being a star immediately wasn't fair to Chytil – and hopefully will not negatively impact his development.
Fortunately, that seems unlikely given the blink-and-it's-gone "opportunity," which clearly wasn't much of a fair chance at all.
"He was the first to admit that the pace and competition stepped up from the pre-season," general manager Jeff Gorton told Larry Brooks of the New York Post. "Filip said that he was a little bit nervous on the ice. So we wanted to get him to a place where he would get the time he needs to develop. And he is going to get all the time he needs there."
Fair enough. It's also fair to expect the Rangers might have stood behind their decision for a little while longer, perhaps expressing faith and confidence in Chytil and trying to convince him that the game would eventually slow down for him—if, in fact, the organization was committed to giving him an honest opportunity to stick.
If he had continued to be in over his head over the next few games and the situation clearly wasn't working at all, he certainly could have been sent to the minors before the end of the nine-game stint, but two games isn't close to enough time to accurately evaluate a player – even if Chytil had gotten off to a fast start.
Coach Alain Vigneault told Brett Cyrgalis of the Post before the season that "We'll take 10, 20 games to sort out what we have exactly." In Chytil's case, cut that number by at least 80 percent.
Amid major uncertainty up front, the defense was supposed to be the sure thing for the Rangers after exciting offseason moves that remade and seemed to bolster the unit. The early returns appear to be downright scary – but not in a positive way.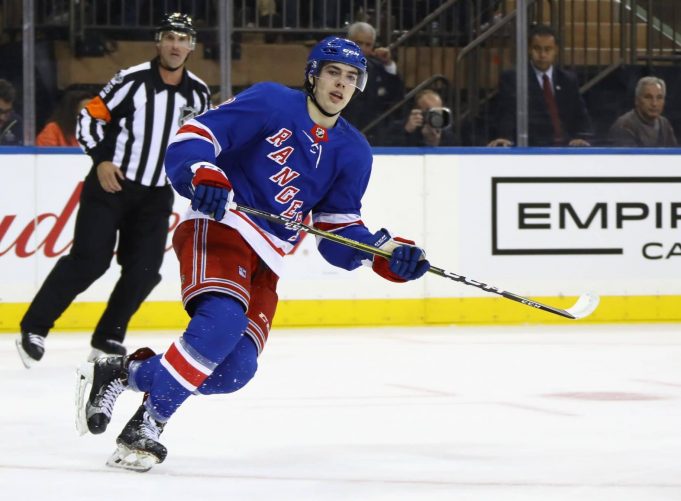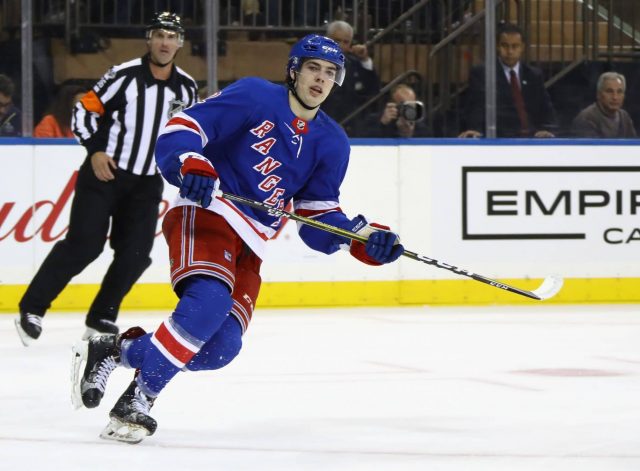 So exciting was the addition of Kevin Shattenkirk, and the ensuing vision of him teaming with Ryan McDonagh as the top pair, that it seems no one—team management included—stopped to think about whether they would be a good fit. So far, it appears that they aren't.
The pairing didn't last two games before Vigneault broke it up during a disastrous 8-5 loss at Toronto last Saturday. The coach moved McDonagh to his off side and put Marc Staal on the captain's left, and the duo performed well. Vigneault, though, then decided after two more games that moving McDonagh to the right at this point in his well-established career wasn't the right thing to do.
For now, Vigneault has teamed Staal with Shattenkirk and McDonagh with Nick Holden, a left-hander comfortable on the right side (a pairing that has "Band-Aid" written all over it). For Shattenkirk – who has been as advertised on the power play – to become more effective and possibly rejoin McDonagh on the top pair, he'll have to be better at even strength as he receives considerably more defensive-zone starts than he has in his career. Shattenkirk was often shielded from that in St. Louis and Washington, starting mostly in the offensive zone.
"I think Shatty has to have a little bit of time to get adjusted here," Vigneault told Cyrgalis. "He's had a different role in the past. This is an adjustment playing against top-six forwards. I think he's on the verge, 5-on-5, of understanding exactly what we're looking for and being a real effective player for us. Is that going to be with Mac or with somebody else — right now he's with Marc Staal? Time will tell."
A four-year, $26.6 million contract for a defenseman who isn't accustomed to playing against the opponents' top lines? The Rangers might have wanted to consider that fact more carefully in July when Shattenkirk all but threw himself at the club that he dreamed of playing for when he was a kid.
Staal's re-emergence as a tough defender ranks as one of the only positives on the blue line so far. After re-signing with the club for four years and $17.4 million following a very encouraging performance as a trade deadline acquisition, Brendan Smith has struggled badly and was a healthy scratch in back-to-back games before returning to the lineup Friday at Columbus.
Another intriguing offseason acquisition, Anthony DeAngelo, has looked tentative, leading Vigneault to rely on the often-shaky Holden as well as Steven Kampfer—neither of whom was expected to play much of a role, if any at all, prior to the season.
The Chytil situation has led to Vigneault scrambling to find stability amongst the bottom six forwards – hardly a surprising development given the lack of depth up front. To his credit, after experimenting with J.T. Miller at center, it appeared after the loss to the Blues that he's committed to leaving Miller on the wing, where he's proven to be a much better fit as a straight-ahead power forward.
"I think J.T. is more effective on the wing," Vigneault told Cyrgalis. "I know he likes the wing better, he can get in there more on the forecheck, he can protect the puck, he can go to the front of the net a little bit more. We need that strength. We need him playing to his strength."