New York Rangers head coach Alain Vigneault made some surprising lineup changes on Sunday night. They were the right moves to make.
S
unday night, as the New York Rangers were getting ready to take on the Montreal Canadiens, head coach Alain Vigneault decided that a strong lineup change was needed. The team was coming off two losses in a row to start the season and he was going to do everything possible to prevent a third straight defeat.
He began by deciding to stick with Henrik Lundqvist in net, telling reporters that after talking with goaltending coach Benoit Allaire, they determined that a poor defensive structure in front of the King was responsible for his issues in Toronto on Saturday.
#NYR head coach Alain Vigneault reveals his starter for tonight, other possible lineup changes and more. pic.twitter.com/FHo56dF0Xb

— New York Rangers (@NYRangers) October 8, 2017
This decision turned out to work very well for Vigneault and the Rangers, as Lundqvist shutout the Canadiens 2-0.
The next lineup changes were more interesting—maybe even surprising. Vigneault is known for shaking up lines pretty quickly when things aren't going well for his team. Sunday night was no different as the Rangers head coach announced he was pulling rookie Filip Chytil from the lineup along with defensemen Brandon Smith, dressing Nick Holden and Steven Kampfer in their place. As a result, the Rangers went with 11 forwards and seven defensemen.
Brendan Smith, rookie Filip Chytil sit as NYR win first of season https://t.co/mJFUMFWTAv via @newsday@stevezipay

— Steve Zipay (@stevezipay) October 9, 2017
"I know it's not standard, 11-7 [playing 11 forwards and seven defensemen], but three games in four nights, I wanted to get guys a couple more minutes, and felt it's important to [play] them [Holden and Kampfer]," Vigneault told Newsday's Steve Zipay. "I'm not singling Smitty out, but I felt he can be better and he knows that."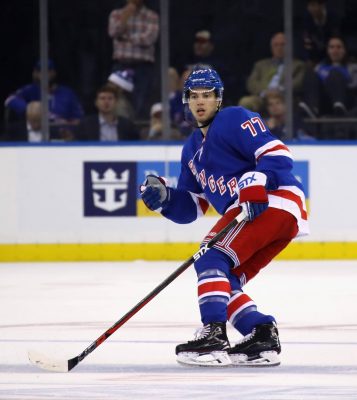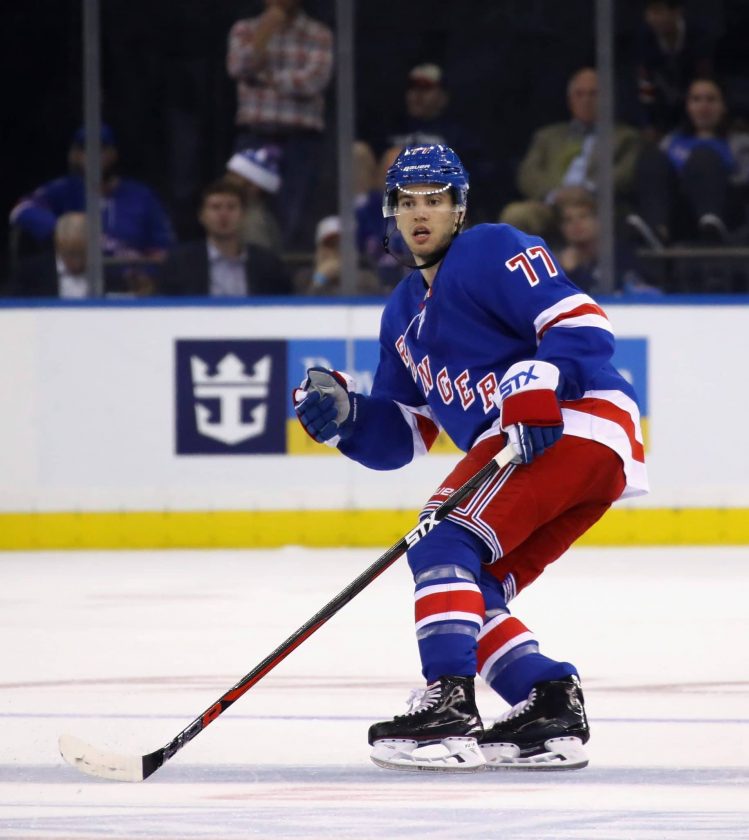 It only took two games for Vigneault to change all of the defensive partners, not surprising as the Rangers had given up 11 goals in their first two games.
Sunday's pairings were:
DeAngelo played sparingly on against Montreal—he was on the ice for just 3:45—so you could say he was essentially benched along with Smith.
Kampfer and Holden got most of the action as the third-pair of defensemen. With only 11 forwards, he constantly had to double-shift a player whenever he sent his fourth line of David Desharnais and Paul Carey into the game.
Did Vigneault cause more harm than good?
Chytil has barely played and he most likely won't be with the team once he has been on the roster for nine games. This is not a knock against the 18-year-old, it is just part of the process. He's young and sometimes looked out of place when he is on the ice. The six games remaining before he is sent back to his Czech Republic team (if he stays that long) will be good for him, gaining some valuable NHL experience. This will make him a stronger player in the future.
But DeAngelo and Smith are probably not going to take their benchings as well as Chytil. Smith has been quiet in two games, but does Vigneault really believe that Kampfer is a better defenseman than he is? I don't think so. If anything, this was an early message Vigneault was trying to send.
DeAngelo is the bigger concern right now. Vigneault is in a tough spot with him. If he sits him for Holden or Kampfer, it makes the trade the Rangers made with Arizona to get DeAngelo look weak.
Everyone knows the kid has his issues, and demoting or benching him could really have some ramifications the team does not want to get into early in the season. The problem with this thinking is that DeAngelo has had some glaring difficulties early in the season already. He gives away the puck often, doesn't watch the gap between himself and the offensive player coming at him, and finds himself out of position. Granted, the idea was to keep him and Staal together, but with Vigneault changing everything on the back line Sunday, DeAngelo could find himself watching more games from the press box.
The Rangers are going to have to keep changing things up until they find a formula that works for everyone. So for now—or at least until Jesper Fast returns—Vigneault will have to go by what his gut tells him and play it game-by-game. I would think that with a win Sunday, he might go with the same lineup Tuesday against St. Louis at Madison Square Garden.
The team did play better with the changes Vigneault made. Skjei scored his first goal of the season and the defense was stronger in front of Lundqvist. Hockey is an evolving game and the head coach will continue to polish his lineup so he can compete for a win every night.
?@BradySkjei gets the scoring started for #NYR! ? pic.twitter.com/zfsTwMfN4j

— New York Rangers (@NYRangers) October 9, 2017
Every point in the standings is valuable. A two-game losing streak was all that was needed to change the perspective for the head coach. At the end of the day, the coach will do whatever it takes to get the win.