If the New York Knicks find themselves in decent standing at the trade deadline, who might they target in order to improve their roster?
C
ompared to the atrocious basketball we have had to put up with over the last few seasons, the New York Knicks are going to be an interesting team in 2017-18. They may not be instant contenders, but there is a fair amount of talent on this roster and it is not completely improbable for this team to find themselves in contention (or close to it) at the trade deadline. Bear with me, and imagine that scenario for a second. If the season doesn't derail itself early on and the Knicks are looking to make a run at the trade deadline, how do they get better?
The beautiful thing about the Eastern Conference is that frankly, it's not very good. After the Cavaliers, Celtics, and Wizards no team is virtually locked into a playoff spot. That could present the Knicks with an opportunity. So, pretend it's Feb. 8, 2018, and the clock is ticking on making a move. Below you will find two way too early potential trades—one more realistic than the other.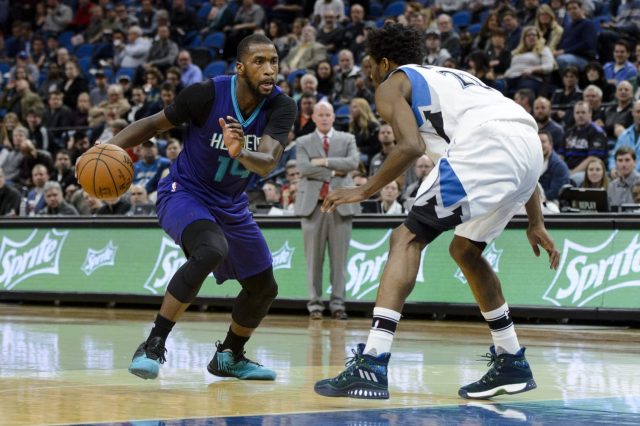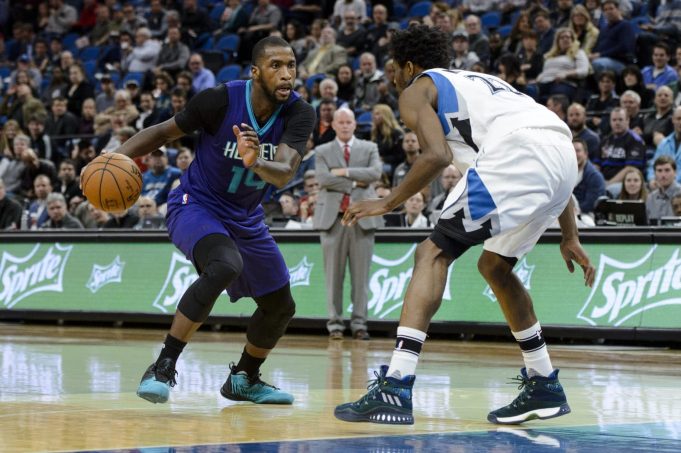 Charlotte Gets: Courtney Lee and a future top-three/top-five protected first-round pick
New York Gets: Michael Kidd-Gilchrist
If a playoff run is in the cards, one thing the Knicks sorely lack is a true perimeter defender. Between LeBron James, Gordon Hayward, Giannis Antetokounmpo and Demar DeRozan, the Eastern Conference is littered with star small forwards who could—and probably will—exploit the Knicks with their current roster makeup. Michael Beasley may have deluded himself into thinking that he is just as talented as any of those players, but in actuality, he's just one man in a group of poor defenders. It really says something about your organization when Mindaugas Kuzminskas accumulates the most defensive win shares of all the small forwards on your roster. The fact of the matter is that the Knicks need to improve defensively and can do so with the acquisition of Michael Kidd-Gilchrist.
MKG may not be the player Charlotte thought he would be when they drafted him second overall in the 2012 NBA Draft, but he has rounded himself into a solid defender. At 6-foot-7, Kidd-Gilchrist is the kind of physical athlete that could match up against a Hayward or DeRozan with the expectation of doing a reasonable job shutting them down. Obviously, it's a bit unrealistic to think that he would be able to contain LeBron, but few can.
Adding Kidd-Gilchrist would bring a player to this team that accumulated more than double the amount of defensive win shares than any other forward on the roster not named Kristaps Porzingis.
The hiccup to all of this is that Charlotte is expected to contend for a playoff spot in 2017-18 and may not be willing to jettison one of their more important pieces. Best case scenario, Charlotte could end up as a top-four seed in a generally weak Eastern Conference. However, any team in the East is a few bad breaks away from ending up in the lottery, so the idea of making a trade deadline deal with the Hornets is not out of the realm of possibility. Plus, this wouldn't be the first team that Dwight Howard's attitude has single-handedly ruined.
To make this deal work, the Knicks could send Courtney Lee and a future first-round pick, possibly an additional second rounder as well. It would make sense for any future pick the Knicks give up to be top-three or top-five protected. ESPN's NBA Trade Machine predicts that this move would add three wins to the Knick's projected wins total.
Brooklyn Gets: Frank Ntilikina, Lance Thomas, Kyle O'Quinn, and a second-round pick
Miami Gets: Allen Crabbe, future top-three protected pick from Knicks
The 2017 Draft was arguably one of the most prolific draft classes since 2003. It was jam-packed with talent at the point guard position and afforded the Knicks the opportunity to fill a major need with a future star. While nowhere near as bad as the revolving door situation of quarterbacks with the Cleveland Browns, the Knicks have failed to establish a consistent and impactful presence at the point since the brief stint of Chauncey Billups in 2011.
Between Lonzo Ball, Markelle Fultz, De'Aaron Fox, and Dennis Smith Jr., any of these players could have been the star to lead a resurgent Knicks team for the next decade. Thanks to Phil Jackson, we ended up with a relatively unproven French prospect by the name of Frank Ntilikina. Granted, a lot of people scratched their heads when the Knicks drafted a questionable Latvian forward named Kristaps Porzingis fourth overall in 2015. However, Pozingis has developed nicely and has the chance to become a franchise player, so there's always a chance that Ntilikina falls into the same mold. The fact of the matter is that Ntilikina has been unimpressive in the short time he's spent on the court this preseason and has proven to be relatively injury prone thus far.
If the Knicks are going to to get better as a team, then they need to acquire a veteran point guard to lead their offense. Who better to do so than Goran Dragic? Despite being a former second-round pick, Dragic has evolved into an impressive NBA point guard, with a Most Improved Player Award and All-NBA Third Team honors under his belt. Dragic is the kind of player that could instantly transform the Knicks into a formidable playoff team. The Slovenian import is a triple-threat with the ball in his hands, equally proficient in his ability to drive the lane, shoot from the perimeter, and pass the ball.
Like the Charlotte Hornets, the Miami Heat are a projected playoff team as constructed. Trading Dragic would only be precipitated by an absolutely abysmal season in Miami. Nevertheless, it's not impossible for that scenario to occur, so it is fair to indulge our trade fantasy here.
In order to get this deal done, a third team would need to be brought into the mix and the Brooklyn Nets fit the bill here. The Nets would send the emerging Allen Crabbe to Miami. Crabbe may not directly match up to the value of Dragic, but he is a strong perimeter player poised for a breakout season once he transitions into a starting role. Acquiring Dragic would also mean prematurely giving up on Ntilikina, as he would be essential to motivating the Nets to get this deal done. The Knicks would also send Lance Thomas, Kyle O'Quinn, and a second-round pick to the Nets, while shipping a future top-three protected first to the Heat. ESPN's Trade Machine has this trade improving the Knicks projected win total by four.