The possibility of Michael Grabner's production dipping in his second season with the New York Rangers could end up being a major issue for the club.
S
ome of the key questions that have surrounded the New York Rangers going into the season:
Who will fill the hole at center created by key departures? How will the revamped defense mesh and perform? Can their young forwards continue to develop and increase their production? Can Henrik Lundqvist maintain his elite form at age 35?
All legitimate queries. There's a question that's been overlooked, however, and it could prove to be a major oversight should the worst-case scenario occur.
And that is: What if Michael Grabner reverts back to the production level that has defined most of his career, rather than delivering 27 goals as he did a season ago?
There's no way to be sure, but it seems that it would have behooved the organization to have at least considered the possibility that the lightning-fast forward, signed before last season to kill penalties and increase overall team speed, might do just that in 2017-18 – without the big offensive production.
Grabner's first season in a Blueshirt proved to be much more than the club could have hoped for. His goal total was the second-highest of his career, one achieved largely through lightning-bolt breakaways and odd-man rushes that led to plenty of high percentage shots. He created a dimension that had been missing since the disastrous departure of Carl Hagelin after the 2014-15 season.
So what's the problem? Well, seasons such as the one he just had are outliers for Grabner. In 2015-16, he scored nine goals in 80 games with Toronto. Although injuries have played a role, Grabner has reached the 20-goal mark only three times in his first eight seasons, and before last season, not since 2011-12.
Because as pleasantly surprising as Grabner's 27 goals were last season, the fact is he could have had quite a few more. He was stopped on more than a few breakaways and odd-man opportunities, highlighting one of his weaknesses: He's not an elite finisher.
Grabner is among the fastest skaters in the world, but the hard truth is that his puck skills don't rise to that level. He doesn't have a nasty wrist shot or the great hands of a goal scorer that allow him to undress a goaltender on a break. He created a disproportionate number of high-percentage chances with his feet last season, leading to a goal total that's largely disproportionate with his career performance.
Perhaps that happens again – the high-octane forward playing for a fast team and a coach in Alain Vigneault that encourages the use of speed and pushing the pace like no other in the league. Speed, as the Penguins have demonstrated for the past two seasons, is the name of the game in the modern NHL.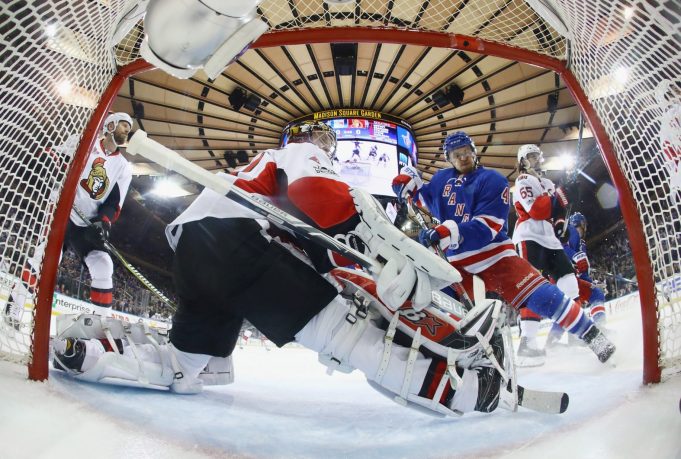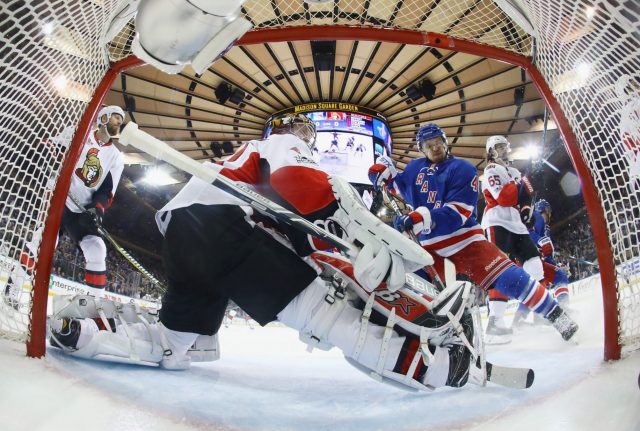 But if it doesn't, and the Rangers find themselves unable to count on that kind of production from Grabner as they look to find adequate scoring? If he fails to finish off even more of those one-on-one opportunities or simply reverts back to his career numbers?
Well, that could be a big problem.
Because the Rangers are already counting heavily on Chris Kreider, J.T. Miller, Mika Zibanejad, Kevin Hayes and Pavel Buchnevich to continue their development as the cornerstone of their offense this season. As usual, there are no elite scorers on the roster, no one for whom the team can pencil in 35 to 40 goals. Despite ranking fourth in the league with 3.09 goals per game last season, they're relying on increased production from their young forwards to be competitive. With the steady production of center Derek Stepan gone and the team hoping for a quick rise from 18-year-old rookie pivot Filip Chytil, that becomes even more critical.
Subtract, say, 10-12 goals from Grabner's total this season? It doesn't sound like a lot, but that will have to be made up by a group of players that didn't include a 30-goal scorer in 2016-17.
"We're like every team in the NHL — we'll take 10, 20 games to sort out what we have exactly," Vigneault told Brett Cyrgalis of the New York Post. "But at the same time, we talked to our team that we need a good start to this season. We have to play well."
They didn't get it Thursday, failing to find rhythm and often looking sloppy in a 4-2 home loss to Colorado despite holding a 39-26 shot advantage. Zibanejad looked the part of rising player, scoring both goals on power plays in a 2:30 span of the second period, but the others that the Rangers are banking on didn't show much to go on, albeit for one game.
So the Blueshirts likely need Grabner to remain the offensive threat he was last season, burying whatever chances he creates with speed. Being matched again with Hayes and Miller, the linemates who helped him to such success in 2016-17, should help.
But if Grabner scores, say, 12-15 goals while adding speed and effectively killing penalties – more or less why the club signed him, after all – the Rangers could be in trouble if someone doesn't pick up the slack offensively.
What they shouldn't be in that scenario, of all things, is surprised. Even if they prove to be unprepared for it.