Despite two goals from Mika Zibanejad, the New York Rangers couldn't get it together defensively, falling to the Colorado Avalanche.
New York Rangers 2 (0-1-0, 0 PTS)
Colorado Avalanche 4(1-0-0, 2 PTS)
NHL, Final, Box Score
Madison Square Garden, New York, NY
The home team just couldn't get it together defensively.
During the Alain Vigneault New York Rangers years, one thing's been harped on more than all else. Limit the defensive breakdowns.
It's been an issue for a few years now and in the Blueshirts' 2017-18 NHL regular season opener, the issue reared its ugly head against the worst team in the NHL a year ago, the Colorado Avalanche (48 points).
While it's true these defensive breakdowns need to be addressed, the issue may run deeper than just "fixing it." AV's offensive, attacking system puts the club's defensive structure at a disadvantage from the start. This puts unneeded pressure on the blueline all night long.
Not one, but two early goals came from the Avs in the first period. Matt Duchene put the first up on the board at 5:29 before Miko Rantanen tallied a power-play goal five minutes later.
But then Mika Zibanejad happened. The Rangers first-line center snagged his first two goals of the season in tying it up for the Blueshirts.
First, after Chris Kreider came oh so close in the dirty area, he finished a beautiful Kevin Shattenkirk helper short side:
The first goal of the Rangers season goes to Mika Zibanejad. It's a power play goal! Of course Shatty picks up the assist. #NYR pic.twitter.com/O3z0B0BkSw

— Elite Sports NY (@EliteSportsNY) October 5, 2017
(This was Shatty's first point as a Ranger and only point on the night.)
Then, Mats Zuccarello found him as he buried his second with just two seconds to go in the opening period:
Zibs's second. Rangers' second PP goal. 2-2 game after one. #NYR pic.twitter.com/tei3nqfx96

— Elite Sports NY (@EliteSportsNY) October 6, 2017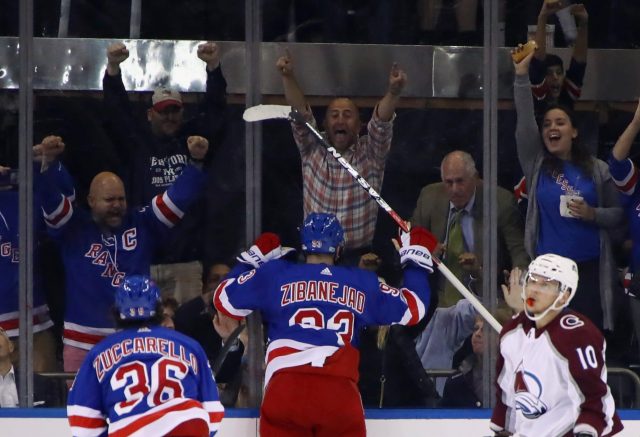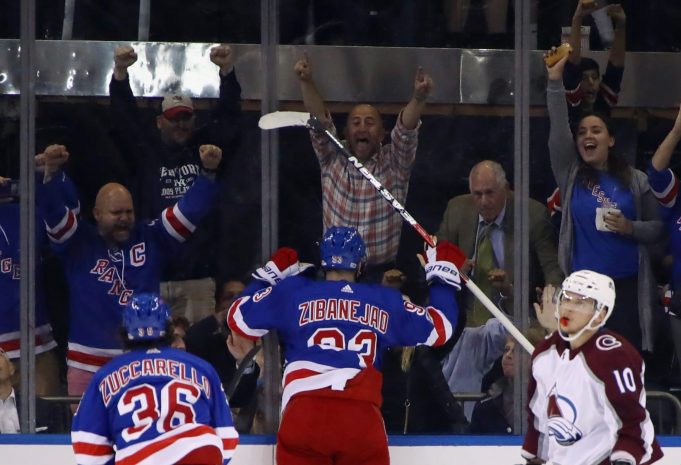 The Rangers puck movement and passing was crisp and on-point all night long. Offensively, they looked every bit the juggernaut they were to open last campaign.
The problem on this night was the opposing goalie, Semyon Varlamov, who stopped 37 of the 39 shots he faced. Varlamov easily skated away with No. 1 star honors.
On the side of the ice, Henrik Lundqvist managed just 25 saves. Just 2:10 into the final period, Tyson Berrie beat Hank for the game-winner.
Pavel Buchnevich picked up a helper, but also finished the night with an ugly -2. Shattenkirk finished with an even uglier -3.
The Rangers will now look to put the opener behind them as they prep for a trip to Toronto this Saturday night.
New York Rangers 2017-18 season. LET'S GO. #NYR pic.twitter.com/yR4e9SUhcN

— Elite Sports NY (@EliteSportsNY) October 5, 2017