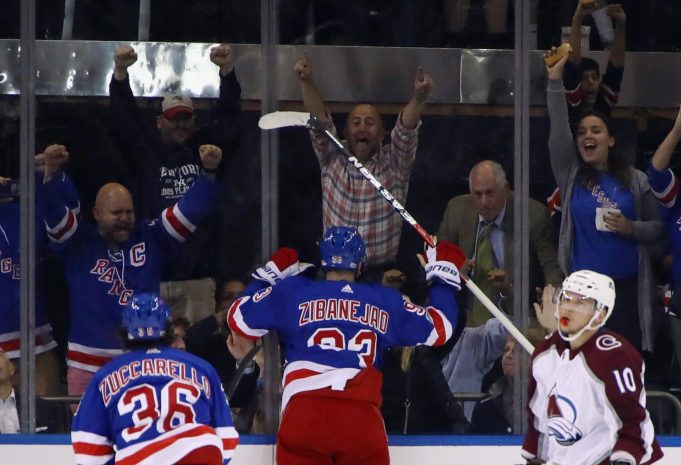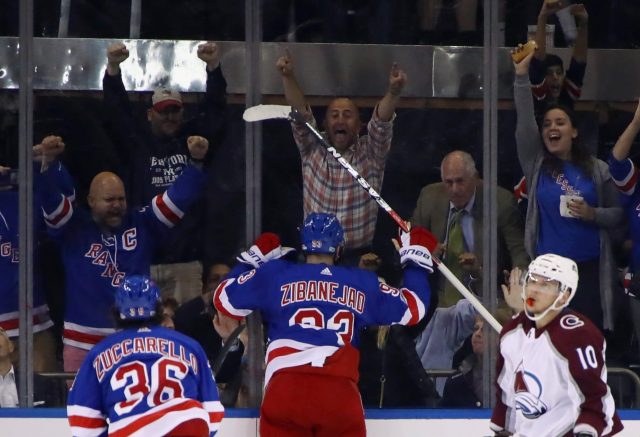 People were worried about the power play of the New York Rangers? Forget about it. Those worries just got silenced by Mika Zibanejad.
The New York Rangers power play is off to an excellent start this season, as Mika Zibanejad scored two first period goals, both on the power play that has been so elusive in the past.
The first goal of the Rangers season goes to Mika Zibanejad. It's a power play goal! Of course Shatty picks up the assist. #NYR pic.twitter.com/O3z0B0BkSw

— Elite Sports NY (@EliteSportsNY) October 5, 2017
The first goal was a case of the Rangers' power play staying on the loose puck after getting goalie Semyon Varlamov out of position. That's a big improvement from last year.
The puck kicked out of the scrum in front of the net right to the waiting Kevin Shattenkirk, who has scored nearly half his career points on the power play.
Shattenkirk showed his trademark power play awareness and fired the puck right onto Zibanejad's stick. Zibanejad then had a wide open net as Varlamov was still getting back up after diving to stop the previous shot.
Zibs's second. Rangers' second PP goal. 2-2 game after one. #NYR pic.twitter.com/tei3nqfx96

— Elite Sports NY (@EliteSportsNY) October 6, 2017
Zibanejad's second goal was set up by the Rangers winning a puck battle along the boards. The puck then kicked to Pavel Buchnevich, who fired a beautiful pass to the wide-open Zibanejad in the slot to fire his second goal home.
Buchnevich to Zibanejad is something that should happen a lot this year, as the "KZB" line (also featuring Chris Kreider) seems to be back together.