Entering his 13th season with the New York Rangers, the same goal remains for The King, Henrik Lundqvist: capture that Stanley Cup.
T
here's nothing worse than employing a future hall of fame goaltender, winning a Presidents' Trophy, appearing in the NHL Final and still walking around cup-less.
For all of the success the New York Rangers have experienced in the Henrik Lundqvist era, that elusive Stanley Cup rules all.
In fact, this club probably ranks No. 1 across all four major sports in terms of championship-caliber traits without the title. For years, they've traveled deep in the playoffs only to be rebuffed, time and again. For years, they've taken their fans on wild rides that included nightly drama some franchises haven't experienced in two decades in total.
For years, these guys have fought back admirably with their backs against the wall and nobody believing in their path.
Actually, there is something worse in skating around cup-less with a hall of fame goaltender and success dripping at every corner of Madison Square Garden …
The Pittsburgh Penguins are two-time Stanley Cup Champions — the same team who took a John Tortorella assistant coach the franchise didn't want (Mike Sullivan) and turned it into gold. The very same team who acquired fan-favorite glue guy Carl Hagelin off the scrap heap.
The very same team who employs public enemy No. 1 (Sidney Crosby) not only in New York, but in all of hockey.
The good thing is the new season is here. While the Pens can call themselves defending champs, it'll take supreme work to make it a third straight.
Can The King finally live up to his royal nickname this spring?
Here's Elite Sports NY's official New York Rangers season preview and predictions: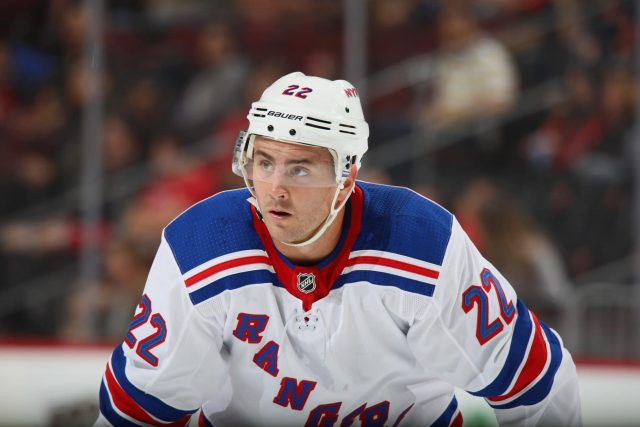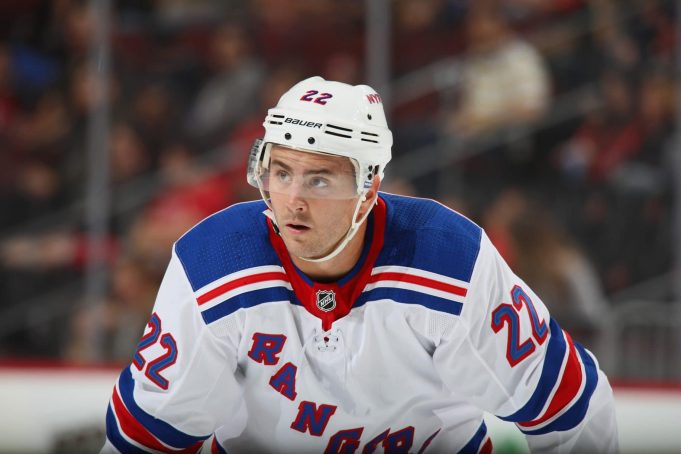 Key Additions
Filip Chytil, C
Lias Andersson, C
Paul Carey, F
Neal Pionk, D
Don't think for one moment that players not on the opening 22-man roster can't be included as key additions. This is hockey. It's a physical game that showcases an incredible amount of injuries. Lias Andersson and Neal Pionk will see time with the big boys at some point this season.
If you made the claim that both Anderson and Filip Chytil would make significant contributions this season when they were drafted, you win the prize. Chytil's opening the season on the second line and brings an incredible offensive skill set to the table.
Anthony DeAngelo will battle Nick Holden all year long for that No. 6 d-man slot while both David Desharnais and Paul Carey man down the fourth line.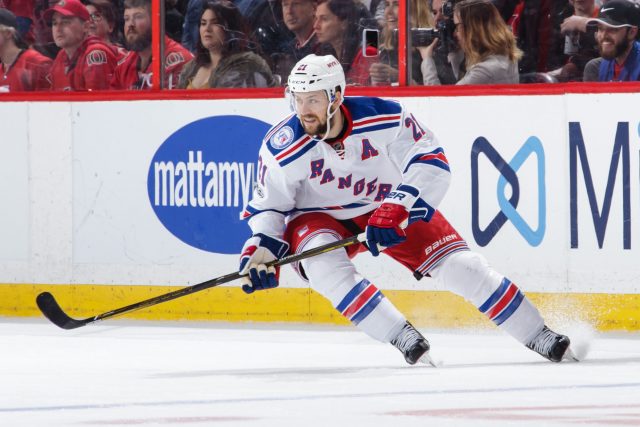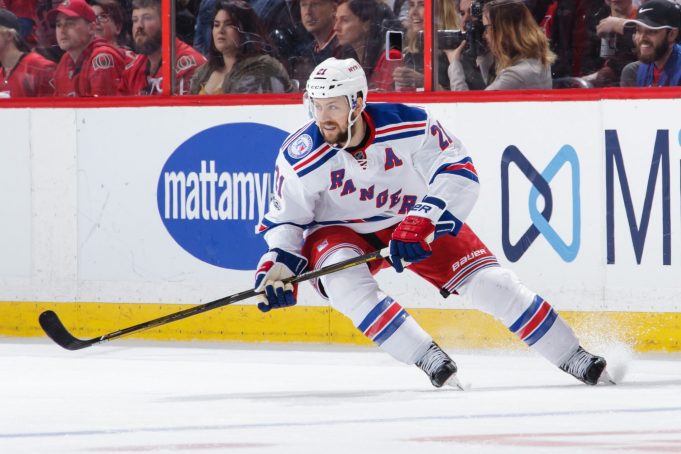 Key Subtractions
Whether you were OK with Derek Stepan getting shipped off to the desert or not, the void he leaves in the middle of the ice is a great one. The vet's leadership and two-way ability will sorely be missed until either the perceived weak center position steps up or J.T. Miller moves into the middle full-time.
I was not a fan of losing Oscar Lindberg. For me, the smart money was leaving Stepan dangling in the expansion draft hoping Vegas would bite. If they had, the roster may look a little nicer:
If Vegas took Stepan:
The Current Situation:
Andersson
DeAngelo
Chytil
Pavelec (Replacing Raanta)
I'd much rather have that first trio than the current crop. But hey, Andersson is that ultimate wild card and we'll see what Lindberg does out west.
Breakout Player
Two years ago, we named J.T. Miller as the Rangers breakout player of the year and nailed it. This season is a little tougher.
Give me Brady Skjei.
Obviously, the kid was a stud during his rookie season. Compiling five goals, 34 assists and a +11 in 80 games a season ago, the 23-year-old was everything the Rangers could have hoped for. We say "breakout" this campaign because he'll actually overshadow the great Shattenkirk and push the league to vote him as an Eastern Conference All-Star. (The kid probably won't make it due to the rigors and structure of the roster, as each team must be represented … be he'll make a strong case.)
Look for 12-plus goals and over 45 assists on the season from young Skjei.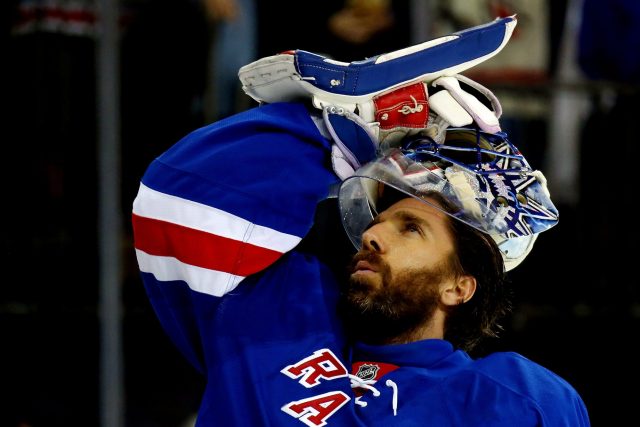 Disappointing Player
Henrik Lundqvist
Let's not kid ourselves. Henrik Lundqvist is old. He's especially old for a goaltender. At 35, it's going to have to be the Rangers properly transforming as a club if they'd like to get to where they want to go (in June).
Alain Vigneault's overwhelming offensive mindset must balance out in order for the Stanley Cup Playoffs to be kind to the Rangers.
Think about it. AV's most successful playoff season with the club came in year one, a year in which the roster was still used to the defensive structure of John Tortorella. That team clicked at the right time and brought the best of both worlds to the table: Torts's defensive structure with AV's attacking style of play.
With the defensive acquisitions made by Jeff Gorton, a shift must occur to help out an older Hank who's only going to decline from here.
Don't expect terrible numbers from Lundqvist. I label "disappointing" as in disappointing for that hefty $8.5 million salary.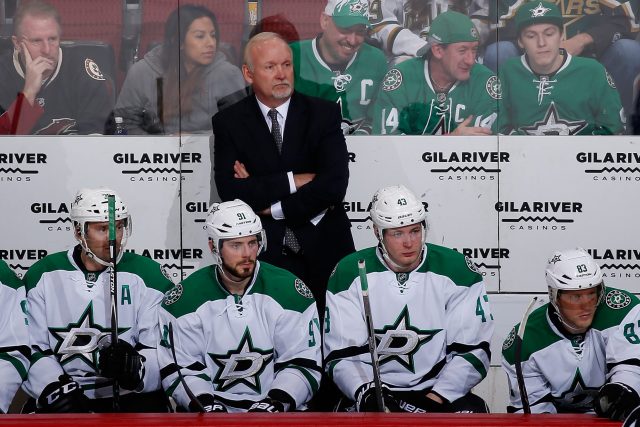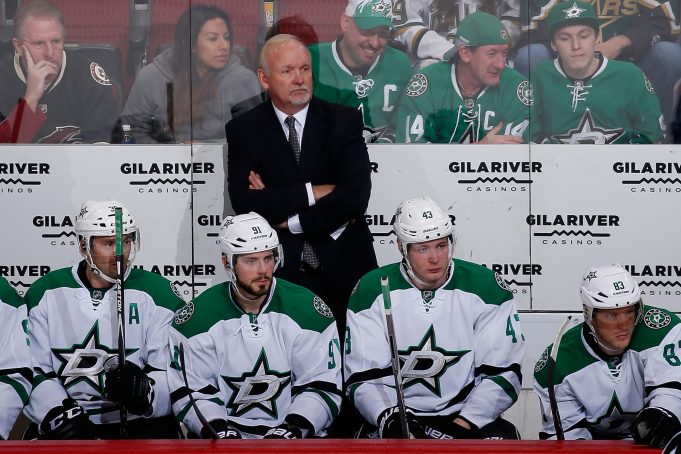 Secret Weapon
It wasn't until the hiring of Lindy Ruff as an assistant coach that I suddenly became ultra excited for the Rangers upcoming season.
This guy drips hockey knowledge.
Ruff very well could be that missing link that has disconnected AV from defensive structure and responsibility. He very well could be that secret weapon the Rangers needed in getting over that disciplined hump in the postseason.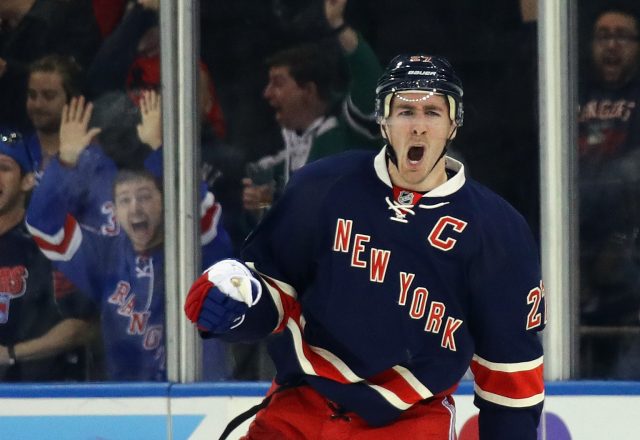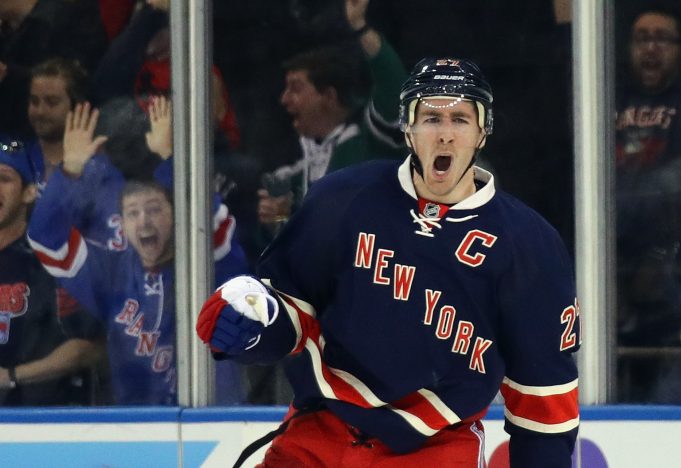 Team Awards
Barring injury, Ryan McDonagh is the team's best player. Don't overthink it.
For a season or so, he really struggled. He couldn't find himself and didn't feel right. At some point early last year, that all changed and he lifted his game to a level that we hadn't witnessed prior. The best part about it was his physicality — especially in the spring.
While Chytil starts the season in the Big Apple, it'll be Lias Andersson who comes away as the rookie of the year. His two-way contributions will help the Rangers more than Chytil's offensive ability in the end.
Regular Season
I could honestly throw the top four team names in a hat and pick it that way. But since we're here, why not provide the real Metro prediction.
Metro:
Columbus Blue Jackets (114 points)*
New York Rangers (109 points)*
Pittsburgh Penguins (107 points)*
Washington Capitals (101 points)*
New York Islanders (95 points)*
Philadelphia Flyers (83 points)
New Jersey Devils (77 points)
Carolina Hurricanes (70 points)
It is, without a shadow of a doubt, the roughest division in sports. For the NHL, this Metro division is ridiculous.
Five teams will come out of the Metro, including the New York Islanders.
Some may look at the Rangers in second place and scoff, but I definitely see another slight slippage from the Pittsburgh Penguins during the regular season. Pretty soon, they'll turn into the San Antonio Spurs full-time: forget about the regular season and just set up for the real season.
Stanley Cup Playoffs
They'll be there. There's no questioning that. This team is too fast and possesses too much firepower not to be there.
Rangers Playoffs: Loss in Eastern Conference Final
Expect another wild spring. Two series wins and an ultimate, bitter defeat in the Eastern Conference Final. To whom? Honestly, that's the tough part. Could be the Pens. Could be the Jackets. Could be the Toronto Maple Leafs.
I really do like this team with the added defensive depth and Lindy Ruff standing alongside Alain Vigneault. They absolutely have a shot to capture that cup this season.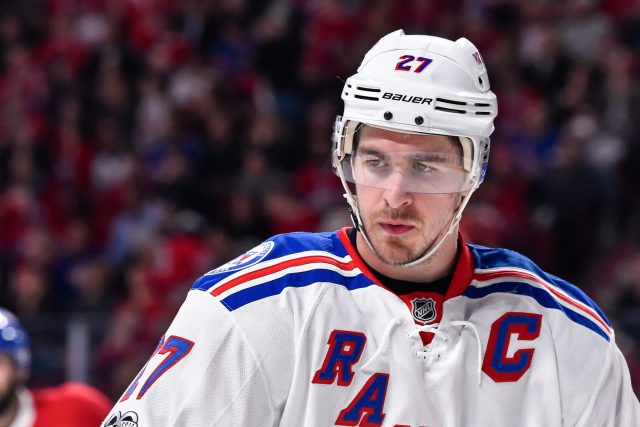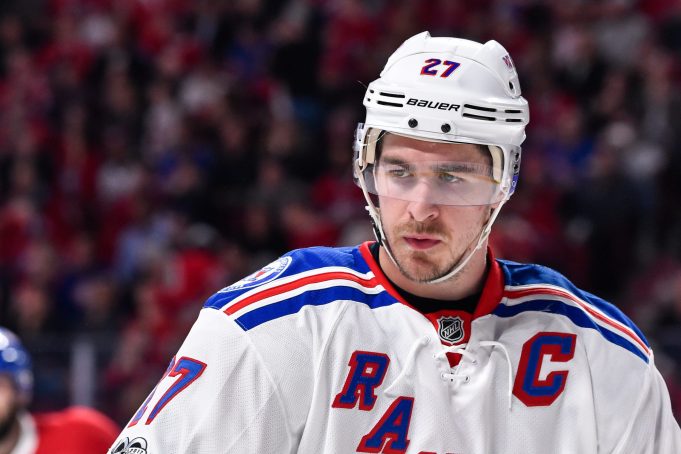 Staff Picks
Frank Curto, Rangers Boss
Final Record and Points: 51-24-7 109 pts
Final Metro Standings (1 through 8): 1- PIT, 2- COL, 3-NYR, 4-WAS, 5-NYI, 6-CAR, 7-NJD, 8-PHI
Team MVP: Mats Zuccarello
Breakout Player: Brady Skjei
Disappointing Player: Pavel Buchnevich
Goal Leader: Chris Kreider 30G
Assist Leader: Mats Zuccarello 52A
Point Leader: J.T. Miller 25g 37A 62 points
Playoffs Prediction: Rangers Eliminated ECF by Toronto
The Rangers dramatically improved their defenseman from last year. The addition of Kevin Shattenkirk, and Anthony Deangelo along with the resigning of Brendan Smith will get the teams some more wins this season. The Rangers have a solid top defense when you add Ryan Mcdonagh and Marc Stall. Nick Holden is the extra, for now, but that could change anytime as Vigneault loves to change things up during the season.
The Rangers scoring is another issue. The team will once again have to score by committee as they lack the big name goal producer. The team never replaced Derek Stepan after he was traded to Arizona in June. Zuccarello, Kreider, Hayes, Miller Grabner will have to keep up the point production they all had last season if the team wants to make a deep playoff run. Sophmore Jimmy Vesey should continue to progress and get some quality minutes.
Neal Purcell, Contributor
Final Record and Points: 50-22-8
Final Metro Standings (1 through 8): Third in Metro
Team MVP: Ryan McDonagh
Breakout Player: Pavel Buchenevich
Disappointing Player: Jimmy Vesey
Goal Leader: Chris Kreider
Assist Leader: Mats Zuccarello
Point Leader: Mats Zuccarello
Playoffs Prediction: Lose in Conference Semis
The Rangers will storm the gate hot but as always run out of steam in the middle of the year. The defense will be much improved from last year as Shattenkirk and DeAngelo prove to be phenomenal pickups. Offensively, the young duo of Kevin Hayes and JT Miller will take another step forward in their maturation process. Buch will really blossom, staying healthy and proving to be a dynamic offensive force that will help Rick Nash put the previous seasons behind him and reach 30 goals again. Henrik will struggle early again and Pavelec will backstop the team in the early going however down the stretch we will see the Hank of old.
Derek Radich, Contributor
Final Record and Points: 50-24-8, 108 Points
Final Metro Standings (1 through 8): Pitt, Caps, Rangers, Blue Jackets, Islanders, Hurricanes, Devils, Flyers
Team MVP: Mika Zibanejad (Filling #1 Center)
Breakout Player: Jimmy Vesey
Disappointing Player: Marc Staal (Again)
Goal Leader: Chris Kreider
Assist Leader: Mats Zuccarello
Point Leader: Mika Zibanejad
Playoffs Prediction: Eastern Conference Final Loss to Pittsburgh
The Rangers will dominate most of the season with a more balanced defense and a steady potent offense. The Powerplay will become much more of a threat with the addition of Shatty and the emergence of a healthy Mika Zibanejad. Hank will have a roller coaster season similar to last season but will improve all season and be supported by newly added Pavelec. The third and fourth line will be integral to the success of the New York Rangers and the Powerplay must be strong to survive. Unfortunately, Pittsburgh will remain too strong for the Blueshirts to take down and will defeat us in the Eastern Conference final on their way to three-peat for the Stanley Cup. Let's Go Rangers
Nick Durst, Video/Audio Director
Final Record and Points: 39-33-10 88 points
Final Metro Standings (1 through 8): 1. Penguins 2. Capitals 3. Blue Jackets 4. Islanders 5. Rangers 6. Flyers 7. Hurricanes 8. Devils
Team MVP: Henrik Lundqvist
Breakout Player: Filip Chytil
Disappointing Player: Marc Staal
Goal Leader: Rick Nash
Assist Leader: Mats Zuccarello
Point Leader: Rick Nash
Playoffs Prediction: Rangers will miss the playoffs and likely be the first team out.
In the offseason, the Rangers traded their top center in Derek Stepan and did not replace him. Marc Staal is still a Ranger and his game continues to decline. These two factors are a recipe for disaster along with other questionable moves that Jeff Gorton has made since becoming General Manager. For the first time since 2009-10, the Rangers will not be in the Stanley Cup Playoffs.
Chris Studley, Contributor
Final Record and Points: 47-27-8 (102 points)
Final Metro Standings (1 through 8): 3
Team MVP: Henrik Lundqvist
Breakout Player: Pavel Buchnevich
Disappointing Player: Nick Holden
Goal Leader: Rick Nash
Assist Leader: Mats Zuccarello
Point Leader: Mats Zuccarello
Playoffs Prediction: Eliminated in 2nd Round
The Rangers may have traded away Derek Stepan, but they should be able to get the point production they need from their forward group. Rick Nash should have a bounce-back season, and Mika Zibanejad will continue his growth as he becomes the team's top centerman. The rest of the Rangers' forward group will continue their balanced offensive attack from last season (256 goals last year was 4th in the NHL), and their blue-line shapes to be strong as well. Brady Skjei will also continue to develop and build off his impressive rookie season, and Kevin Shattenkirk will establish himself as the Rangers' new power play quarterback. This should be a solid season for the Blueshirts, and a year that I expect them to return to the top three of the Metropolitan Division, but it may be difficult for the team to get past the Columbus Blue Jackets and the defending Stanley Cup champion Pittsburgh Penguins, with the latter eliminating the Rangers in the Stanley Cup Playoffs.
Dominick Renna, Contributor
Final Record and Points: 44-30-8 (96 points)
Final Metro Standings (1 through 8):
1) Pittsburgh Penguins
2) Columbus Blue Jackets
3) Washington Capitals
4) New York Rangers
5) New York Islanders
6) Philadelphia Flyers
7) New Jersey Devils
8) Carolina Hurricanes
Team MVP: Ryan McDonagh
Breakout Player: Jimmy Vesey
Disappointing Player: Marc Staal
Goal Leader: Chris Kreider
Assist Leader: Mats Zuccarello
Point Leader: Mats Zuccarello
Playoffs Prediction: Eliminated in the first round by the Penguins
With the Rangers playing in the best division in all of hockey, they are likely to fall to a wild card spot for the second straight season. Their depth at center is still a major question mark and it wouldn't surprise people around the league if they went all out and got a big name center if Mika Zibanejad and Kevin Hayes get off to slow starts.
Henrik Lundqvist will receive a majority of the workload this season with Ondrej Pavelec as his backup. With that being said the workload will eventually come back to hurt the Rangers and Lundqvist as they will yet again most likely see an early exit come April. Ultimately it will be another wasted season for the Rangers due to a lack of depth at some of the most important positions in hockey.