For more than a decade, Henrik Lundqvist has been a rock for the Rangers. But he needs to be consistent this year for the team to have a chance.
For 12 seasons, Henrik Lundqvist has been the rock that the New York Rangers could lean on, no matter how the team was playing. But last season, Lundqvist was nowhere near as consistent, as reliable, as he's been in the past.
If the Rangers want to contend this year, they need Lundqvist to find that consistency again.
Lundqvist got off to a slow start last season, which doesn't really come as a surprise as he has always struggled in the beginning of the season. Lundqvist has a career goals against average (GAA) of 2.47 and a .917 save percentage in October.
This trend continued in 2016-17 when he posted a 2.41 GAA and a .901 save percentage in the season's first month, with the Rangers winning four of his seven starts. Lundqvist's slow start wasn't the talk at the beginning of last season because of how well the Rangers were playing offensively.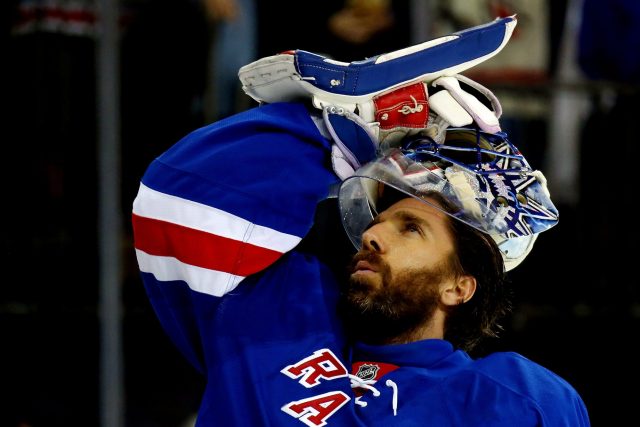 But Lundqvist was able to get in a groove as he's done in the past. His GAA and save percentage drastically dropped and the Rangers would win seven of his 10 starts in November. The offense would continue to stay hot and the Rangers were one of the best teams in the league.
Lundqvist would find himself in new territory in December when backup Antti Raanta started four games in a row. That was the first time in Lundqvist's career he was a healthy backup in four consecutive games. Raanta filled in nicely for the struggling Lundqvist, which allowed him to work on his game.
January was even worse, as he posted a .879 save percentage and a 3.61 GAA. Even with his struggles, Lundqvist was able to turn things around, reaching the 30-win mark for the 11th time in his career and picking up his 400th career victory.
The numbers show that Lundqvist had an extremely inconsistent season last year which cost the Rangers some games. This can't happen this year if the Rangers are to be successful.
He looked solid in three preseason games, coming into camp lighter than he's been in the past. That made him quicker in net, which was evident at the team's first practice.Lundqvist would go on to post a .934 save percentage this preseason with a 2.24 GAA. He looks like a different player compared to last year, which is something the Rangers need.
With the trade of Antti Raanta, the backup goalie situation has questions for the first time since the 2013-14 season when they called upon Cam Talbot. Ondrej Pavelec has experience in the league but isn't going to give the Rangers what Raanta and Talbot were able to give them. This is a primary reason why head coach Alain Vigneault decided against giving a game limit to Lundqvist this season thanks to the uncertainty that Pavelec provides. Not having a game limit might help Lundqvist, who likes to get in a rhythm and plays his best hockey once he gets in one.
The Rangers aren't asking Lundqvist to carry the team this season. They drastically improved their defense, which will make a huge difference in Lundqvist's numbers. It looks like Lundqvist can get back to being a game changer, he was one at times during the playoffs. The team needs him to be like that more often than not this year.
The word that will surround Lundqvist throughout the season will be consistency. If the franchise leader in wins by a goalie can find that consistency again the Rangers will be in good shape.