D'Angelo Russell is the new cornerstone for the Brooklyn Nets franchise and sits only weeks away from his debut season. Five goals he can set for a successful first year. 
T
he
Brooklyn Nets
were the worst team in basketball last season, but that won't be the case this year. After acquiring star guard D'Angelo Russell among others, the future looks bright, and it begins with the former Lakers point guard.
With what may be a turning point of his career ahead, five goals the 22-year old can set for his first year as a Brooklyn Net.
1. Be a Team Player
Russell's brief tenure with the Lakers was soiled by a conflict with teammate Nick Young. He reportedly recorded Young boasting about an affair he was having while dating pop star Iggy Azalea. Russell sent the video to Azalea, which culminated his teammate's relationship with the singer.
Following the scandal, things were never quite the same in the Lakers' locker room. Things like this prompted team President Magic Johnson to claim Russell wasn't a leader, in light of his trade to Brooklyn.
Now with a fresh start awaiting in Brooklyn, avoiding any and all drama should be his top priority. At some point, it becomes a question of maturity. Russell needs to show he's learned from his mistakes, can man up, and be a leader for his new team.
2. Lead the Nets in Scoring
For his first year, a debut, a rebirth, his breakthrough, whatever you want to call it. this kid needs to dominate. Scoring is a big part of that.
In an offense with even more weapons than the Lakers, Russell doesn't need to score more. He just needs to score the most. 
In his last year with Los Angeles, the guard averaged 15.6 points per game. In Brooklyn, Brook Lopez was the leading scorer last year with 20.5 points per contest. He was traded in the package for Russell, but the Nets made proper replacements in D'Angelo, DeMarre Carroll, and Allen Crabbe.
To lead the team in scoring not only helps his own case, but provides a slight identity adjustment for the team itself. With a fearless shooting leader in Russell, they very well may blaze their way to the playoffs as they so aspire.
---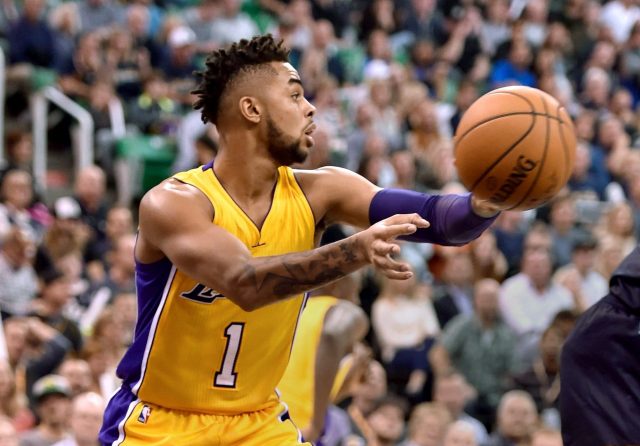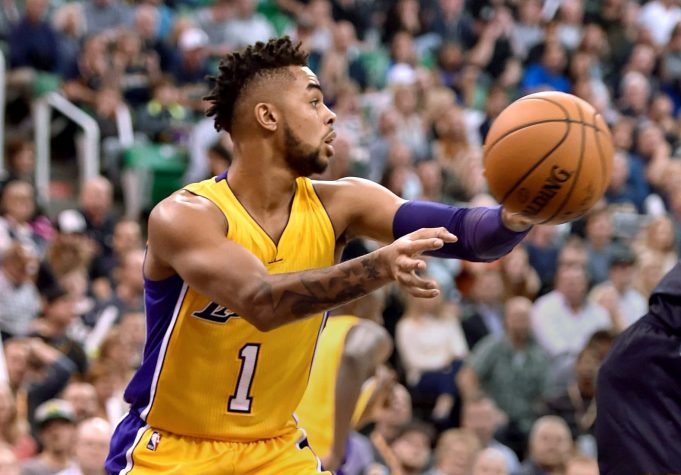 ---
Not literally break his ankles, but serve his Lakers' replacement a nasty crossover.
He was heavily criticized after being traded and was traded to free up room for the Lakers' 2017 draft pick.
Showing that he is what Ball isn't from the get-go, is certain to help build his confidence, and put some remorse in the Los Angeles front office. That's just a bonus though.
4. Average 6 Assists Per Game
Teammate Jeremy Lin was the Nets' assist leader last season, after averaging 5.1 per game. However, he quickly fell to injury and was only active for 36 games. Behind him fell Spencer Dinwiddie, who averaged 3.1 dimes per game.
Last year's numbers alone would place Russell as Brooklyn's leading passer on a more consistent scale. He posted 4.8 assists on 28 minutes a night.
Per 36 minutes, however, he averaged six assists on the year. Those kinds of numbers would shift his stature in the eyes of the league and critics alike. Only 17 players averaged 6+ assists last season, so Russell can make his way to the league's top 20 facilitators by accomplishing this feat.
It will also serve as a crucial factor for Nets success, as the team is going to be experimenting offensively right from the jump. They've lost their franchise man in Brook Lopez, and Jeremy Lin (barring injury) is nearly new to this team.
5. Compete for the Most Improved Player Award
Last season, Russell was quoted as setting the Most Improved Player award as a personal goal. He nearly had it. In every stat the guard saw improvement, but he lacked the impact on his team's play.
On a new team in a system designed for him to thrive, Russell can really open up and pace himself. Improving slowly but surely along the way. If the Nets get better, his case will be all the more apparent for recipient of the award.
Giannis Antetokounmpo was last year's award winner, after improving every per game average and leading the Bucks to their first playoff appearance since 2014. With playoffs in sight, we could see a very similar narrative from Russell and Brooklyn this year.