The New York Jets were, somehow, able to pick up a win last weekend. A majority of our area's major college football teams, however, couldn't duplicate the feat.
Four of the five teams ranked in our Metro poll dropped their Saturday decisions, the lone outlier being Buffalo defeating a team coached by Lane Kiffin…so can we even count it?
The Bulls get a little reward for their victory, moving up a spot in our poll, while Syracuse gets a wee bit of credit for their performance against a ranked team. A last-second loss, however, was not enough to take the top spot away from…
Final pic.twitter.com/r4TqlWaMBi

— Army WP Football (@ArmyWP_Football) September 23, 2017
1) Army (2-2)
Last Week: L 21-17 @ Tulane on Saturday
Top Performer: RB Andy Davidson (26 carries, 130 yards)
This Week: vs UTEP (Saturday at 3:30 p.m. ET on CBS Sports Network)
The Black Knights keep their top spot in the poll despite losing an absolute heartbreaker in Louisiana on Saturday. An afternoon of heartbreak, which began when Army let up a 75-yard touchdown on the first play of scrimmage, concluded with a 19-play, 75-yard drive by the Green Wave. Adding to the tears was the fact that Army gave up three fourth-down conversions on the drive, including a two-yard plunge on 4th-and-1 to their four-yard line that set up Tulane QB Jonathan Banks's rushing score. The Knights failed to complete a pass, as two quarterbacks went 0-5 with two interceptions, but put up 371 rushing yards despite missing top running back Darnell Woolfolk. Sidelined with a knee injury, Woolfolk likely won't play against the Miners on Saturday.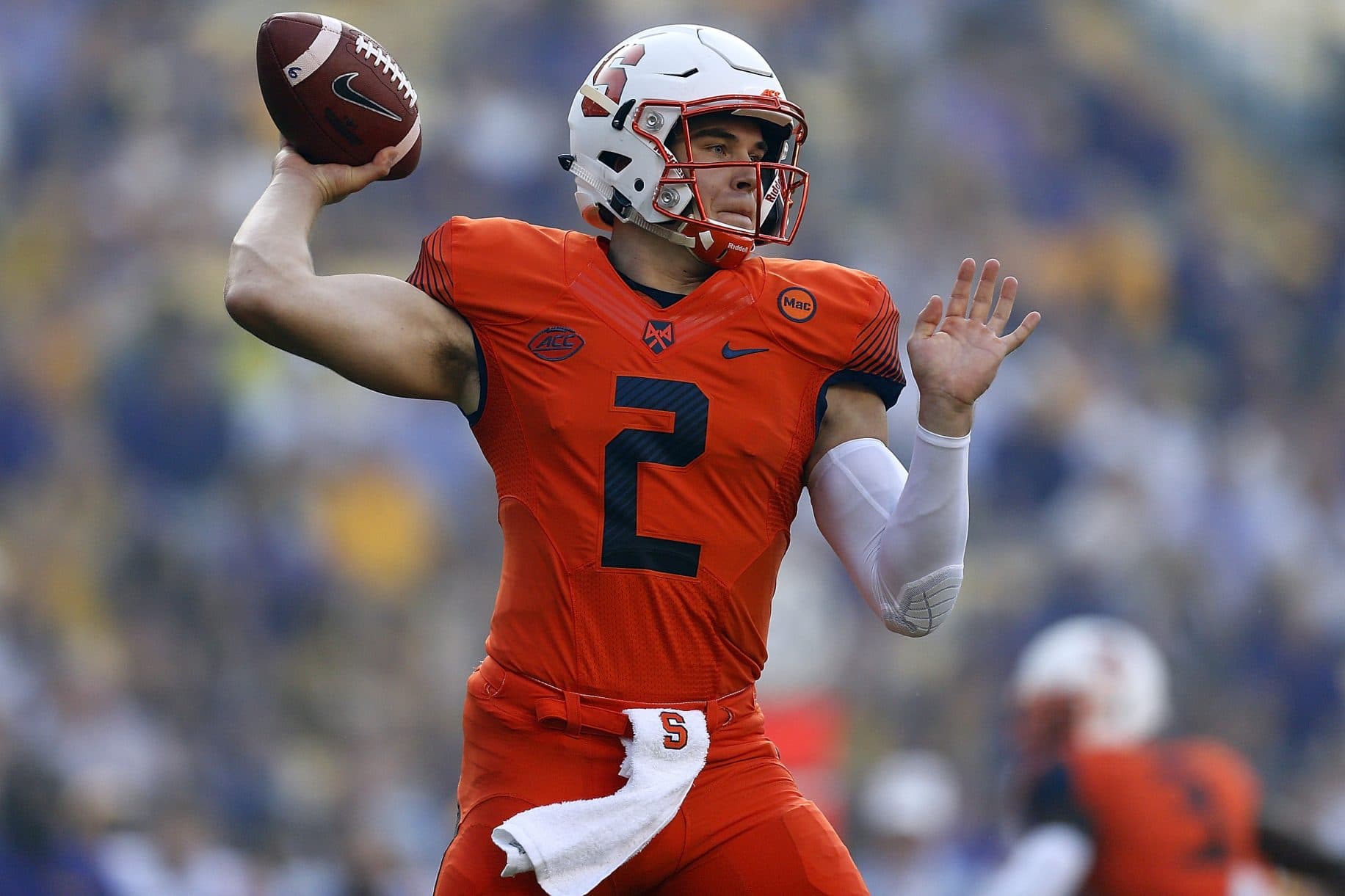 2) Syracuse (2-2)
Last Week: L 35-25 @ #25 LSU on Saturday
Top Performer: LB Parris Bennett (12 tackles, 3 TFL)
This Week @ North Carolina State (Saturday at 12:20 p.m. ET on ACC Network)
Whether it's a case of Dino Babers getting his team in shape or simply the Tigers being overrated, the Orange some credit for hanging with a ranked SEC team on the road. The Orange fell behind by as many as 18, but managed to draw it as close as two points before the Tigers pulled away at home. Particularly impressive on offense were Steve Ishmael and Ervin Phillips, who combined for 22 receptions for 216 yards and two scores. The Orange are now at .500 entering their ACC slate. If they're to return to bowl eligibility, winning their ACC opener would be huge, but that's easier said than done. Syracuse has not won their ACC opener since 2012.
3) Buffalo (2-2)
Last Week: W 34-31 vs Florida Atlantic on Saturday
Top Performer: LB Khalil Hodge (16 tackles)
This Week: @ Kent State (Saturday at 3:30 p.m. ET on ESPN3.com) 
The Bulls held off the pesky, Kiffin-led Owls on Saturday, picking up 458 yards of offense in the win. Junior QB Drew Anderson was forced into service when Tyree Jackson suffered a knee injury, but he rose to the occasion in his first college football action, going 7-for-9 for 109 yards and a score that helped put the game out of reach. Like the Orange, winning conference openers has been a problem for the Bulls in recent times, having not won one since 2014. Last season, they dropped their MAC opener to the Golden Flashes 44-20.
Huskies nearly mount second half comeback against the Pirates.

Offense racks up 596 yards, most in a game since 2005. pic.twitter.com/2dKlGUoTAA

— UConn Football (@UConnFootball) September 24, 2017
4) Connecticut (1-2)
Last Week: L 41-38 vs East Carolina on Sunday
Top Performer: QB Bryant Shirreffs (24-for-39, 406 yards, 3 TD's, 1 INT)
This Week: @ Southern Methodist (Saturday at 4:00 p.m. ET on ESPNNEWS)
The Huskies went up against the NFL on Sunday in a game rescheduled due to Hurricane Irma but didn't play their Sunday best in this offensive shootout. They can at least put their quarterback issues to rest for now, as Shirreffs tossed a career-high 406 yards in the win. The two teams were perhaps at least able to keep pace with the NFL, matching each with 596 total yards of offense.
— Rutgers Football (@RFootball) September 26, 2017
5) Rutgers (1-3)
Last Week: L 27-17 @ Nebraska
Top Performer: LB Trevor Morris (13 tackles, 3 TFL)
This Week: vs. #11 Ohio State (7:30 p.m. ET on BTN) 
Pray for Piscataway. The New Jersey faithful will be able to welcome in an actual Big Ten football team, as the 11th-ranked Buckeyes come to town, currently the last visit from a ranked team on the Scarlet Knights' schedule. That's probably for the best, as High Point Solutions Stadium welcomed in Michigan and Penn State last season, and Rutgers was clobbered, outscored 127-0 by the pair. Rutgers visits those two in Ann Arbor and Happy Valley respectively this season.
Geoff Magliocchetti is on Twitter @GeoffMags5490