As the regular season draws near for the New York Rangers one thing has become clear. Kevin Hayes will be one of the men in the middle for the team this year.
K
evin Hayes has had his share of ups and downs through his first three seasons with the New York Rangers. After leading rookies in primary assists, he spent most of the next year in the doghouse of head coach
Alain Vigneault
due to a lack of defense.
But he turned a corner last season, setting career-highs in assists (32) and points (49) while seeing some time on the penalty kill. That's a big deal, as Vigneault didn't trust him enough to put him on the ice in key situations like that previously.
ESNY's own Frank Curto has a great preview of Hayes' upcoming season. However, the question remains, who should play with him to ensure he can build on last year's success? Hayes can be a terrific center with the right players around him. There are several wingers who can help Hayes get the most out of his natural abilities.
Hayes has struggled to find fits with certain players in the past—the failed attempt of playing him and Eric Staal on the same line is the most glaring example of this. Thus, finding the best fit to play with Hayes is important.
Hayes played a lot with Miller and Michael Grabner last year and they had excellent chemistry. However, that line is unlikely to play together this season due to the expected move of Miller back to center. Thus, a new line combination is required. There are a few options on the team, and the first one is pretty obvious.
Michael Grabner
Grabner is an easy choice to play with Hayes this season considering the chemistry they had last year. Grabs is incredibly fast and has a great ability to slide into open areas in front of the net while the puck is being played along the boards.
This plays very well with Hayes' tendency to play the puck along the boards and get into battles in the dirty areas. Grabner gives Hayes a kick-out option in those battles. His speed entering the zone with the puck also tends to pull defenders towards him, giving Hayes space to get the puck and get a good shot off.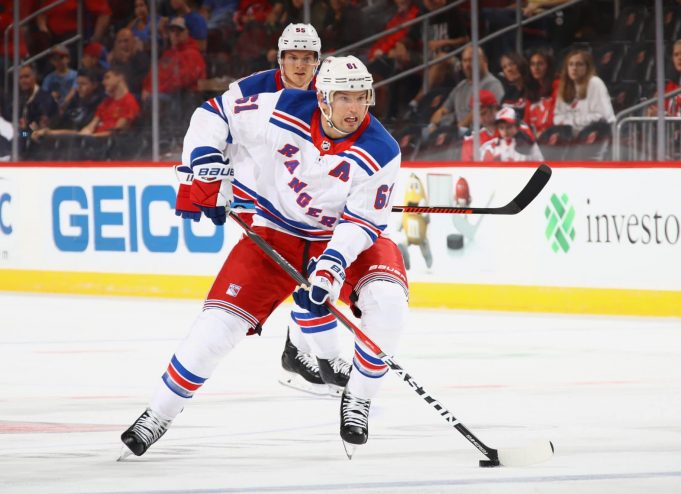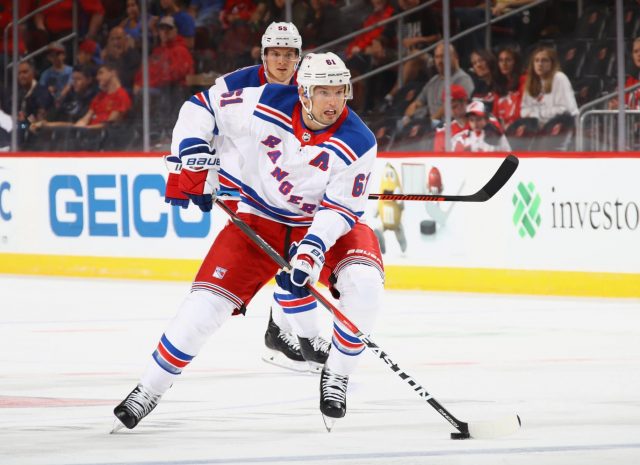 Nash is a rare player who can find success with pretty much anyone. He has only two seasons with less than 20 goals in his career: His rookie season of 2002-03 (17) and the 2015-16 season (15) when he only played in 60 games.
Nash's playing style could gel very well with Hayes. While he was better defensively last season, Hayes still had times where he struggled in that zone. Nash is a great defensive forward and should have no problem covering for some of Hayes' deficiencies in the zone.
Offensively, Nash's favorite move is collecting the puck along the boards and shielding it with his body as he moves towards the net for a scoring chance. This should play well with Hayes' ability to hold the puck along the boards for long periods of time.
If they do it right, Hayes should be able to pull a second defenseman towards him, then kick the puck to an open Nash for him to break towards the net.
Kreider is more of a longshot than the others as he offers the most value playing with Mika Zibanejad and Pavel Buchnevich on the "KZB line." However, should that line split up, Kreider could be a good fit with Hayes.
Like Grabner, Kreider is very fast entering the zone, which would open up room for Hayes to enter behind him. Additionally, Kreider, at least when he's playing at his best, likes to screen the goalie. Taking away the eyes of the goalie would give Hayes the encouragement he needs to shoot more.
Kreider has also had success playing with Derek Stepan, who like Hayes, generally tried to slow the play down when he had the puck. That experience should allow Kreider to meld well with Hayes.
Ultimately, the best line combination involving Hayes, barring a trade for a center that allows Miller to move back to wing, is Nash-Hayes-Grabner. They would have great chemistry together, and their styles would complement each other very well.