The New York Rangers' decision to potentially put J.T. Miller at center full-time could further unlock his potential – or diminish his effectiveness while hurting his development.
H
e arrived at Madison Square Garden in February 2013, just over a month before his 20th birthday, seeing time as the fourth-line center for the Rangers. J.T. Miller, a big, fast-skating kid from the "hockey hotbed" of Ohio, had been the organization's first-round pick, 15th overall, the year before.
He showed promise in 26 games that first season, along with plenty of the hiccups expected from a player that age who was raw and learning how to conduct himself as a pro on the sport's highest level.
The difference with Miller, though, is that he didn't get all the bumps out of the way early, and things have tended to be eventful for him since.
The latest twist and turn arrived this offseason when coach Alain Vigneault – who has overseen the majority of Miller's tantalizing yet sometimes-frustrating NHL career — announced that Miller would begin training camp at center again, his "natural" position.
This move feels anything but natural, though. Unquestionably born at least somewhat out of urgent need after the team bade farewell to centers Derek Stepan and Oscar Lindberg following last season, it means taking Miller off of the wing, where he has often thrived since his first two seasons and where he appears to be more of a natural fit.
"This is a good chance for us to get him some work in the middle," Vigneault told Justin Tasch of the New York Daily News last week. "At some point, whether it be early on or in the season, he's probably gonna play a little bit of center. It happened last year, it happened the year before. So getting him that experience right off the bat is a good thing, giving him that little bit more understanding."
Is it a "good thing," though?
Miller has seemed at his most effective at right wing, with his straight-ahead speed and size causing havoc for opponents and often earning him that much-desired compliment unique to hockey – "Hard to play against." Whatever his issues with consistency and approach – he's worked to become less hard on himself when he makes a mistake – Miller looks like a prototypical power forward now, one that appears to have plenty of room for growth.
Will that growth continue with a position switch, even if it turns out not to be full-time? Observers have speculated that playing in the middle will reduce Miller's physicality, which has bloomed with him on the outside and given him a facet to his game that wasn't readily apparent during his time at center, though that was brief and came early in his career.
Miller did fill in at center due to injuries the past two seasons, and though the sample size was small, his game hardly seemed energized by it.
For his part, the coach doesn't seem the least bit worried about the change.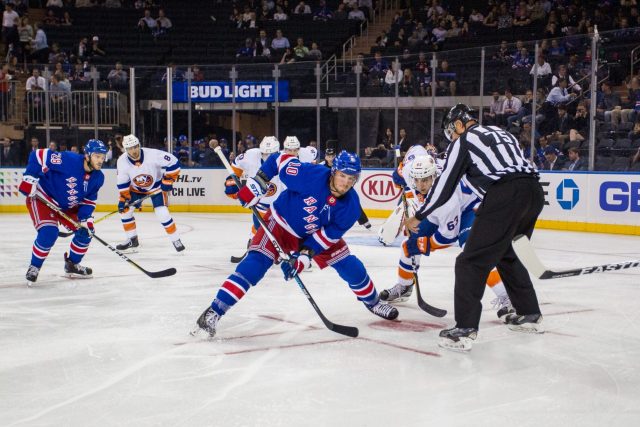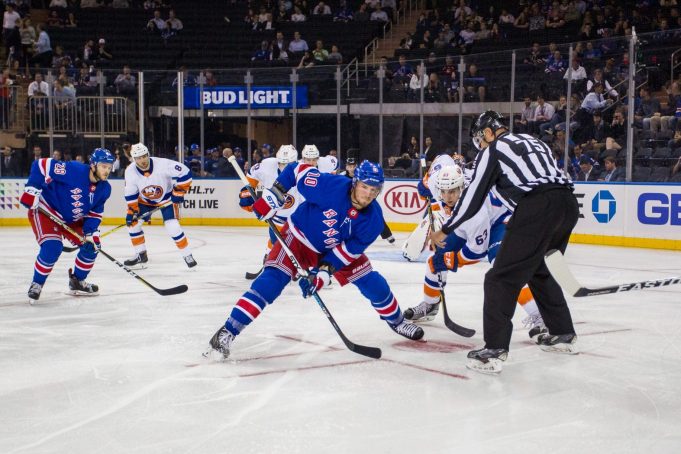 "J.T., we know he can play all positions and play all positions well," Vigneault told Brett Cyrgalis of the New York Post. "We know his versatility."
It's unclear whether Vigneault sees this as a way to help Miller continue to progress and grow, or if he'll accept production similar to what he's gotten from Miller to this point as Vigneault looks to fill the chasm in the middle.
It's worth placing at least some faith in the coach. Miller has been something of a project for Vigneault, who after demoting Miller to the AHL for the sixth time during the 2013-14 season, warned him through the media that he was in danger of topping out as "a good minor league player" if he didn't make changes.
If the tough love hasn't turned him into a star, and the inconsistency and stretches of lack of production haven't disappeared, the results have still been pretty good. Miller – who doesn't turn 25 until March – has increased his point totals from 23 to 43 to 56 over the past three seasons, scoring 22 goals while playing in all 82 regular-season games in each of the last two.
He was plus-32 over the last three seasons, including plus-17 in 2016-17.
There are the defensive lapses and periodic disappearing acts, but there are also the underrated instincts and vision and passing that leads one to believe that Miller just might be ready to render his time on the wing an apprenticeship as he becomes a more complete player in the middle, leading the rush and making the crisp passes that happened with more frequency last season than in past ones. Not to mention become more well-rounded defensively, a bigger requirement at center than on the wing.
In a post-practice interview last week, however, Miller sounded like he had been pretty happy to leave his days in the middle behind.
"I don't know," he said when asked if returning permanently to center was his ultimate goal, taking a thoughtful-sounding deep breath just before answering. "I've gotten way more comfortable at wing and I've just spent way more time there in the NHL. I just want to do what's best for the team and if it's gonna help (with) me playing down the middle, then let's do that. …
"I know the coaches and they're going to do what's best for the team, so I think that at the end of the day I can play both (positions), and that's helpful for me and the team, and whatever I'm gonna start out at, I'm gonna try to do my best at that."
Vigneault knows Miller's game and capabilities as well as anyone and has invested plenty of effort in making him into a better player, having coached him since Miller's second season. Perhaps it's best to believe in the coach and what he has planned and expects from his sixth-year forward, given his solid track record of developing young players with the Rangers.
The hope for Miller and the Blueshirts is that the path for Miller finally starts to become less up-and-down and more full speed ahead – no matter from which spot on the ice it begins.